Yesterday, I ran my 18th NYC Marathon since 1996. If you've been following along, I knew it would be a slower (for me) run this year. I have been struggling with my running since last summer and pretty much all year. I was tempted to skip this year, but then I decided that I had some great reasons to participate. They are here.
I had an amazing weekend. It included catching up with many friends, a Runstreet Art Run, taking a selfie with Eliud Kipchoge and of course the race. The Husband and I stayed with our good friends and got to see his college friends on Friday night. We had a pre-marathon dinner with Chicago (and former Chicago) friends. I saw almost everyone and more friends on the ferry to the marathon, too! It was pretty awesome!
Race day started early with the usual subway-ferry-bus trek to Staten Island. I met Scott, Nicole and her friend Megan. We met a nice woman from Norway on the subway. As we headed in to the terminal, we ran into Matan and Dan, then Robert and Alvaro and finally Lindsay and Jason. That was just amazing. We had so much fun chatting and the ferry ride flew by.
Some of us headed to the Orange Village for refreshments. We got Gatorade and water. Nicole was obsessed with the therapy dogs so she and Matan took some pics with a pug called Tugboat. Later when we were running, I kept calling him Spark Plug. We said goodbye to Matan and Scott and headed for the Green corrals to wait.
The time flew and before we knew it, Nicole and I were on the bridge getting ready to start. We had a similar time goal, so the plan was to run together as long as possible or made sense for each of us.
As always, it was a thrill to run over the bridge (even on the bottom). We started pretty easily and it was not hard to set a good pace starting at mile 1. Mile 1 was slow and mile 2 was fast because of the hills (up then down). Once we got off the bridge, we checked the pace and slowed a bit. The crowds started at Mile 3 and pretty much never stopped! I am still in awe of the sheer size and scope of the race after all of these years.
Jeff, Brooke and Linda were at mile 4.5, so I ran ahead to give them my gloves. They got some awesome pictures! We cruised up 4th Ave. I was proud of not starting too fast as I have in many previous years. That was pretty much 100% Nicole's pacing! She rocks. The crowd from mile 6 – 9 was just amazing.
Nicole's family and Zach and Sam were at mile 8 by BAM. Zach got another great video of me this year. And of course I'm smiling! Sue jumped in to run with us from mile 8 to 18. It was so amazing to catch up with her. We've run half or more of several NYC Marathons together so it's a fun tradition. Mile 8 – 9 is always my favorite and I especially loved the church on the left side of the street half way down. They were jamming! There was so much great music which I'm failing to remember but I did dance a few steps to Mambo 75 – the "Erica by my side song."
We enjoyed the crowds in Brooklyn and even saw a dancing rabbi. Actually, he was  "The Dancing Rabbi." The crowds from mile 10 – 13 have really grown in the last few years. There were some really cool new Entertainment Zones, too.
At Mile 13, I needed to stop to use the bathroom, so Nicole and I split up. She was on pace for her time goal and did not need to stop. Sue stayed with me and we powered on. We caught up and she helped me pace up the Queensboro Bridge and into Manhattan. I felt a lot better on the bridge than previous years because of our more conservative start.
First Avenue was raucous and amazing, as always! I missed Suchitra and Runstreet at 16 and 17. I missed Mandie but she got a video with me in it! I also saw The Husband just before mile 18 that was a great boost. I grabbed a real fruit from the Powergel station. The humidity was getting to me, so I took two salt tabs along the way and was drinking Gatorade, too. I tried using a bit more fuel than usual which worked out fairly well.
Sue jumped out at around 30K. I tried to keep up the pace, but I felt myself slowing down. I just felt fatigued and dehydrated. I headed into the Bronx and enjoyed the cheer stations. Sadly, I missed Carolyn B. at her new spot. Daphne jumped in with me at Mile 21 and let me know that I was close to Kevin Hart. (I didn't see him). I started getting weird cramps in my right foot and calf. I had to stop a few times from mile 21 – 23. This was a bit discouraging, but I knew I'd be OK. My pace was really slow but I knew I didn't have too much more to go.
I looked for friends on 5th Ave, but I missed everyone. I called out "On On" to the Hash House Harriers and they cheered me on. 5th Ave is usually my least favorite spot. It was slow but not terrible as it has felt some years.
I was so excited to enter Central Park. I saw Jeff at Mile 24 and the Kathy and Little D. I knew I only had two more miles to cover. I stayed positive and enjoyed a lot of enthusiastic cheers from strangers. I tried to keep pace with other runners and didn't feel like everyone was passing me. The splits may say otherwise, but I've decided not to look!
As I ran down 59th St, I reflected on this 18th trip through the 5 boroughs. I knew before I made the final turn that it would be my slowest NYC of 18 by a fair bit. As discouraging as that was, I was still smiling and filled with gratitude that I was healthy and able to run. I carried all of my friends and their good wishes with me. I thought about my friend Lynn and her courage and strength. I knew some foot cramps and fatigue would not stop her from finishing with a smile.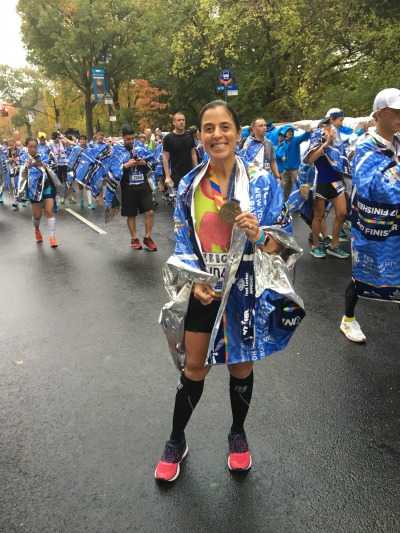 And just like that, I was running toward the finish line. It was a sight for sore eyes and cramped feet for sure. My time was 4:10.57. It was my slowest NYC finish and my second slowest marathon ever. That said, I'm proud that I never once thought of quitting and that I still enjoyed the day.
A million thanks to all who cheered, texted, Facebooked, called and supported me. I'm so grateful and humbled by all of the love and support year after year. My friends pretty much crushed it this year as usual, too. Congrats to friends, old and new, who impress me year after year. Special shout outs to Nicole with another PR on this tough course! Mad props to Emily G. for her first marathon and meeting her goal. She wins for best quote of the weekend. We met after the race and she said "WHY DO YOU DO THAT EVERY YEAR!?"
Marathon #46 and NY Marathon #18 is in the books. Not many people can say that – right?
That's a wrap – see you next year NYC Marathon!