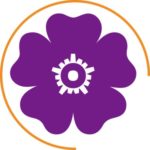 At Expo East, Lucy from Hug Your Skin invited me to check out their all natural, 100% organic Inlight Beauty skincare line. I didn't get over there in time, so Lucy sent me some of their products to check out. She sent me the Under Eye Revive Cream, Foot and Leg Balm and samples of Face Oil and Line Softener.
Hug Your Skin's Inlight brand's mission is simple. It's "to create the finest organic skincare products with love, passion and sound scientific principles that work in harmony with your skin and restore its own natural balance."
They want consumers to understand what they're putting on their bodies is as important as what they're eating. The rules for "natural skincare" are vague. Natural does not always mean pesticide free. Also, there are many chemicals that can make their way into natural and organic products. For a beauty product to carry the USDA Organic Seal, it must contain at least 95% organic ingredients. If the label reads, "Made With Organic Ingredients" but does not have the USDA seal, it can have up to 30% non-organic ingredients including harmful chemicals. Hug Your Skin's Inlight brand is 100% organic. Read more here.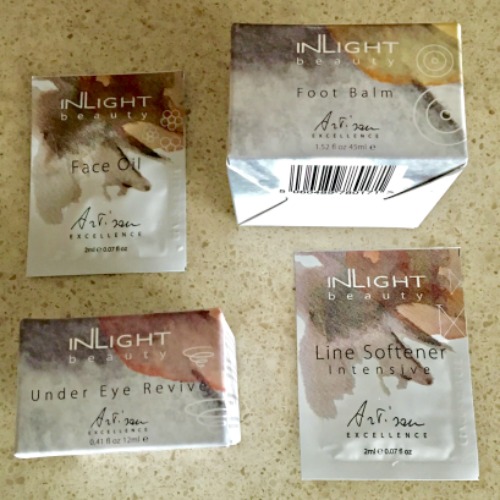 I had the opportunity to choose two full sized Inlight Beauty products. I went with Under Eye Revive and Foot Balm. I have allergies so I often wake up with puffy eyes. I also have dark circles. As a runner, my feet can always use some TLC.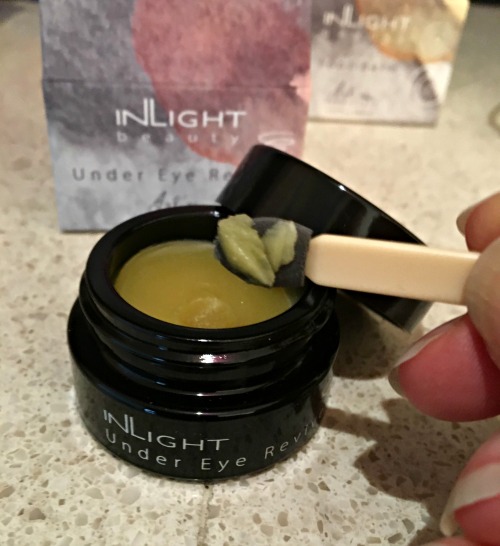 The Under Eye Revive is "a decongestant eye balm to minimize puffiness and brighten the look of dark circles." They say, "The carefully selected ingredients have extraordinary decongestant, regenerative and antioxidant properties and are perfect for the delicate eye area even where skin is sensitive." It's oil-based with a high concentration of phytonutrients. It's 100% organic, free from synthetics and chemical fragrances.
How does it work? They recommend using it twice a day for the first few weeks and then daily for maintenance. I used a very small amount in the morning and evening and I noticed a difference after only one week. The skin under my eyes is softer and more hydrated. The oils absorb really well and reverses drying from other products. I'm going to have The Husband try it, too! The cream is $79.99 but a little goes a long way, so it should last a while.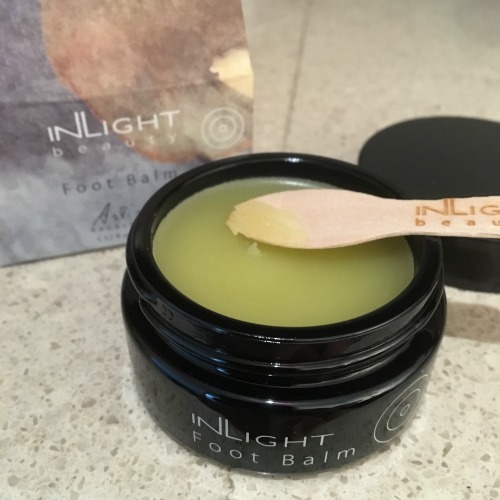 The Foot Balm is "an exquisite, multi-tasking, aromatic balm to revive tired, aching feet and legs, melt away dry, rough skin and improve circulation." They say, "Inlight's Foot Balm contains witch hazel and cypress whose vasotonic and astringent properties act together with the healing and cytophylactic qualities of marigold, lavender and plantain to restore, calm and tone. The particular combination of ingredients makes this balm ideal for both foot and leg massage, to promote better circulation and to support weak veins. Also ideal on dry or cracked heels and feet." Read more on why you should treat your feet to organic skincare HERE.
My heels and ankles are really dry and my calves need a lot of love. Since I had a blood clot in 2011 in my right leg, I often have swelling in my calf from poor circulation. I noticed immediate results on the dry skin on my heels and ankles. The essential oils smell amazing and my legs feel very soft. I have to take the time to massage on my calves to see if I notice less swelling and better circulation. This would be a great holiday gift for the runners in your life! [You can try a sample for $5!]
Want to up your beauty game with Inlight from Hug Your Skin? They'll send one lucky reader a Body Beautiful Bijou Set ($32.00 value). The Bijou Sets contain sample sized products. Body Beautiful includes Body Oil with Arnica, Body Butter, Foot Balm and Firm & Tone Oil. Want to enter to win? Please use the Rafflecopter below. The contest runs through 11/21. Winners will be selected and notified on 11/22. Winner must be 18 years of age or older, a US resident (or have a US postal intermediary) and the contest is void where prohibited.
In the mean time, you can get Inlight from Hug Your Skin online. Use code ERICA15 for 15% off any full sized product through 12/31/17. You can also keep up with Hug Your Skin on Twitter, Facebook and Instagram.
Please note: I was provided samples in exchange for a honest review. I was not otherwise compensated for this post. All opinions are my own. This post contains an affiliate link for Amazon. If you use this link, I will receive a small commission.