A few years ago, I saw an ad in Women's Health for a new run series called Run 10 Feed 10. The aim was simple – to raise money to feed millions of Americans who are hungry. For each runner who signs up to run 10K, ten meals are provided to hungry Americans in the runner's community. This is an easy way to make a difference to a family (or several) in your community.
I've had the opportunity to (fun) run or race every year since R10F10 started in 2012. In 5 years, Women's Health has raised enough money to provide 5 million meals to Americans in need. 5 million! How cool is that?
This year I'm a Women's Health Action Hero and will be a pacer at Run10Feed10 fun run in Chicago on 10/28.  Like me, you can join me, Women's Health Magazine, The FEED Foundation and thousands of amazing runners in the fight against hunger. It's easy and fun! Just run a 10K and you'll provide 10 meals for those that are hungry in your local and surrounding communities.
There are races in NYC (9/17) and San Francisco (10/22) and a super cool, paced fun run in Chicago (10/28). There are a number of organized fun runs in 9 cities and you can also start your own! If you don't live in one of the Women's Health host cities, or if you missed your fun run, you can still participate. Just register ($35 and get $5 off with code R10HERO24) and use the RUN10 FEED10 training app, created by Runtastic, to plot your own course and run your own 10K anytime. You'll get a limited edition FEED bag and 10 meals will be donated to charity.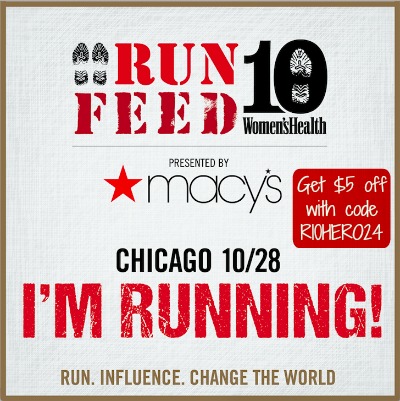 If you like to run, or walk, join me (live or virtually). You'll do good and feel good! Register and get $5 off with code R10HERO24. That's $30 to run, get some swag and goodies AND to feed 10 people. Pretty great! Not up for running? You can donate to my "team" here.

Please note: I'm a "Women's Health Action Hero" and was offered a complimentary entry in Run10Feed10. I declined the free entry to help fight hunger. I was not otherwise compensated for this post. All opinions are my own.