You may have seen that I had a HUGE haul from Expo East. If you missed it, check out my day 1 and day 2 recaps or my Instagram from mid-September. I was onsite for 3 days this year with on day at the Influencers conference. I met with somenew companies and some of my faves. This giveaway will share "new finds" and next week I'll share a bunch of loot from some of my old faves.
Let's start with what's new to me (and likely you!) There are a ton of new, healthy, tasty bars, supplements, drink mixes, nuts, gluten free products and more. I've lined up full reviews and giveaways with Spice Trail Snacks, Sprout Living, Gorp Bars, Smashmallow (new Smash Crispys), Lynq and am working on securing a bunch more!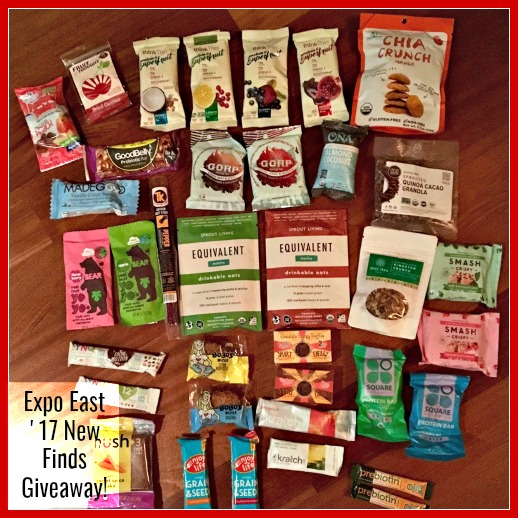 In this giveaway, I will share one of more of each of the following:
Think Thin Protein & Superfruit Bars – New soft, chewy high protein, high fiber bars with superfood ingredients. They taste good, too!
Fruit for Thought Dried Cherries
GoodBelly Probiotic Bar – a new bar from GoodBelly Probiotics!
MadeGood Vanilla Crispy Square– a healthier rice crispy treat with hidden fruits and veggies – great for kids' lunch boxes!
Natierra Chia Crunch – On the go snack that combines nutrient-dense chia seeds with vitamin-rich, freeze-dried fruits and vegetables.
Ona Almond Coconut Protein Bar – A plant based protein bar with no added sugar. It's super clean, gluten free and Paleo.
Gorp Bars Energy Bars – Hand crafted energy bars in delicious flavors with sprouted brown rice protein to stop the bloat.
Bear Real Fruit YoYos – Fruit roll ups made with real fruit that's baked and rolled – another great lunch box snack!
Sprout Living Equivalent Drinkable Oats – Made from 100% organic ingredients, they combine gluten free oat flour and nutrient-dense superfoods into an enjoy-on-demand meal with multi-vitamin benefits and complete plant protein
Spice Trail Snacks Savory Granola – Delicious, savory granola to add to soups and salads or for an afternoon snack.
Smashmallow (new Smash Crispys) – Amazing rice crispy style treats made with all natural SMASHMALLOW marshmallows.
Lynq Superfood Blends – Blended superfoods with tons of vitamins – great for picky eaters, kids and smoothie boosts.
Nush Carrot Spice Cake – Low sugar snack cakes that are high in fiber and are satisfying and tasty.
Bobo's Oat Bites – Gluten free bars made with oats and love in Colorado.
Enjoy Life Foods Grain and Seed Bars – Brand new, not yet released – high protein, top allergen free bars in unique flavors and new bright teal branding.
Zippy Bites Energy Truffles – Organic, energy infused chocolate truffles made with organic chocolate an all-natural energy blend of guarana, amino acids, caffeine, and B-vitamins.
Skratch Labs Hydration Mix – (not new but new to me!) Natural sports drink mix containing simple sugars, electrolytes, and only real fruit for flavor.
Square Organics Protein Bars – A new protein bar from Square Organics – this one is not chocolate coated and has a toasted nut butter and popped grain taste.
and more!
I'm going to send 2 lucky winners a combo pack of the above products. I don't have multiples of everything, but you will get a good variety of 12 – 15 or more items each to try. To enter to win, please use the Rafflecopter below. Winners must be US residents, 18 years of age or older and the offer is void where prohibited. The giveaway runs through October 13th. Winners will be selected and notified on October 14th.
Which product(s) are you most interested in trying? Which do you want me to review in more detail?
Please note: I received these items at no cost at Expo East. I was not compensated to mention any of these products and all opinions are my own. I will send these items to winners directly at my own cost.