You may have seen that I had a HUGE haul from Expo East. If you missed it, check out my day 1 and day 2 recaps or my Instagram from mid-September. I was onsite for 3 days this year with one day at the Influencers conference. I met with some new companies and some of my faves. This giveaway will share a bunch of loot from some of my old faves. These are some of my faves that I've "found" in years past and have been loving ever since.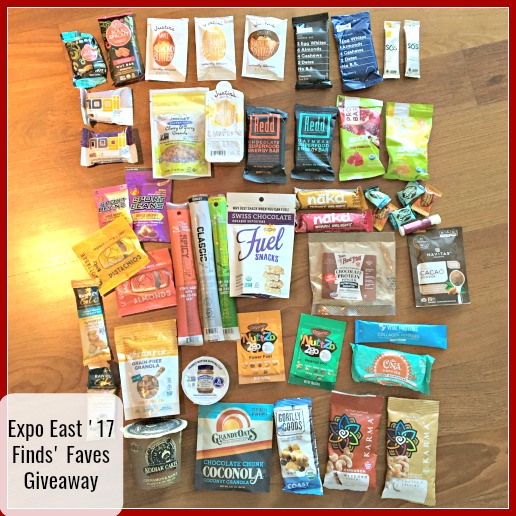 Check out some of the awesome companies I reconnected with! In this giveaway, I'll share one of more product/flavor from of each of the following:
RxBar – These are the only bars to be recommended to me by a doctor – for real! These whole food bars have no added sugar, no GMOs, no dairy, no soy, no gluten and no "BS." They come in 8 11 flavors. They're also made by a Chicago company. I'm a big fan!
Justin's Nut Butter – Awesome, all natural, gluten free, non-GMO nut butters in convenient squeeze packs. Great for travel!
SOS Rehydrate – A sports drink with "a laser focus" on hydration. Made by professional runners and physicians. It's a game changer!
Jessica's Granola – Delicious granola that's non-GMO, gluten-free, with real ingredients and no artificial colors, flavors or preservatives.
Redd Bars – These new superfood energy bars are "all killer. no filler." Redd Bars are high protein, gluten free, non-GMO and contain 11 superfoods and 23 vitamins and minerals. Oh, and they taste delicious.
PROBar Bolts – PROBar's organic energy chews contain electrolytes, B vitamins and complex carbs for sustained energy, they provide "fast fuel-ups that last through the home stretch."
Nakd Bars  – These bars contain 100% natural ingredients with no added sugars, syrups or "other stuff that shouldn't be there." The bars are wheat, dairy and gluten free and are a perfect size for a snack or pre-workout.
The New Primal – Jerky maker The New Primal makes my fave meat sticks in a bunch of flavors. I grabbed a bunch to share. They also have a new kids line – perfect for school snacks!
RawRev Glo Bars – Plant based, vegan, superfood bars that actually taste amazing. I really like these bars!!
Kodiak Cakes Flapjacks On The Go Cup – These cups contain high-quality protein and hearty whole grains with all natural add-ins. You just add water, stir, and microwave and breakfast is ready in just one minute!
GrandyOats Coconola – Gluten-free and grain-free granola made with organic superfoods, coconut chips, almonds and pumpkin seeds. It's made with no oil and it tastes amazing, too. Great on yogurt, with milk or on it's own!
Peanut Butter & Co Dark Chocolate Dreams Dipping Cup – Peanut butter blended with rich dark chocolate for a delicious spread that is great on bananas, perfect with pretzels or tasty on toast. Yum!
Navitas Organics – Since 2003, Navitas Organics has been selling superfoods (and they make amazing nuts and mixes with superfoods, too!) Their products are all non-GMO and are made with sustainable business practices.
Gorilly Goods – I love all three flavors of awesome organic, gluten free, vegan, low glycemic, all natural and tasty snacks. They make individual serving sized trail mixes in four flavors, too.
Chimes Toasted Coconut Toffee – Chimes takes freshly pressed coconut milk and cooks it with caramelized cane sugar to create a toasty toffee. This Malaysian favorite is gluten and dairy free and vegan. It's delicious, too!!
Karma Nuts Wrapped Cashews – These unique nuts retain their natural skin, so they're extra crunchy, toasty, tasty and full of nutrition. I LOVE the single serve packs. They're perfect for travel.
NoGii – These high protein bars are delicious, all natural, gluten free and Paleo.
Soul Sprout (formerly Two Moms in the Raw) – These organic granola bars are made with sprouted and plant powered superfoods. All products are wheat, dairy, soy, gluten, sugar and GMO free.
Vital Proteins – Collagen was all the rage at Expo again. Collagen promotes youthful skin, healthier hair, stronger nails and supports joint health. Vital Proteins is a Chicago company, too!
Fuel Snacks Organic Super Fuel Snack by Foodie Fuel – Organic, gluten free, super food snacks that taste amazing. They are crunchy like crackers. I really dig these!
Ona Cookies – Delicious cookies that are grain free, dairy free, soy free and contain NO refined sugars. They're Paleo friendly, too. Such a healthy treat!
I'm going to send 2 lucky winners a combo pack of the above products. I don't have multiples of everything, but you will get a good variety of 12 – 15 or more items each to try. To enter to win, please use the Rafflecopter below. Winners must be US residents, 18 years of age or older and the offer is void where prohibited. The giveaway runs through October 20th. Winners will be selected and notified on October 21st.
Which product(s) are you most interested in trying?

Please note: I received these items at no cost at Expo East. I was not compensated to mention any of these products and all opinions are my own. I will send these items to winners directly at my own cost.