You may have seen my post on Run 10 Feed 10 earlier this month. If you didn't, check it out! It's one of my favorite events of the year. Women's Health and The FEED Foundation host 10K races (NYC and San Francisco), fun runs (Chicago) and virtual runs. For each person who signs up, 10 people in the local community get meals. Get it? Run 10 (K) and feed 10 (people). Awesome – right? I won some awesome FEED Project goodies for setting up a team. I'm going to share some of these cool items to raise awareness of Run 10 Feed 10 and FEED.
I've had the opportunity to (fun) run or race every year since R10F10 started in 2012. In 5 years, Women's Health has raised enough money to provide 5 million meals to Americans in need. 5 million! How cool is that?
This year I'm a Women's Health Action Hero and will be a pacer at Run10Feed10 fun run in Chicago on 10/28.  Like me, you can join me, Women's Health Magazine, The FEED Foundation and thousands of amazing runners in the fight against hunger. It's easy and fun! Just run a 10K and you'll provide 10 meals for those that are hungry in your local and surrounding communities.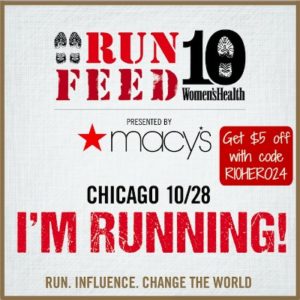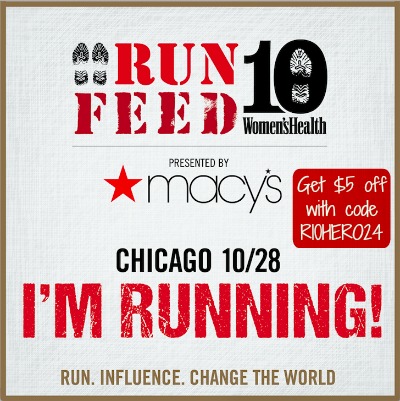 If you like to run, or walk, join me (live or virtually). You'll do good and feel good! Register and get $5 off with code R10HERO24. That's $30 to run, get some swag and goodies AND to feed 10 people. Pretty great! Not up for running? You can donate to my "team" here.

As I mentioned, I won a raffle prize with a variety of cool pieces from the Feed Project. Ten years ago, they set out to fight hunger with a simple burlap tote that provided 1 child with school meals for 1 year. Since then, they've served over 100 million meals! Now, rhey make a variety of cool bags, clothing and accessories. Each item indicates how many meals are given. I'm going to send some of my winnings to one lucky reader. I'll send the BioJute Bag ($25 retail value), a Friendship Pouch ($25 retail value) and a FEED bracelet ($18.00 retail value).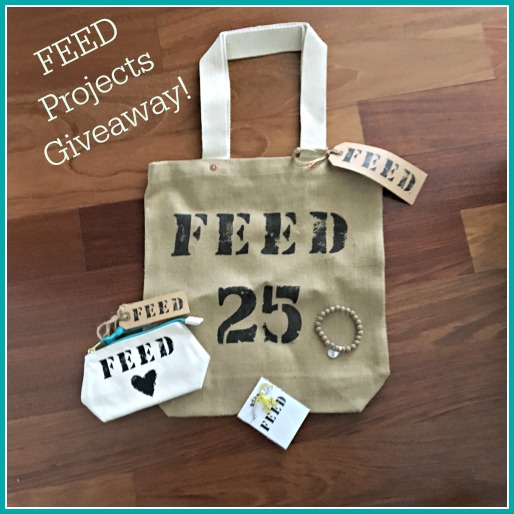 Want to enter to win? Please use the Rafflecopter below to enter. Winner must be a US resident, 18 years of age or older and the offer is void where prohibited. Giveaway runs through 10/30. Winner will be selected and notified on 10/31.
Don't want to wait? You can get awesome FEED Project gear Feed Project. You can also follow them on Twitter, Facebook and Instagram.
Please note: I'm a "Women's Health Action Hero" and was offered a complimentary entry in Run10Feed10. I won the Feed Projects items I'm giving away and will post them at my own cost. I declined the free entry to help fight hunger. I was not compensated for this post. All opinions are my own.