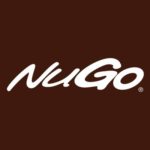 Protein cookies were all the rage at Expo East this year. I stopped to chat with my friends from Nugo Nutrition. I've been eating their bars for years (and reviewed them here in 2013!) They were showcasing their new protein cookies and offered me a sample. I've tried a number of other brands of protein cookies, so to be honest, my expectations were pretty low. I'm happy to say that the sample I tasted was very good. They offered to send me all of the flavors to taste and review. They sent a dozen so I have one set to share with a lucky reader! [For more on Expo East, see day 1 and day 2 recaps or my Instagram from mid-September.]
NuGo Nutrition believes that the freshest, healthiest ingredients are also the best tasting. They're passionate about keeping families active and healthy. They are also committed to keeping GMOs, artificial hormones, stomach-upsetting maltitol and artificial sweeteners out of NuGo products. They also use only real dark chocolate in their products!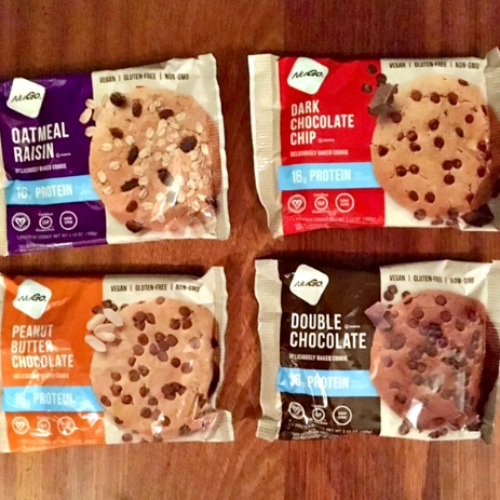 NuGo Protein Cookies are certified gluten-free, vegan, kosher, non-GMO and don't contain artificial sweeteners, sugar slcohols, margarine or soy. Each cookie contains 16 grams of plant-based protein and 10-12 grams of fiber. The cookies come in four flavors: Oatmeal Raisin, Peanut Butter and Chocolate, Double Chocolate and Dark Chocolate Chip. Each cookie is 2 servings with 190 calories per serving. The cookies are large. They can be eaten as a meal replacement (whole cookie) or snack (1/2 or whole).
I started with Oatmeal Raisin. I had half as an afternoon snack. The cookie is chewy and dense, but not too sweet. The best thing for me is that it doesn't have a protein powder taste or any weird after taste. That was my complaint about a few other brands I checked out.
Next up, I tried the Dark Chocolate Chip after a work event when I missed lunch. The cookie was delicious and filling. It tided me over until an (early) dinner. And look at all of the real dark chocolate chips. This cookie has a good chip to cookie ratio, too!
Kristin tried Peanut Butter Chocolate Chip and Double Chocolate. She says, "I've tried both of the protein cookies and really like how big and dense they are. They're very satisfying and didn't have that added protein taste that some products do. I liked the chocolate more than the peanut butter because it reminded me of a big, dense brownie!" She added, "I ate it as an afternoon snack. It was filling and curbed my hunger until dinner. I'd also eat them after dinner as a dessert and not feel as guilty as eating regular cookies!"
These cookies are really good and good for you! You don't have to take our words' for it, I'll send one lucky reader one of each flavor to try. Please use the Rafflecopter below to enter. Winners must be US residents, 18 years of age or older and the offer is void where prohibited. The giveaway runs through October 25. Winner will be selected and notified on October 26.
In the mean time, you can get Nugo Protein Cookies on the web. You get free shipping on sample packs and orders over $50. Keep an eye out in Whole Foods, too! They should be available in most Whole Foods' by the end of October. You can keep up with them on Facebook, Twitter and Instagram.
Please note: I was provided samples in exchange for a honest review. I was not otherwise compensated for this post. All opinions are my own.