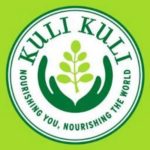 You may remember that I checked out Kuli Kuli's Moringa Superfood Bars a few years back. At the time, I had never heard of moringa – a superfood ingredient. [Here's the post.] Moringa is gluten-free, vegan and is a great source of fiber, calcium and antioxidants. Moringa is the only plant that contains a complete protein, iron, calcium and vitamins. It is a "super-leaf."
Where did Kuli Kuli find moringa? Kuli Kuli founder, Lisa Curtis, was a Peace Corps Volunteer in Niger. After a few months with limited fruits and vegetables, she found herself experiencing early signs of malnutrition — a condition that affects over 18 million children across West Africa. A friend told Lisa about moringa, a local tree with highly nutritious leaves and handed her a bag of kuli-kuli, a Hausa food made from peanuts, to make a delicious, nutty moringa dinner. Lisa incorporated moringa into her diet and began to regain her strength. Learn even more about moringa here. Kuli Kuli's moringa is sustainably sourced and supports women's cooperatives in West Africa.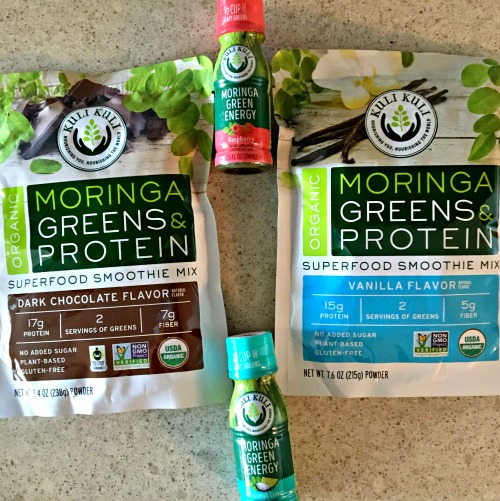 Since my original review, Kuli Kuli has come out with energy shots, teas and a vegetable powder. They just got in touch to see if I wanted to try their new Organic Greens & Protein Superfood Smoothie Mixes. The smoothie mix is a "convenient way to get your greens and protein on-the-go." The mix contains a blend of moringa and other plant based proteins. Each serving has at least 15g of protein, 2 servings of greens and 5g of fiber. There is also no added sugar and the mixes are USDA Organic, Non-GMO and gluten free.
Kuli Kuli sent me all three flavors to try. The flavors are Dark Chocolate, Vanilla and Natural Greens. In the spirit of full disclosure, things have been so nutty lately that I could not find the sample packs. I bought a bag of Dark Chocolate and a bag Vanilla to test and review.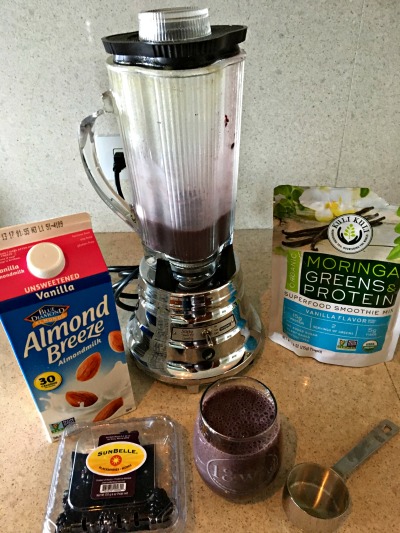 I started with the Vanilla Superfood Smoothie Mix. I mixed almond milk, water, one serving of Vanilla Superfood Smoothie Mix, about 10 blackberries and ice. The smoothie was tasty and the powder mixes well. The Vanilla Superfood Mix is green but my smoothie turned purple when I added the berries. I didn't notice the greens in the smoothie. The only drawback for me was that I could taste the stevia and the smoothie had a bit of a protein powder taste.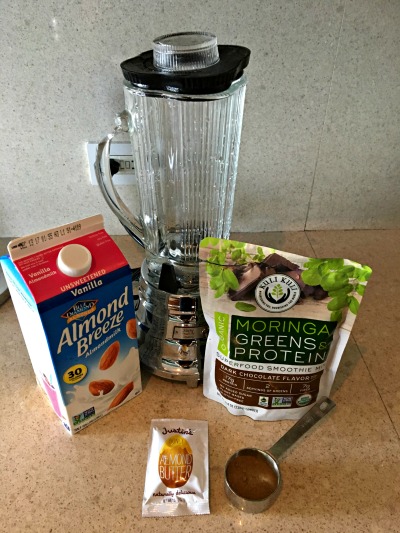 Next, I tried the Dark Chocolate Superfood Smoothie Mix.  I mixed almond milk, water, one serving of Dark Chocolate Superfood Smoothie Mix, a packet of Justin's Honey Almond Butter and ice.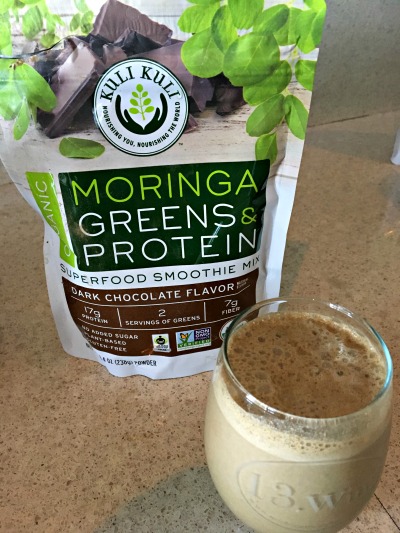 This smoothie was a winner! The almond butter made it very rich and satisfying. It kept me full all morning. I didn't notice the "protein powder taste" or stevia. The Dark Chocolate is my pick for great nutrition and great taste!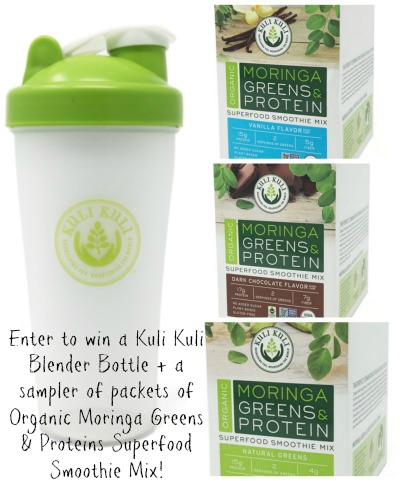 You don't have to take my word for it! The nice folks at Kuli Kuli have offered 2 winners a shaker bottle and a sampler of 1 serving packets of each flavor ($27 value). Want to enter to win? Please use the Rafflecopter below. The contest runs through 11/8. Winners will be selected and notified on 11/9. Winners must be 18 years of age or older, US residents (or have a US postal intermediary) and it is void where prohibited. Another giveaway prize is on Instagram – so enter to win there, too!
In the mean time, you can get Kuli Kuli Organic Moringa Greens & Protein Superfood Smoothie Mix online. You can also keep up with Kuli Kuli Foods on Twitter, Facebook and Instagram.
Please note: I was provided samples in exchange for a honest review. I was not otherwise compensated for this post. All opinions are my own.