It's Friday, so I'm linking up with Running on Happy and Fairytales and Fitness for Friday Five 2.0. The theme this week is "Things That Make You Go Hmmmm." I've been traveling a TON lately for work and life, so my "Hmmm" things will be travel related.
"Things That Make Me Go Hmmm – Travel Edition."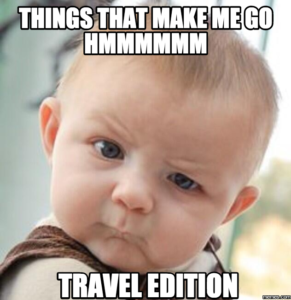 1. Adults who wear noise cancelling headphones to avoid hearing their loud children. I kid you not, I've been on a number of flights where adults wear noise cancelling headphones and their children are super loud. One time, a kid was saying "mom, mom, mom, mom…" over and over because she wasn't listening. Serenity now! [If The Husband is reading, he is shaking his head at me, because I have my own noise cancelling headphones but I never bring them… they're too big to fit in my bag with everything. My bad.]
2. How small the seats are on the new American Airlines Planes. I'm barely 5'4″ and have a fairly long torso and my knees nearly touch the seat ahead of me. What's going on American!? Thank goodness I'm small!
3. Loud, rude people. There are plenty of examples of these people on the road. They're yelling into their cell phones in the airport, on planes and everywhere. The most egregious offender for me was this week at my hotel. There was a women having super loud Facetime conversation in the hall outside my room. It was 10 PM, so I popped my head out and asked her politely to go into her room. She moved toward the stairs which were across from my room. A few minutes later I opened the door again just as my neighbor offered her headphones. WTF? It's a hotel, not a dorm room!
4. People on Wi-Fi enabled planes who try to talk on Facetime. Not only do I not want to hear/see your call, but it's even worse because you can't really see/hear well. It's a bad experience for you, the person on the other end and the poor schmuck sitting next to you – especially if it's me!
5. Gold status on American / Premier on United + $2.50 gets you a Starbucks. Frequent travel isn't what it used to be. I have been as high as #26 on the upgrade list recently. On American you accrue 500 mile segments for upgrades. I have a ton, but I can NEVER use them. There are always so many people ahead of me. I split my flights on American and United to be able to fly stand by and to get my carry ons on, so my chances of upgrades and perks are low. Maybe next year I'll pick one and see how I do!
What are the things about travel that make you go "Hmmmmm?" Please leave them in the comments.
Have a great weekend, friends!
PS. Don't forget my great giveaways!