Sometimes I "find" random things. This falls into that category! I saw an ad for a cute "beaded charger bracelet" for iPhone and Android from WLTH. I was intrigued and wondered how a charger could fit into the bracelet. Lo and behold, it can't! It's a USB cord that you can wear as a bracelet or use on your key chain. Not as revolutionary or life changing, but cool nonetheless.
I ordered one (with a sale code) and it was one of those deals where extras were practically free. So, I got three for the price of one. Then they arrived twice. So… I'm giving three away! Two of the extras are black and one is green.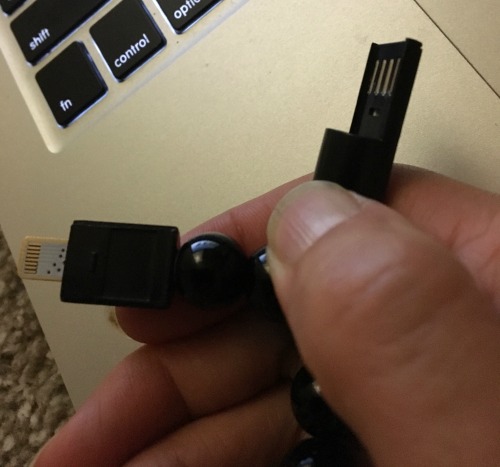 The USB bracelets work well and are great to wear or use as a key chain. I wrapped one around one of my back pack straps so I always have an extra USB handy.
The giveaway has ended. The winners are: Monique S, Michelle Castagne and Kimberly Harrison. Want to enter to win one of the three extras that I received? [These are for iPhone v5 and up/newer iPads.] Please leave a comment telling me about a time when you bought a clever looking product that wasn't quite what you expected. Or, leave a comment telling me how/when you'd use this USB cord bracelet. Extra entry – follow me on Instagram or follow my blog Facebook Page. Please leave a separate comment telling me your Instagram or Facebook name. Winners must be US residents, 18 years of age or older and the offer is void where prohibited. 3 winners will be selected and notified on October 5th.
Don't want to wait? I found this product cheaper on Amazon (affiliate link) and a cuter one, too! So, sometimes, it pays to shop around!
Please note: I purchased these items. This post is not affiliated with or sponsored by WLTH. This post contains an affiliate link for Amazon. If you use this link, I will receive a small commission.