I had the opportunity to attend Expo East again this year. As usual, there was too much to cover in just one post, so here's Part 2. [Here's my Part 1 recap if you missed it.]
Lauren and I started early on Saturday and met Lauren S. at Charm City Run for a 5.5 mile run / photo shoot around the Inner Harbor. Lauren S. was a great tour guide and it was exciting to hear that she's nearly done with her Masters in OT. Woot! We also buzzed about her registration day for the 2018 Boston Marathon. So awesome! Lauren and I added a brief run to Fort McHenry and took our second National Park picture together. [See the last one at the Grand Canyon HERE.]
We grabbed coffee and went back to the hotel to pack and clean up. We got to the Expo Hall and started with the "Hot Products."
I headed straight for Gorp to check out their bars and Nexty Award winning Ready Mix. After hearing about how amazing their bars were, I chatted with Jen and grabbed one of each to try. Then, she told me about their Ready Mix which you add nut butter and honey to make 25 bars. It's great for families or anyone who wants great bars for less money. I'm looking forward to checking it out when it launches.
I saw that The Soulfull Project was there and I "pinned" Chicago to add a meal to a local food bank and grabbed some samples to share. As I mentioned in my Day 1 recap, apple cider vinegar was big this year at Expo East. I swung by and chatted with Vermont Village. They had awesome single shots in five flavors. I love this idea for travel! They gave me one of each to try.
I headed up to my first meeting of the day with Finds' fave Rebel Kitchen. They were sampling an amazing smoothie recipe that I'll share soon when they launch their new website. It contains their delicious Coffee Mylk. They told me more about their new refrigerated line of mylks that are launched in the UK. More good stuff coming soon!
Next up, I swung by to check out what was new at Nuttzo. Nuttzo was the first multi-nut butter and they make non-peanut blends, too. I met the company founder and got some snack packs to share, too! I stopped by to see the lovely gals from Spice Trail Snacks because they messaged me on Instagram. I'm so glad that I did! They make delicious savory granola in three flavors. They are so good. More to come on this awesome new brand soon.
I was excited to see my friends from Redd Bar and to find out the new flavor. If you didn't hear, it's Salted Caramel! I got one to try and a bunch of other Redd Bars to share with you. I love how much success they've had since I "found" them at Expo East last year. Giveaway of Redd Bars and swag coming soon! I also saw my friends from Ona and chatted with them about their new "functional fuel" line. They gave me some cookies and bars to share.
I had a bit of time, so I stopped over at Square Organics to try their new protein bar and protein popcorn. Popcorn was less prominent at Expo East this year, but this new variety was super yummy. I tried the Spicy and will be on the look-out for more! I tried Bee's Water which is an antioxidant rich honey water. It was not too sweet and I think it would be perfect heated when you have a cold or sore throat.
Lauren and I checked out a new local Chicago brand, Maker Oats. They make overnight oats mixes so you don't have to. They come in adorable jars in several flavors including Banana and Coffee. They sell pouches, too, so you can reuse the jars. I got some samples. They're not even on sale yet, so I'll let you know more when they are!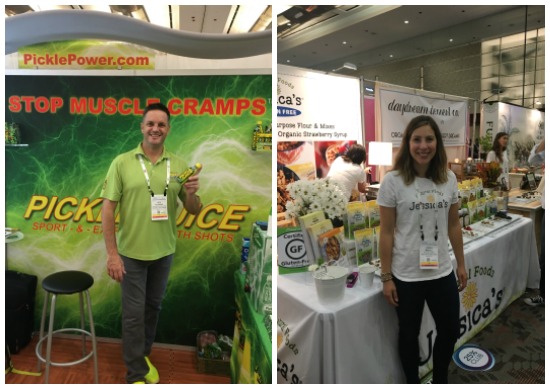 Next up, I went to my appointment with the Pickle Juice Company. Pickle Juice is known to help athletes with muscle cramps and it has 10x the electrolytes of sports drinks. There is a lot of science behind this product. I tried some and it was indeed like drinking the juice from the pickle jar. They sent me some at home to test and share, so I'll have a full review coming soon. I think I'll bring some to the Chicago Marathon in case I see runners in need, too.
After this, I was super excited to see Finds' fave Jessica's Natural Foods. I finally met founder Jessica Mindell in real life! We've been working together for a few years and this was the first time we've met. She loaded me up with samples to share and we planned a giveaway for October! Then, I ran into Finds' fave, Karma Nuts! I missed that they were going to be there as I usually see them at Expo West. I loved chatting with Ganesh and his team, as always. They also shared that they won an NCW Eco Excellence Award for their Coconut Crunch Roasted Cashews – woot! Love them!
I was on a roll when I saw another Finds' fave, The New Primal. The booth was mobbed but I snagged some Snack Mates for my fave kid testers. I downed a bunch of tastes of Revive Kombucha. The Cola was my fave followed by Coffee and Hibiscus. Yum!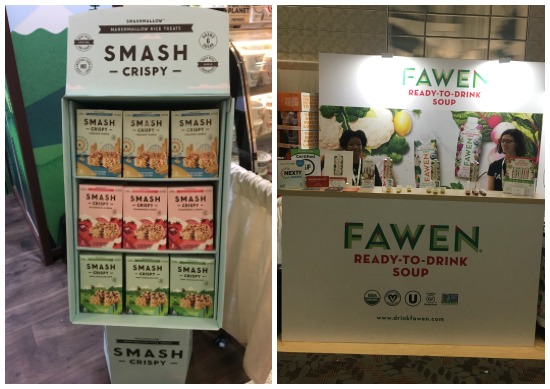 My next stop was to chat with Smashmallow about their new "Smash Crispy" line. Yup, they're taking on rice crispy treats. They come in three flavors, Cinnamon Churro (my fash Smashmallow flavor), Strawberries and Cream and Mint Chocolate Chip. They gave me a bunch to try and share so stay tuned. I taste tested a new Smashmallow flavor, too, but I was sworn to secrecy. Trust me, you're going to love it!
After Smashmallow, I had a break so I swung by some more faves Fawen Soup and RxBar. We grabbed some cold brew from Café Grumpy and veggie noodles from fave Veggie Noodle Co.. They were featuring some recipes with raw veggie noodles. I'm embarrassed to admit, I'd never considered this. What a revelation!
After a little break, I headed down to check out Lynq. Lynq is a powdered blend of superfoods that was originally formulated for kids to get more nutrients. Each superfood blend contains up to 50% of your daily intake of vitamins A, B, C, D, E and K, up to 6g of fiber per serving and is a good source of calcium, potassium and folic acid. You can add these to water or juice to up the nutrition. They have a chocolate version that tastes like Yoo Hoo when mixed with almond milk. Yum! Stay tuned! I'm going to do a full feature and got some samples to share, as well.
I headed down to check out Kodiak Cakes new superfood frozen waffles. I tasted lots of yummy recipes with their mixes on Wednesday [see Part 1]. These waffles were very tasty and are way more nutritious than regular frozen waffles. Be on the look-out for these at Target and many other supermarkets across the country.
I stopped by to see what was new from Skratch Labs. I love their Fruit Drops for my marathon training, so they stocked me up! I also got a variety of hydration products to share and a sneak peek at their new "anytime" energy bars. The bars come in two flavors: Savory with ginger and miso and Slightly Sweet with cherries and pistachios. I'm excited to try these and hope to get more to share!
I grabbed a few more samples and then headed over to say goodbye to the SOS Rehydrate crew. We chatted about their first Expo East and I grabbed a bunch of SOS to restock my cupboard and to share.
And just like that, it was time to go! There were many other brands I chatted with and many that I missed. I'm excited to read other bloggers' recaps to find even more great products to share in the months to come.
Here's my day 2 haul:
What products/brands do you want to hear more about or try?
Please note: I was given free samples to try and share. I was not otherwise compensated to mention any brand in this post. All opinions are my own.