I had the opportunity to attend Expo East for the second year in a row.  [2016 report Part 1 | Part 2] Expo East is a scaled down version of the largest Natural Products Show in the land, Expo West. It's still huge and amazing. I love that you can spend time talking to people and it's a bit less crowded. I love to see brands that I work with growing and getting the love they deserve. I also met some company founders and workers in real life instead of the internet which is awesome.
This year, I was invited to attend the first Natural Products Expo Influencer conference. It was a half day event with great speakers from well know bloggers and influencers in the natural products world. I loved meeting other bloggers and industry folks and learned a lot, too. More on that to come!
Since I went in early, I caught the tail end of the Harvest Festival. The Harvest Festival was a sampling festival that had a farmer's market feel. I met Betsy from Betsy's Best. [I am a HUGE fan of the cashew butter with cardamom and cinnamon!] I also caught up with Chris and Cody from Gorilly Goods and the folks at ProBAR. I tried RAU Cacao Superfood Drinks – TRY THESE! That night, I went to a great happy hour with Kodiak Cakes. I tried amazing recipes with all their pancake and waffle mixes made in a unique way.
Thursday morning, my friends at SOS Rehydrate hosted a running clinic and fun run with two-time Olympic medal winner, Nick Willis. It was so much fun to get pro-tips from Nick and James from SOS. They could not have been nicer, I learned a few techniques I'll try and I had so much fun in the process. We practiced some drills and then ran a 5K fun run. What a great way to start the day!

I got some extra SOS to share, of course! Stay tuned. I caught up with the SOS team and got more to share on Day 2 of the expo.
Expo Tour – Day 1
My first full day at the Expo was Friday. I started off at an Influencer Tour, but only had time to hit one stop before taking a call for work. It was good to get an early start and to hit the ground running at 10 when my call was over.
I started with a meeting with Zippy Bites. They make an all-natural, non-GMO energy truffle. Each piece has only 50 calories and is equivalent to almost a cup of coffee. They taste amazing, too! Amy turned me on to these and I'll have some to give away soon!
Next, I headed down to meet Attune Foods to chat about their Sweet Home Farm Granola. They have new Mocha Latte and Caramel Latte Flavors. Grab some if you see them! I saw Epic Bar and went to find Eric to take our usual silly photo. He was not there, but Brad and Nicole humored me for a little "camp fire" shot! I headed over to Finds' fave Justin's and stocked up on almond butter and peanut butter cups. Don't worry, I got plenty to share.
I saw recently featured GrandyOats and Mic stocked me up on some samples to giveaway. I went over to ask what was up with the Navitas Organics Insider program and they shared their new Essential Superfood Blend. They also gave me a ton of awesome products to try and share.
I met with Natierra Superfoods. They shared a new program that you need to know about. For every bag of their superfood line that they sell, a meal will be donated to a child in Haiti through Convoy of Hope. How awesome is that? They also shared some of their new Chia Crunch cookies. Stay tuned for more from Natierra!
Bobo's Oat Bars emailed me to come over to get some snacks. Bobo's has been in the game a long time with one of the first natural bars/treats that I can remember. Now they make Nut Butter Stuffed bars, too! I have LOTS to share and I love the new bite sized bars, too.
Next, I went to check out Mikey's new gluten free tortillas and other delicious gluten free baked goods. The founder, Michael, is terrific. He's a trained chef with a background in some of the most elegant restaurants in the world. He was doing catering when he found some gluten free/natural products he thought he could make better. He started out selling products through one store in Long Island and now has nationwide distribution of a ton of awesome gluten free products. Very cool!
I swung by to check out what was new with Enjoy Life Foods. They are rebranding and they have new Crispy Grain and Seed Bars which are safe for school lunches and are allergen free. Next I swung by Perfect Bar to see if I could lay hands on the new Pumpkin Spice. The answer was no but I stocked up on minis to share!
Apple cider vinegar and other drinking vinegars were present and accounted for at Expo East. I tried a bunch of good ones and loved chatting with Heather from Fire Cider. I totally dug their Apple Cider Vinegar Tonic. She gave me some to take with!
A friend from college is working with The Maple Guild. I swung by and tasted some amazing maple products that are new to me. Their Maple Tahini and Maple Drinking Vinegar were great! I'm looking forward to working with them! My last appointment of the day was to check out Alter Eco's new coconut clusters. They come in three flavors. My fave was the cherry almond, because… cherry… almond. The most popular is cocoa cluster. All good!
After a little break, I went to meet Farrah. It was so fun to meet her in real life! It was her first Expo East, so I gave her some pro tips. We walked around together for about an hour and checked out some all natural beauty products and swung by Bob's Red Mill, Go Umami, Spin Drift Seltzer and Bee Harmony Honey.
Then Lauren arrived and we met her. She's also a first timer. As a dietician, she's looking for great brands to recommend to her athletes and clients. She's also a mom so she was on the lookout for the best products for her kids.
We checked out a new fave of mine, Raw Bite I harassed them about getting European flavor, Spicy Lime, to the US stat. We then met the founder of Sprout Living. A vegan drinkable oats product with plant based protein and lots of superfoods. We chatted with the guys from Rebbl and tried a bunch of their yummy drinks. My fave was the Tumeric Golden Milk. Yum!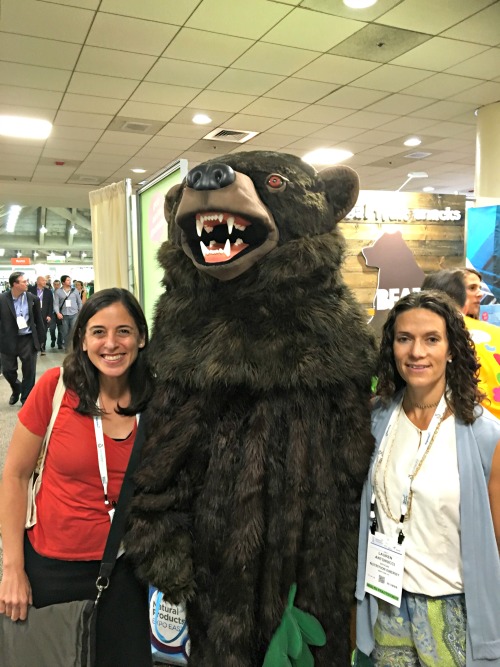 We then checked out Bear fruit rolls and snagged a bunch for Lauren's kids. We also grabbed some Finds' faves Nak'd Bar as they're with the same parent company.
Lauren and I walked around and checked out some cosmetics and beauty products including Noyah, Thayer's, Dr. Bronners and more. We met the folks from Om Mushroom which I've been interested to try. We were super impressed with the knowledgeable folks at Nature's Fusion and learned a lot about essential oils. We got some to try, as well. I took Lauren by some of the folks I'd seen earlier. We had some Health Ade Kombucha and Good Belly Probiotics shots to keep our guts healthy.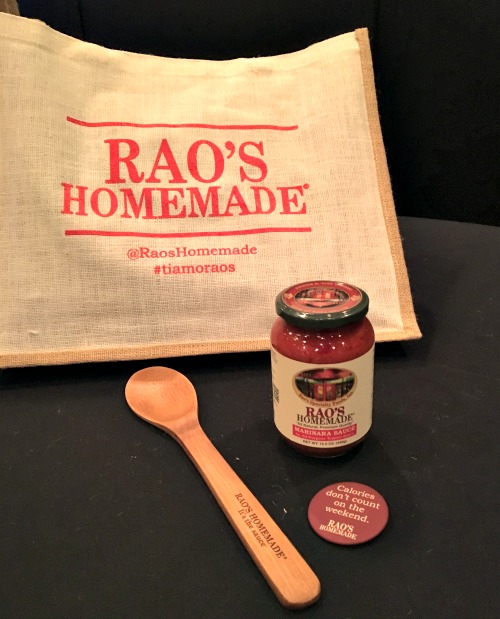 We finished up the day with a terrific happy hour with Rao's Homemade at Morton's. Rao's Homemade was making Paleo sauce before it was "a thing." It's been all natural, gluten free and who food forever. Their jarred sauces and specialty Italian products are delicious. We met some Baltimore bloggers and other folks and truly enjoyed the evening.
Here's the haul from Day 1:
I'll be back with Day 2 soon!
Please note: I was given free samples to try and share. I was not otherwise compensated to mention any brand in this post. All opinions are my own.