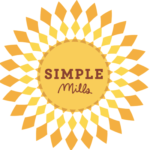 I met the nice folks from Simple Mills at the Good Food Festival in 2016 and tried their gluten free crackers. I was hooked. Back then, I wrote to them and they sent me one of each flavor of their amazing almond flour based crackers to try and share. Since then, I've checked out all of their new products – frosting, crunchy cookies and new sprouted seed crackers.
A local, Chicagoland company, Simple Mills makes delicious gluten free/grain free products. They started with baking mixes and their line now includes crackers, frosting and a new line of prepared cookies.
At Simple Mills, they believe that "when you eat better, you not only feel better, but you also have more energy to pursue a passion-filled life." That's why they're "devoted to providing foods that are made with simple, whole food ingredients that taste absolutely amazing." They use only simple, whole food ingredients with "no artificial anything ever." Each box says, "You are what you eat. At Simple Mills that means you can be salty or sweet, but you are always good!" Love it!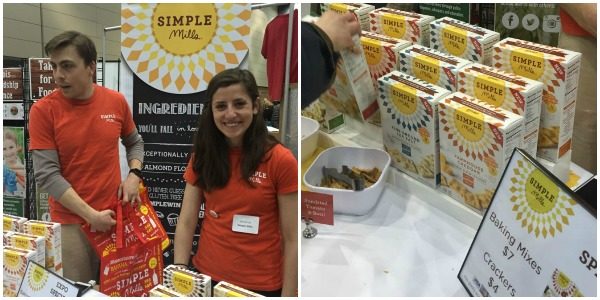 The crackers are made with a blend of almond flour, sunflower and flax seeds and just a few other whole food ingredients. They are certified gluten free and are non-GMO. They are also Paleo-friendly, grain free and soy free. They contain eight simple ingredients. The best thing is that you will recognize all of them! You can learn more about each ingredient and why they chose it HERE.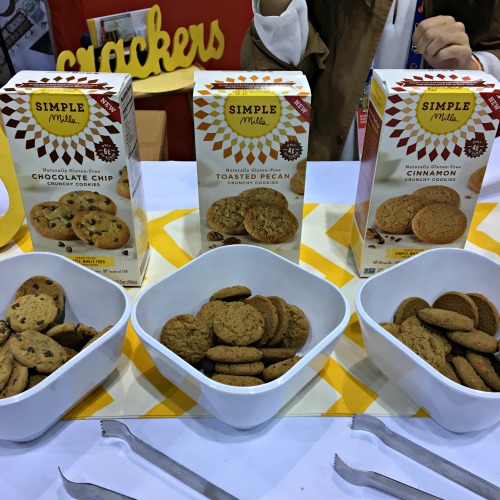 Simple Mills showcased their new crunchy cookies at the NCA Sweets & Snacks Show. The cookies are made with plant powered, nutrient-dense ingredients and are sweetened with coconut sugar. The cookies are certified gluten free and are also free of grains, soy corn, dairy and emulsifiers. These cookies are Paleo-friendly and are made with all non-GMO ingredients. They come in Chocolate Chip, Toasted Pecan and Cinnamon. All of the flavors are tasty, but Cinnamon is my favorite.
I have ten coupons for any Simple Mills product (up to $9.99/coupon) to give away. I'll send five lucky winners 2 coupons each to try any two Simple Mills products. These coupons expire 12/31/17. You can find stores that carry Simple Mills here. Please use the Rafflecopter below to enter. Winners must be US residents, 18 years of age or older and the offer is void where prohibited. The giveaway ends on September 14th. Winners will be selected and notified on September 15th.
In the mean time, you can find Simple Mills on the web and at many stores and at Whole Foods! You can keep up with Simple Mills on Facebook, Twitter and Instagram. You can also check out their awesome gluten free baking mixes and recipes.
Please note: I was provided product and coupons at no cost in exchange for editorial consideration. I was not otherwise compensated for this post. All opinions are my own.