September is Better Breakfast Month. Why is breakfast important? The Cleveland Clinic says breakfast fuels your work/school day and improves performance. It also helps you to maintain a healthy weight. Studies show that kids who eat breakfast have better concentration in school, too. Plus, breakfast can be quick and delicious. Let's get to it!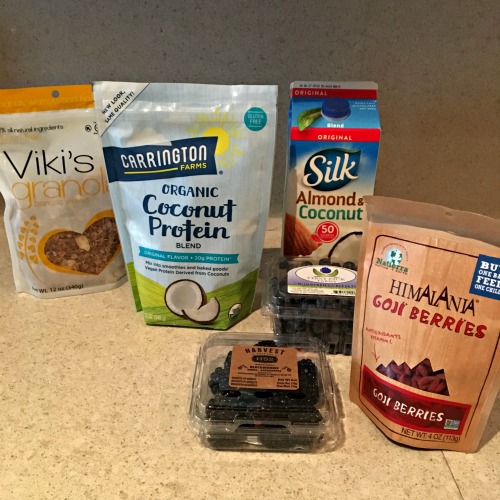 To celebrate Better Breakfast Month, I decided to try my hand at a smoothie bowl. I keep seeing pictures on Instagram and all of the smoothie bowls look perfect and delicious.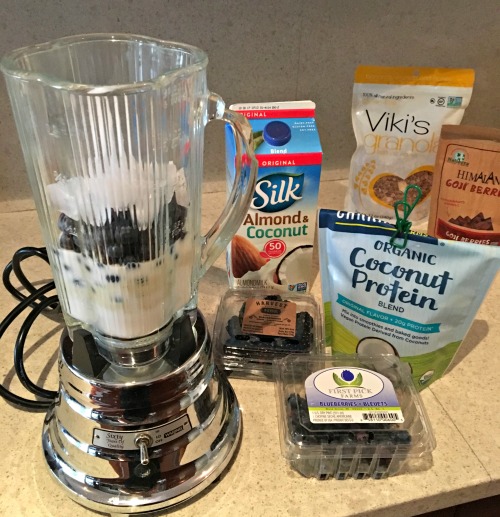 I started with a blueberry smoothie. I was offered the opportunity to try Carrington Farms Coconut Protein Blend. Made with just three organic ingredients, this vegan protein is derived from organic coconuts and plant-based proteins. It has a whopping 20 grams of protein per serving.
Ingredients to Blend:
1 c. Almond and Coconut Milk
1/4 pint of blueberries
1 scoop of Carrington Farms Coconut Protein Blend (1/2 a serving)
A scoop of ice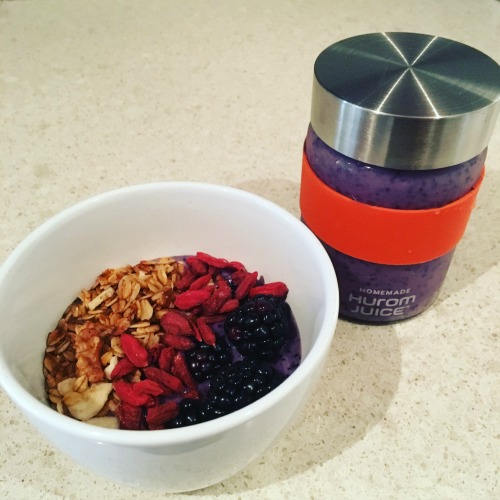 Then, I put half of the smoothie in a bowl. I added blackberries, Viki's Granola (Banana Walnut) and goji berries. It looks so pretty – doesn't it? It tasted even better. The fruit and granola added the perfect sweetness and crunch. Put me on the smoothie bowl bandwagon!
I put the remainder of the smoothie in this awesome HUROM's glass Juice Jar. With an airtight stainless steel lid, it keeps the smoothie fresh for later. It also makes it portable for breakfast on the go! You can take the smoothie with you to the office and then add extras for a smoothie bowl. Or, drink it as is, of course.
No time to make a smoothie? Check out Munk Pack's ready-to-eat Oatmeal Fruit Squeezes. They're packed with grains and fruit bites.  Munk Pack makes  five delicious flavors, including Apple Quinoa Cinnamon and Maple Pear Quinoa. They're gluten-free, non GMO, vegan and high in fiber. They're great for kids and grown ups, too!
Have you tried a smoothie bowl? What are your favorite toppings?
Please note: I received these products at no cost in exchange for editorial consideration. I was not otherwise compensated for this post. All opinions are my own.