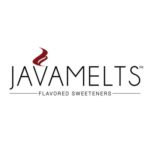 If you've been around here, you know I LOVE my coffee. When I went to the NCA Sweets & Snacks show in May, I left without a morning cup. So, my first order of business was to find some. Luckily, I met Carolyn from Javamelts straight away. Javamelts are individually wrapped flavored sweeteners for coffee and tea.
Carolyn from Javamelts explained that the idea for Javamelts came to her one Valentine's Day. Her husband poured her some coffee and she had an idea of how to make it more "special."
Javamelts are individually wrapped flavored sweeteners. They come in four flavors: Caramel, Mocha, French Vanilla and Hazelnut. They're non-dairy, contain 5 grams of real sugar (1 tsp) and are only 20 calories each! The individual packages are great for travel. I can say that they're awesome in some airline coffee on morning flights. They perk it right up!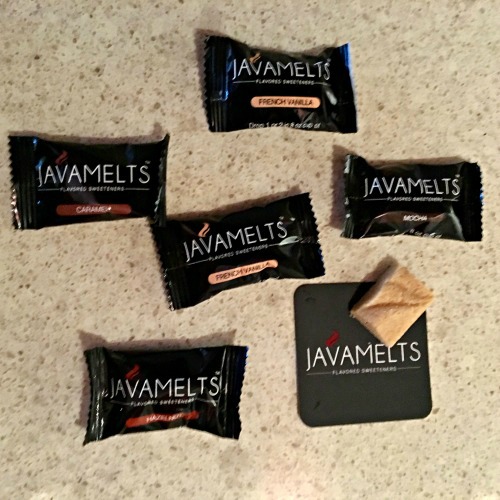 I typically don't sweeten my coffee, but I like hazelnut and french vanilla flavored coffees. I normally add almond or coconut milk to my coffee. Javamelts are perfect for me when a non-dairy creamer is not available. My favorite Javamelt is Hazelnut, but I like all of them. The Caramel smells amazing and makes the coffee seem very rich and dessert-y to me. It's a nice treat for only 20-40 added calories!
Want to try Javamelts? Carolyn will send one lucky reader a box of Java Melts in the flavor of his/her choice and a Javamelts coffee mug. Please use the Rafflecopter below to enter. The giveaway is open to US residents, 18 years of age or older and is void where prohibited. The giveaway will be open through 8/10. Winner will be selected and notified on 8/11.
Don't want to wait? You can find Javamelts online (get 10% off your first order with code GET10JAVA) or on Amazon (Prime Eligible). You can also follow Javamelts on Twitter, Facebook and Instagram.
Please note: I received samples of Javamelts for editorial consideration. I was not otherwise compensated for this post. All opinions are my own. This post contains an affiliate link for Amazon. If you use this link, I'll receive a small commission.