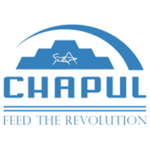 I've been known to try anything once – and some things twice. I've eaten grasshoppers in South America and ants somewhere in Asia. When I read about cricket protein bars, I decided to give them a try. I reviewed Exo bars and found the only one that I liked (enough to eat again) was Peanut Butter and Jelly. The others tasted vaguely fishy (crickets are crustaceans like shrimp.)
When I was at my first Expo West in 2015, I met the folks from Chapul. They have a very fun, funky vibe. One of their slogans is "Bring InSexy Back." You see what they did there? Their bars have more exotic flavors so I gave them all a try. The bars are all natural and are dairy and soy free.
Chapul says: "In a changing world, our diets will dictate our destiny. At Chapul. We're providing a healthy and sustainable food option that is not bound by conventional norms. Chapul cricket protein is an ancient protein source that we've crafted into our gourmet energy bars. Each flavor is inspired by international cuisine with healthy, all natural nutrition designed to sustain the adventure that is your life. Live it wildly, live it free. And thank you for joining us in a Good Food Revolution."
Chapul was a Shark Tank winner. Why crickets? They say "crickets need only 17% of the food and less than 1% of the water and land resources than livestock for the same amount of protein. They also require fewer natural resources than meat substitutes like soy, corn and rice."
Chapul Bars come in four flavors. They are Matcha Bar (Matcha Tea and Banana), Aztec Bar (Dark Chocolate Coffee and Cayenne), Thai Bar (Coconut, Ginger and Lime) and Chaco Bar (Peanut Butter and Chocolate). If you've been around here much, you know I love the Aztec. The Thai is a strong second. It's very different than other energy bars out there. The Matcha is awesome for Matcha fans. I like it better than I expected. The Chaco is rich with dark chocolate and has pieces of cacao nibs and peanuts. They are all yummy and no fishy taste – scout's honor!
All the bars weigh in around 200 calories. They are low in carbs and have healthy fats. The healthy fats and cricket protein keep you full longer. There is a warning that some people with shellfish allergies may be allergic to cricket protein.
Chapul recently launched cricket protein powders in original, vanilla and chocolate. I received samples in my New Hope Network Blogger Box. I haven't tried them yet, but I'm very curious! Each sample has 10g of protein, bioavailable iron, B12 and prebiotic fiber.
I have a sampler of 4 bars and one of each sample of chocolate and vanilla protein to share with a lucky winner. Please use the Rafflecopter below to enter. Winner must be a US resident, 18 years of age or older and the offer is void where prohibited. The contest ends on September 8. A winner will be selected and notified on September 9.
Don't want to wait? You can get Chapul products online or on Amazon (Prime Eligible). You can also keep up with Chapul on Facebook, Twitter and Instagram.
Please note: I received sample products from Chapul and from the New Hope Blogger Network at no cost. I was not otherwise compensated for this post. All opinions are my own.