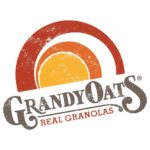 I love a surprise – especially one that contains small batch, grain free coconut granola. I received a care package with three types of GrandyOats' Organic Coconola Coconut Granola. What's Coconola? It's gluten-free and grain-free granola made with organic superfoods, coconut chips, almonds and pumpkin seeds. It's made with no oil and it tastes amazing. They've offered to send some to a lucky reader, so read on!
Even though it's new to me, GrandyOats has been around since 1979. They've been making small batches of organic granola, muesli, trail mix, roasted nuts and hot cereals in Maine. The bakery is 100% solar powered. With the mission of sourcing the most wholesome organic ingredients, GrandyOats partners with local, organic and non-GMO producers to "create the taste that nature intended." Their mantras are "live life organically, love the path you travel and keep it real." The GrandyOats team are "Real Granolas!"
GrandyOats new Coconola comes in three flavors. They are: Original, Chocolate Chunk and Super Hemp Blend Coconola. All three flavors are gluten free, grain free, USDA Organic, Non-GMO and Kosher. The Original and Super Hemp Blend are Certified Paleo and the Chocolate Chunk is Paleo Friendly.
I shared the Chocolate Chunk and Super Hemp Blend with Brooke. We tried both directly out of the bag after a 7 mile run and enjoyed them. Later, I tried all of the  flavors in my cashew yogurt and with almond milk. I also brought some in a baggie an airplane snack. It's tasty, filling and nutritious. Definitely a winner for me!
Brooke says, "I decided to try the Chocolate Chunk Coconola for dessert. After all, chocolate and coconut screams dessert to me. I like granola as a sweet treat after dinner."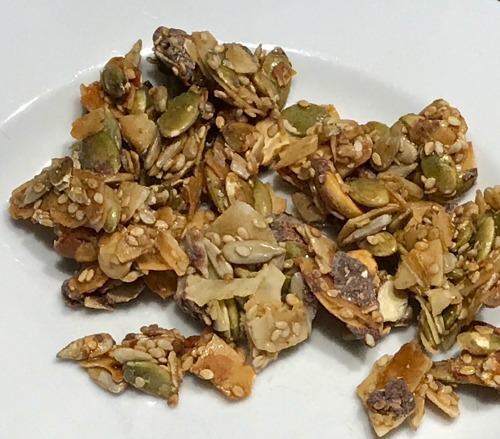 I tried it straight up – take a look at those ingredients! It contains: Organic Unsweetened Coconut, Organic Pumpkin Seeds, Organic Sunflower Seeds, Organic Coconut Syrup, Organic Dark Chocolate, Organic Sesame Seeds, Organic Pecans, Organic Cashews, Organic Maple Syrup and Organic Vanilla. It was delicious! It would also be a great topping for ice cream, berries… you name it.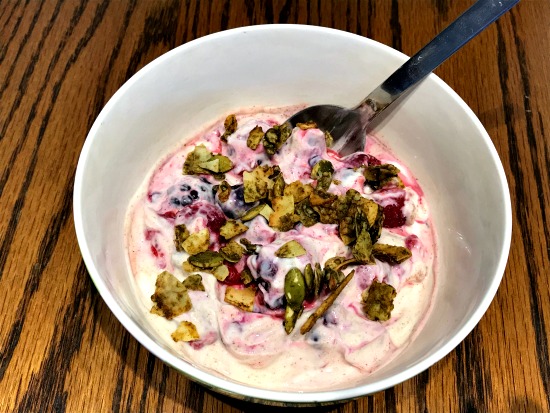 A couple of days later, I decided to try the Super Hemp Blend Coconola for breakfast. One of my go to breakfast is Greek yogurt with LOTS of berries, ground flax and a crunchy topping like nuts. So why not top it with the granola? The ingredients are just what I look for and the hemp was new to me. Needless to say, it was yummy! I added more Coconola as I was eating it – love that crunch!
Brooke's verdict: "I encourage you to give GrandyOats Real Granola a try. Those Real Granolas sure make tasty products while staying true to their three mantras!"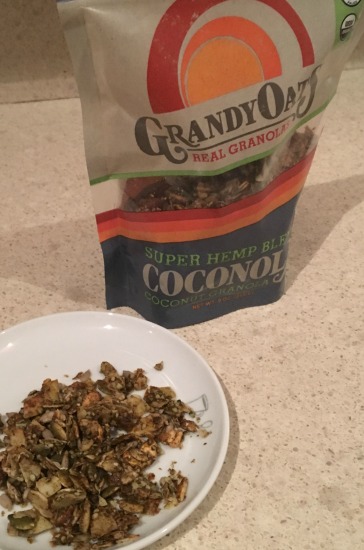 GrandyOats Coconolas are nutritious and delicious. You don't have to take our words for it. The Real Granolas at GrandyOats will send one lucky reader all three flavors of Coconola to try, too. Please use the Rafflecopter below to enter. The winner must be a US resident, 18 years of age or older and the offer is void where prohibited. The giveaway ends on August 30. A winner will be selected and notified on August 31.
Don't want to wait? You can buy GrandyOats Coconola (and other yummy products) online or on Amazon (Prime Eligible). You can also keep up with GrandyOats on Facebook, Twitter or Instagram.
Please note: I was offered products from GrandyOats for editorial consideration. I was not otherwise compensated for this post. All opinions are my own. This post contains an affiliate link for Amazon. If you use this link, I will receive a small commission.