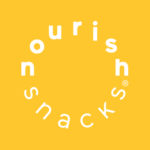 You know I'm a wee bit obsessed with finding the most nutritious and delicious snacks. A great place to start is with a famous nutritionist who shares my passion. You may know Joy Bauer from (my fave) The Today Show.
Joy started making snacks under the Nourish Snacks brand name. They "merge incredible taste with high quality, purposeful ingredients." Their goals is to strike a balance between "sound nutrition and the deliciousness you deserve – something [they] like to call a nourishing indulgence." Nourish strives to use clean ingredients that add nutritive benefit to your diet – while keeping great flavor in mind. They never add anything artificial. Good stuff!
I met Libby from Nourish Snacks at Chicago Sweets & Snacks this year. In May, Nourish slimmed down their product selection and rebranded. I LOVE the new colorful packaging and tasty granola bites.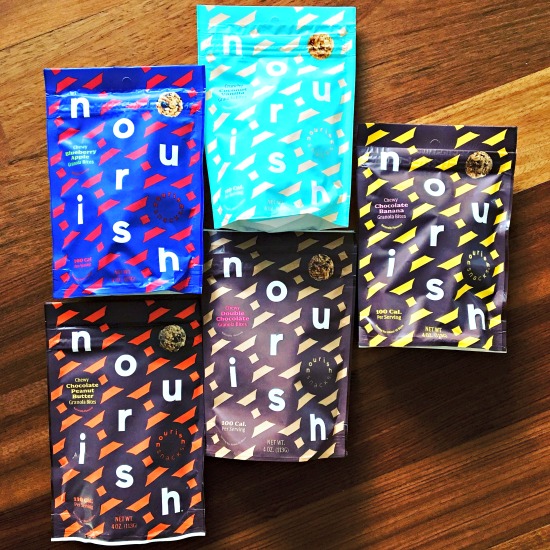 Nourish Snacks'  Granola Bites come in five great flavors. They are Crunchy Vanilla Coconut and Chewy Blueberry Apple, Chewy Double Chocolate, Chewy Chocolate Banana and Chewy Chocolate Peanut Butter. They sent over all five flavors for us to try and some for me to giveaway, too.
The Husband and I tasted all of the flavors. The hands down winner for us is the Crunchy Vanilla Coconut. We liked all of the flavors but the crunchy texture of the Vanilla Coconut sealed the deal for us. My favorite chewy flavors are Chocolate Peanut Butter and Double Chocolate. The Husband preferred Blueberry Apple, but said, he'd eat any of them. That's a win around here.
The Granola Bites are easy to eat and don't crumble. The serving size is nice for 100 – 120 calories (shown above). They come in 1 oz (single serve) bags and 4 oz bags. These are great on the go instead of a bar. I stowed some in my travel bag and you know kids will love them in lunch boxes. You can also mix them into a trail mix if you want some nice variety and wholesome ingredients.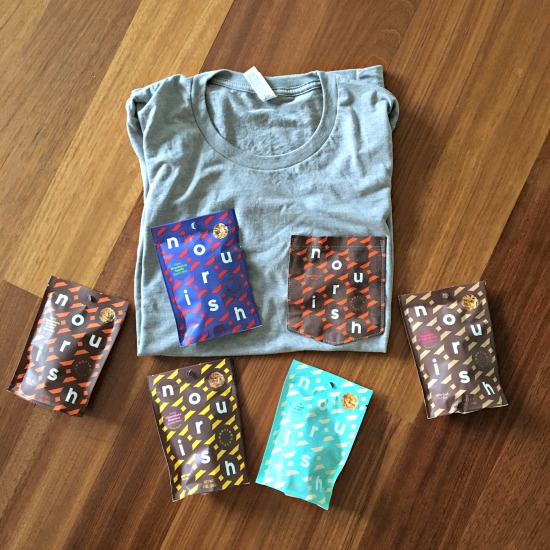 You don't have to take our words for it. I have a great prize pack to give away. I'll send a lucky ready one of each flavor in 4 oz bags and 1 oz bags plus a T-shirt (Womens S or M only). Please use the Rafflecopter below to enter. The winner must be a US resident, 18 years of age or older and the offer is void where prohibited. The giveaway ends on September 7. A winner will be selected and notified on September 8.
Don't want to wait? You can buy Nourish Snacks on Amazon (Prime Eligible) or at these stores. You can also keep up with Nourish Snacks on Facebook, Twitter or Instagram.
Please note: I was offered products from Nourish Snacks in exchange for editorial consideration. I was not otherwise compensated for this post. All opinions are my own. This post contains an affiliate link for Amazon. If you use this link, I will receive a small commission.