It's Friday, so I'm linking up with Running on Happy and Fairytales and Fitness for Friday Five 2.0. This week's topic is "My Favorite Races." I've run well over 400 races, so this is a doozie of a topic for me. I can't really pick only five faves. However, if you've been around here, you know I have some faves that I repeat year after year. So, I'll hedge my bets with "some of" my favorite races.
Some of My Favorite Running Races
How come @EAgran has guaranteed entry to @nycmarathon for life? She'll tell you. https://t.co/NuripTs4oJ #podcast pic.twitter.com/MFkMBPj7xn

— Denny Krahe (@DizRuns) March 23, 2016
1. New York City Marathon, New York, NY – If you've been around here, this is kind of a no-brainer. I've run the NYC Marathon 17 times. It's kind of my thing. I used to live there and then after we moved to Chicago, I made it a mission to get guaranteed entry by running 15 NYC Marathons by 2015 to get guaranteed entry for life. I explain why on Diz Runs' podcast! What do I love about the NYC Marathon? It brings out the best in one of my favorite cities. I see so many friends and family members every year. No matter if you're a front runner or mid-packer, the crowd support will keep you smiling for days. I just love it! See my top 15 reasons to love the NY Marathon and all of my (many) NY Marathon posts here.
2. NYC Half, New York, NY – For the last six years, I've run the NYC Half with Alexandra's Playground. I love supporting this amazing cause, but there are a bunch of other reasons this race is a fave. I love running in cold weather. They moved the NYC 1/2 from August to Mid March so it's usually perfect running weather (read less than 40 degrees.) It also has a great course with a unique view of the city (it IS cool to run through Times Square) and a fast finish. I usually have LOTS of friends running. Love it! Learn more about this great cause and see my recaps here.
3. Shamrock Shuffle 8K, Chicago, IL – I normally don't love big shorter races, because they're so crowded. That said, the Shamrock Shuffle kicks off the Chicago racing season. They always do an awesome job of corrals and there is a wide start, so it's always easy to get to pace and run well. It's usually nice and chilly, too. My favorite thing about the race is that all of the runners come out from winter hibernation and it's really great to see so many friends.
4. Super Sunny 5K – Burbank, IL – My friend Annabelle (who is a kick-ass runner) is the race director for this small Chicagoland 5K. The race supports Garden Center Services, an organization that benefits Chicago area adults with intellectual and developmental disabilities. It's also accessible to all athletes and there's a dog race, too. They have great sponsors and cash prizes! I finished "in the money" this year for 5th place woman. I love the inclusive feel and the amazing group of friends who support the race and the organization each year.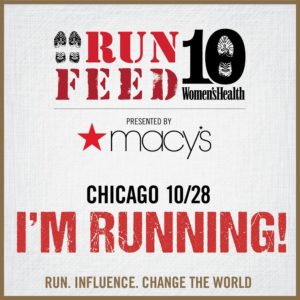 5. Run10Feed10 – multiple cities – Run10Feed10 is a 10K race with a clear purpose – to feed the hungry. For each runner who runs 10K, they give 10 people meals in the host cities. It started in 2012. I've done it every year in Chicago since then. This year, I'm super excited to be a race ambassador as a Women's Health Hero. (More to come on that soon.) I love the clear mission of this race and the fun atmosphere. The race also has AWESOME sponsors and tons of fun giveaways.  There are races held in NYC, Chicago, San Francisco and fun runs in many other cities. You can also run virtually or start your own event. Run with me in Chicago on 10/28 or in any other city and get $5 off with code R10HERO24. Sign up here. You can also support my fundraiser on Crowdrise.

What are your favorite races? Please share them in the comments!
Have a great weekend!
PS. Don't forget my great giveaways.