It's Friday, so I'm linking up with Running on Happy and Fairytales and Fitness for Friday Five 2.0. This week's topic is "Running Friends/Family." Picking five favorite races was tough, narrowing down to five running friends (or even groups of running friends) would be impossible. Since it's "Happiness Happens Month," and because runner friends make me happy, I'm going with "5 Keys Skills to Practice for a Happier Now" based on a post from the HealthTap blog from 2015.
HealthTap's post shares the science behind Happify's Basic Skills to Increase Happiness:
1. Savor the Moment.
2. Thank Those Who Matter
3. Aspire to Meaningful Goals
4. Give of Yourself
5. Empathize with Others
The full post has links to articles on each of these tactics with links to the science. It also includes links to doctors' and psychologists' answers to happiness questions like "Are there any simple methods to achieve happiness?"
I love to think of these as skills. It's a great reminder that these can be learned, practiced and honed. It's also a reminder that happiness is a choice and that we can focus on some/all of these skills to grow our happiness.
In our fast paced lives, it's easy to rush through and forget to savor the moment. One of my goals is to be more present and to take note of times that are special with gratitude. I also try to thank to people with sincerity – I can always get better at this. Heck, I can work on all of these skills!
Which of these "skills" are you best at and which can you improve in?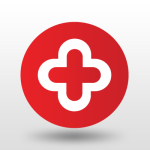 Check out HealthTap's blog or sign up for their newsletter. I saved a bunch of their posts to share. HealthTap's mission is "to measurably prolong the life expectancy of humankind and help everyone Feel Good by providing immediate access to top medical experts and their trusted health advice anytime, anywhere." HealthTap has free medical information and the ability to subscribe to work with their doctors. You can also follow them on Twitter. Please note: this post was not in any way sponsored by HealthTap – I think that it is a cool service and blog so I wanted to share it!
Have a great weekend and don't forget to savor the moment!
PS. Don't forget my great giveaways! Winning fun stuff is proven to make you happy.