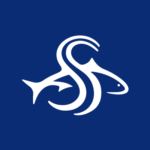 You may remember my rave review of low mercury, sustainably caught tuna from Safe Catch. I had the opportunity to try, and share, Safe Catch's new "Seasoned Elite" line. They paired their best-selling, sustainably caught Elite Wild Skipjack Tuna with six premium spice blends and avocado oil to create delicious and uniquely flavored tunas. These new products align with their values of purity, transparency and simple natural ingredients.
You may remember that Elite is Safe Catch's lowest mercury tuna. It's a great choice for athletes, kids & pregnant women. All of the tunas are gluten free, Paleo Certified, Kosher, Non-GMO Project Verified and dolphin safe.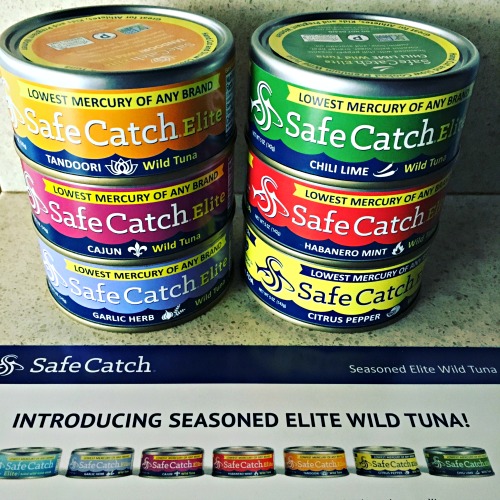 The new Seasoned Elite Tuna comes in six flavors. They are Chili Lime, Garlic Herb, Citrus Pepper, Tandoori, Cajun and Habanero Mint. They say, and I agree, that "these six innovative flavors will satisfy a wide range of palates."
These flip top cans are super convenient. You can just mix and eat. I tried all of the flavors and especially loved the Tandoori, Habanero Mint and Chili Lime. I got a variety pack for my trainer, Bianca, who is training for a fitness competition. She said, "my favorites were the Habanero Mint (such an unexpected/awesome combo!) and Tandoori. I ate the Habanero Mint with a salad and the Tandoori made into a tuna cake with flour and bread crumbs, sooo good!"
I gave a few cans to Brooke, too. She made some awesome recipes from Safe Catch's website. She says:
"I like tuna, but it is not a "go to" food for me. I had the opportunity to expand my knowledge and my palate with seasoned tuna. I worked with two flavors – Chili Lime and Garlic Herb.
First up, Chili Lime described as "a beach day tuna with some kick to it. Chili Lime is seasoned with chili pepper, organic coconut palm sugar, orange peel, cumin, lime and avocado oil".
I had a busy morning and was ready to eat. I didn't have much in the kitchen and remembered the tuna. I had made corn-black bean relish for taco salads earlier in the week. Eureka! I paired it with the relish and some tortilla chips and baby carrots.

When I opened the can, it smelled delicious. I couldn't wait to taste it. Make sure to follow the direction on the lid. Place the tuna in a small bowl to stir. Don't drain it! You want to retain the Omega 3 acids and spices. It was fantastic straight from the bowl. But I did go ahead and plate it with my sides.
Delicious! I used about half a can so I put the bowl in the fridge. The next day my husband was looking for a high protein snack and ate it. He loved it, too! I can think of many ways to incorporate the Chili Lime Tuna into some of our go-to meals. Safe Catch also has recipes on their site if you are looking for more inspiration.
I was feeling inspired when I opened the Garlic Herb, to make my lunch. The description reads "A delicious combo of aromatic herbs, this flavor is seasoned with black pepper, oregano, basil, rosemary, garlic, onion, orange peel, chili pepper and avocado oil." I checked out the recipes and decided to make a modified version of the Bella Burgers. Once again when I opened the can it smelled delicious!
I mixed the Garlic Herb tuna in a bowl and saved half for my husband to snack on. I took a quick taste and decided the spices could stand on their own.
---
Brooke's Bella Burger (adapted from this Safe Catch recipe)

Preheat oven to 400 degrees. Line a baking sheet with aluminum foil and spray or brush lightly with olive oil.
Mix these ingredients together and form into two patties:
½ can Garlic Herb Elite Wild Tuna
1 T finely chopped red pepper
1 T finely chopped red onion
1 T Dijon Mustard
1 T (heaping) whole wheat panko bread crumbs
½ egg
Place on baking sheet and bake for 20 to 25 minutes.
---
While the patties were in the oven I sautéed a Portobello mushroom cap in a small amount of olive oil. I placed the patty in the mushroom cap.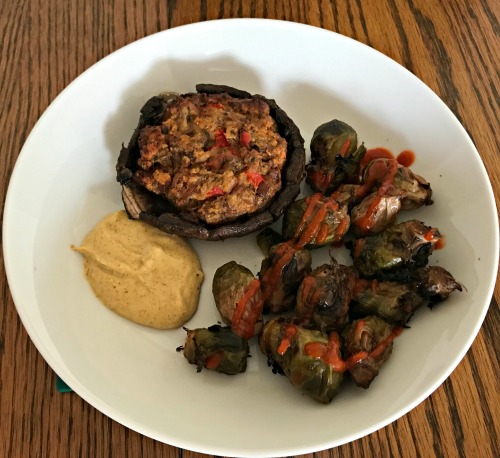 I served the open face Garlic Herb Tuna Bella Burger with a side of aioli garlic mustard sauce and a side of roasted brussel sprouts with sriracha. This lunch was an upgrade from my usual fare and quite easy to make. I need to add it to our dinner rotation.
Experiment and have fun with Safe Catch tuna products. You can't go wrong!
Want to check out Safe Catch Seasoned Elite for yourself? Safe Catch will send a 6 can variety pack like I received to a lucky winner. Please use the Rafflecopter below to enter. The giveaway is open to US residents, 18 years of age or older and is void where prohibited. The giveaway will be open through 7/27. Winners will be selected and notified on 7/28.
Don't want to wait? You can get all three varieties and sizes of Safe Catch online or on Amazon. You can also follow Safe Catch on Twitter, Facebook and Instagram.
Which flavor interests you most? Do you cook with tuna?

Please note: I was offered samples of Safe Catch tuna in exchange for editorial consideration. I was not otherwise compensated for this post. All opinions are my own. This post contains an affiliate link for Amazon. If you use this link, I will receive a small commission.