Do you love tea? This is the post for you! Harney & Sons, a luxury tea company, announced its first international tea tour in London, England. Tea industry insider Mike Harney will lead the group to the top tea drinking destinations in London from September 15-21, 2017.
Harney & Sons is a family-owned and operated tea company "passionate about serving the highest quality of tea." From a basement in Connecticut to an established headquarters in New York, Harney & Sons has grown to become a highly regarded tea brand. It's the proud creator of the "coveted official line of teas requested by the Historic Palaces of England."
Now, they want their customers to get an insiders view into the British tea scene. The trip will trace the history of the tea industry from China and India to Britain. Mike Harney and his wife will lead the small group providing insight into tea blending around the world. The tour includes a world class "Tea Infusiast" Masterclass at the UK Tea Academy. It also includes a historic walking tour through royal palaces and an exploration of traditional tea service from the elegant Dorchester Hotel to below the Cutty Stark – one of the last tea clipper ships built in England.
This sounds pretty cool – right? Speaking of cool and tea, Harney & Sons sent me four tins of their ten varieties of their 2 quart tea bags for iced tea to try.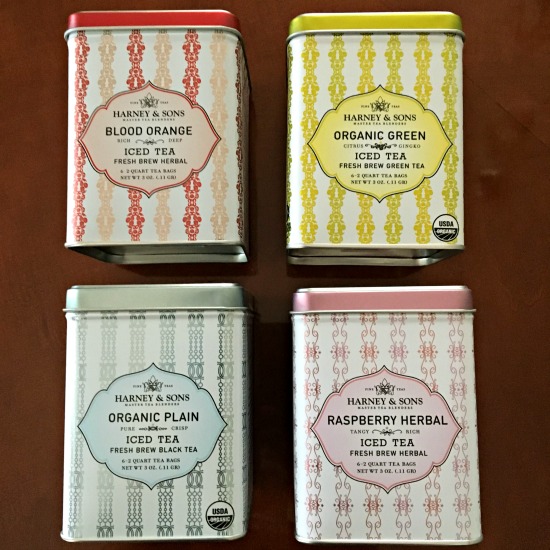 I received a beautiful set of four canisters of iced tea bags from Harney & Sons. They sent me Blood Orange, Plain, Green Tea and Raspberry Herbal. I shared some with Brooke and will make up some pitchers in the weeks ahead.
While I was traveling, Brooke helped me again by testing the Plain and Blood Orange Iced Tea. Here's what she had to say:
"Summer has arrived in Chicago so what a better time to sample some fresh brew iced tea from Harney and & Sons.
I LOVE tea – love it! I probably have 4 to 6 cups a day. I drink it like water. My favorite is straight up black tea  followed by herbal teas to make sure to manage my caffeine intake. I end my evenings with a cup of herbal tea before going to bed.
I enlisted my husband in the adventure, too. He requested we try the Organic Plain (Black) Fresh Brewed Iced Tea first. Here's the description from the website; "Our hand-picked full leaf Organic Chinese black tea is a classic tried and true. Sweet in taste, rich in body, bright and clear in color."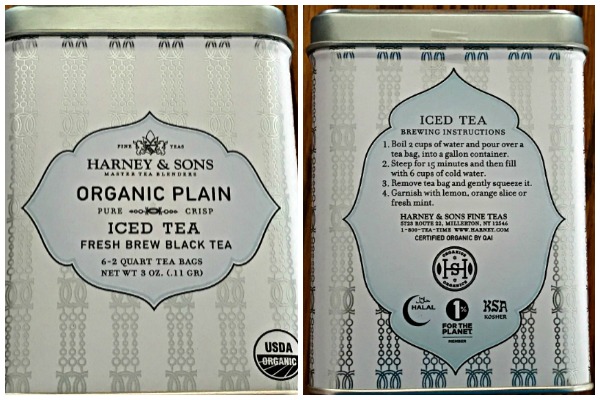 The iced tea is packaged in a tin of 6 easy to brew pouches. Each pouch brews 2 quarts. The directions are on the tin and are very easy to follow. I placed a pouch in a heat-proof container. (I used a Pyrex measuring cup as my glass pitcher is not heat resistant.) Then, I poured 2 cups of boiling water over the pouch and allowed it to steep for 15 minutes. I removed the pouch and added 6 cups of cold water to the pitcher.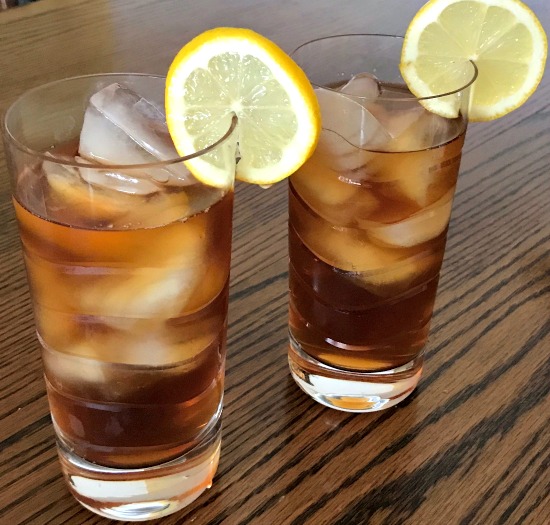 I cooled it in the refrigerator and then I broke out the glasses and garnishes! Doesn't it look refreshing? I guarantee you it is. My husband thought it was a perfect iced tea. It was exactly as described. Neither of us sweeten our tea, but I bet it would be delicious sweetened, too.
A few days later is was time to try the Blood Orange Fresh Brew Iced Tea. The packaging and directions for the iced tea were the same.
I opened the tin and it was so fragrant – it made my mouth water! Check out this description "Blood Orange, our newest featured iced tea, is a delicious mixture of fruit pieces that brews a brilliant red with a bold fruity taste. You'll find it delightfully tangy and sweet."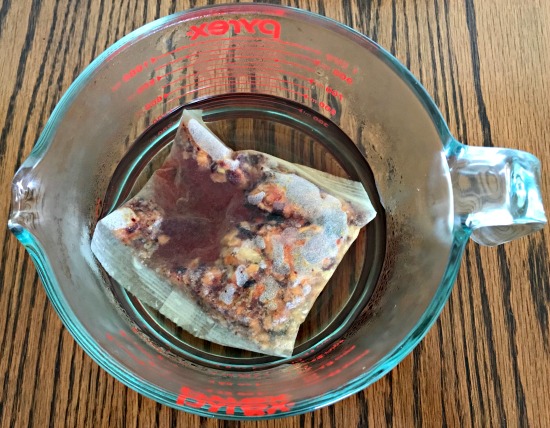 Check out the iced tea steeping. You can see the fruit pieces. I couldn't wait to try it. It smelled delicious.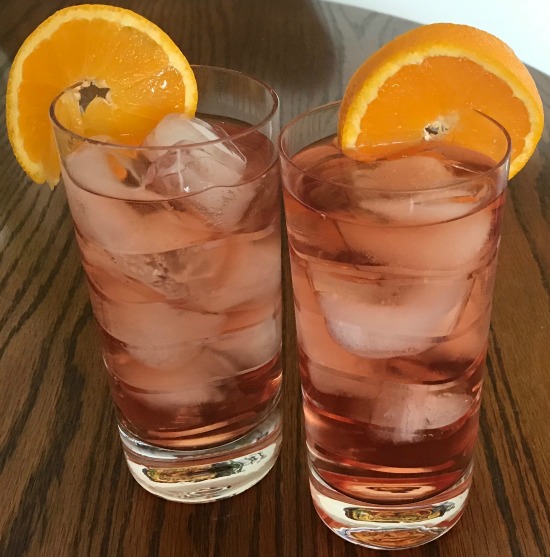 I poured two glasses and garnished with an orange. Cheers! I loved this flavor. My husband liked it – he's not really into herbal teas but did enjoy it. I put it right into my water bottle to enjoy at the pool.

Give Harney & Sons Brewed Iced Tea a try. It was so easy to make and very fresh and refreshing on a hot summer day. I'm glad that I have more pouches left."
Thanks to Brooke, I'm super excited to make my iced tea. Since each canister has 6 pouches, I'm going to send one canister to a lucky reader. I have Organic Green and Raspberry Herbal. The winner can choose the flavor he/she would like. Please use the Rafflecopter below to enter. The giveaway is open to US residents, 18 years of age or older and is void where prohibited. The giveaway will be open through 8/2. Winner will be selected and notified on 8/3.
Don't want to wait? You can get Harney & Sons teas online or on Amazon. You can also follow them on Twitter, Facebook and Instagram.
Do you like your tea iced or hot? What flavor?

Please note: I was offered samples of Harney & Sons iced teas exchange for editorial consideration. I was not otherwise compensated for this post. All opinions are my own. This post contains an affiliate link for Amazon. If you use this link, I will receive a small commission.