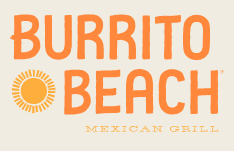 I was invited to check out Burrito Beach's new Beach Body menu. On offer was "low-calorie Mexican fare that's nutritious yet still bursting with flavor." OK – sign me up. Even better, Sapna was planning to be there for lunch, too.
Burrito Beach is a Chicago fresh-Mexican, fast food chain that launched in 1995. Burrito Beach offers fresh, delicious Mexican-inspired foods and gourmet burritos. All items are made fresh, but served quickly. They even have awesome tortillas made fresh daily in Pilsen. The guacamole is also house made daily. They now have six locations including O'Hare (Terminal 3) and Ogilvie Train Station.
We met at the newest location at Northwestern Hospital (251 E Huron). It's bright and airy and they're trying some new concepts there – like delicious, homemade frozen custard. [Sadly, not on the Beach Body menu!]
Sapna and I got to try ALL of the items on the Beach Body menu. She tried vegetarian versions and I tried the chicken and shrimp. Since the items are made fresh when you order, I was able to get the Lo Carburitto with no dairy. I was also able to get the Skinny Combo with shrimp instead of chicken. Sapna was able to get tofu on her Lo Carburitto and Skinny Combo.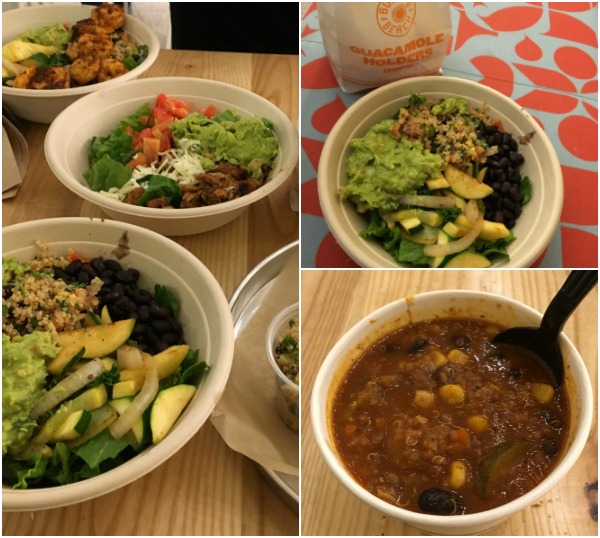 We both tried the Veggie Chili to start. It has roasted veggies and quinoa for more protein. It's flavorful and filling.
We checked out all of the entrees, but I ate the Skinny Combo for my lunch. I'll admit, it didn't look super filling at first. That said, the portions of Veggie Chili and Mexican Quinoa were more than enough. The taco was tasty and the shrimp were fresh. For $6, it won't break the bank either.
For other menu items, you can use their nutrition calculator to make better choices. Since each item is fresh to order, you can enjoy your faves a little lighter for summer.
The nice folks at Burrito Beach offered three lucky readers a $15 gift cards. Must be in Chicago to redeem. Please use the Rafflecopter below to enter. The giveaway runs through July 13. Winners will be selected and notified on July 14.
You can check out Burrito Beach at these 6 locations. You can also keep up with them on Facebook, Twitter and Twitter.
Please note: I was invited to try the Beach Body menu at no cost in exchange for editorial consideration. I was not otherwise compensated for this post.