It's Friday, so I'm linking up with Running on Happy and Fairytales and Fitness for the new Friday Five 2.0. July is a "free" month, so I'm going to share 5 things that made me smile this week (and one that didn't)!
5 Things That Made Me Smile This Week
1. Sunday workouts. Last weekend had gorgeous weather in Chicago. It was unseasonably cool (ish) and not humid. On Sunday, I joined Ironwoman friend, Lynn, and other friends for part of her last 20 miler for Ironman Whistler. It was awesome to run with Leslye again for the first time in ages and to catch up with Veronica, Josh, Stacy and Jamie, too!
Then, in the afternoon, I was "Pink Team" captain at the inaugural Reebok Sweat Crawl with A Sweat Life. We worked out at Zen Yoga Garage, Shred 415, Training Revolution and Reebok Chicago. It was great to hang out with my A Sweat Life Ambassador Crew, meet more fitness buddies and to get another great workout.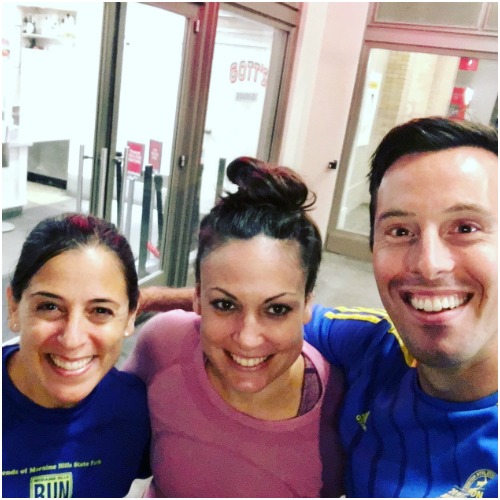 2. Catching up with Zack and Sarah on the run in San Francisco. I went to SF for work this week. I had the opportunity to run and catch up with the owners of two of my favorite smiles. This bright, energetic, sweet couple of doctors ooze positive energy – in the best way.
3. Getting to hang out with my co-workers at our new office in San Francisco and Tiburon. My company moved into a really cool new space in North Beach/Chinatown. It was fun to check it out the new digs, see my colleagues in real life (I work from home) and to run/check out Tiburon where our offsite was held.
4. Our work boondoogle at Angel Island including "The Amazing Race" and a midday hike. We had a really fun team building event that was based on the Amazing Race. It was held on Angel Island, a cool national park on an Island close to Tiburon accessed via ferry.
5. Coming home! As much as I love to travel (especially when there is a ton of fun), I love to come home. Even though it was late, I was excited to get here.
And… 1 That Didn't
1. People that unfollow on Instagram. All week I've been teetering on 4000 Instagram followers. The new Instagram algorithm shows my pics to less people and somehow I gain and lose followers every day. I'm not sure if following less people is supposed to be better or what. It's so frustrating to randomly gain and lose followers. Who has time to unfollow people!? I guess I need to find out how to do better with the algorithm, but please don't unfollow – it is SO frustrating!
What made you smile (or not) this week? Please tell me in the comments.
Have a great weekend!