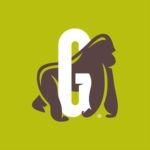 In 2015, I met the awesome folks behind Gorilly Goods.  They started with one healthy snack (now known as "Original") and now they offer three varieties in the original line and four new(er) trail mixes. You can see my rave review of the original varieties HERE. After Expo West, they sent me some trail mix to try, share and give away. Read on and enter to win!
Founders Christine and Stephen have been perfecting the original flavor for the last 15+ years in their various food related ventures. I love their quote in their "about us" section of their website. They say, "What can we say? We enjoy food. We have relaxed off of calling ourselves names — "raw," "vegan," "paleo" — and simply live by understanding the things we have learned in life, making our choices with care and respecting those we are with."  This makes me want to cheer as does the product. They also donate 2% of profits to the Dian Fossey Gorilla Fund.
Since I'm traveling, Brooke grabbed some and shared her thoughts. She said:
"Erica gave me a few samples to try. Like Erica, I'm a runner and snack throughout the day to stay fueled. A mistake I make sometimes is that I wait until I am really hungry to eat. That was the case recently – the "rungries" kicked in. It was time to try the Gorilly Goods samples to get a fix of healthy fats and protein.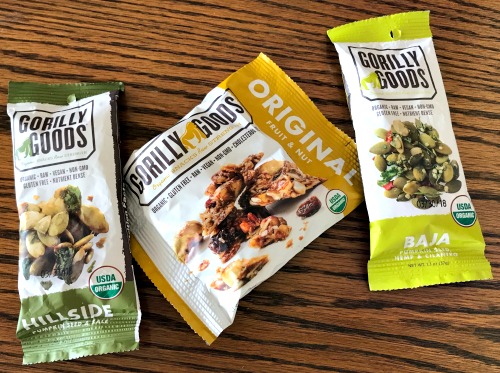 I decided to try all three – I was that hungry! The flavors are Original, Hillside (Pumpkin Seed/Kale) and Baja (Pumpkin Seed/Hemp/Cilantro).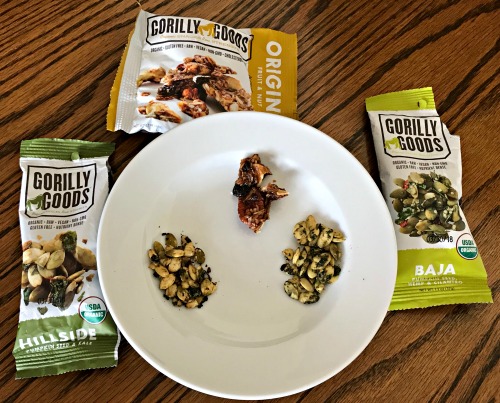 I like savory snacks in the afternoon. Both Hillside and Baja are savory and protein-rich. The snacks are crunchy and perfectly seasoned.
Hillside had an earthiness/green taste – maybe from the dried kale, tamari, or nutritional yeast? It also has onion and cayenne. There's no heat from the cayenne, it just enhances the flavor.
Baja brought a bit of heat – which I like. It has chili peppers, lime juice and zest, cilantro, nutritional yeast and sea salt. Delicious!
Original was slightly sweet and tad bit salty with clusters of dried fruit and whole nuts. It's made with bananas, raisins, cashews, walnuts, pecans, coconut, coconut nectar and sea salt.
Wow! I was so surprised how much I liked the Original! Confession – I'm not a huge fan of dried fruit and am definitely anti-raisin. Now I need to reconsider my position. This was delicious! Good thing I had Hillside and Baja samples before this or I would have gobbled it up! Now I have some great post-run fuel for the drive back from the trails this weekend.
Gorilly Goods are all good in so many ways! I encourage you to try their many other offerings. I will!
Want to get your hands on some? I'm going to send one lucky reader the four flavors of trail mix plus a Baggu bag and sticker. Please use the Rafflecopter below to enter. The contest runs through July 12th. A winner will be selected and notified on July 13th. The winner must be a US resident (or have a US postal intermediary), 18 years of age or older and the offer is void where prohibited.
Don't want to wait? I don't blame you. Get Gorilly Goods online and on Amazon. You can also follow them on Facebook, Twitter and Instagram.
Please note: I was given free samples of the product in exchange for an honest review. I was not otherwise compensated for this post. All opinions are my own (and Brooke's).