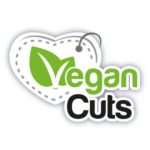 If you've been around here, you know I love subscription boxes of healthy snacks. I love finding new snacks and new items from some of my fave companies. I've tried pretty much all of them and keep subscriptions that I receive ongoing to a handful.
I've been getting the Vegan Cuts Snack Boxes for a while. They had a special on their Super Vegan Life Box with 10 snacks and 7 beauty products for only $29.  I saw some faves and some new things so I ordered one.
As you may know, Vegan Cuts sends 10 or more vegan snacks or food items per month for as low as $20/month. They also have awesome vegan beauty boxes, make up boxes and gift boxes (if you don't want a subscription or you want to give a thoughtful gift). You can buy your fave products from the boxes in their online shop, too.
When my Super Vegan Life Box came, there was a bit of a mess. The Nutiva chocolate hazelnut spread had broken and a few products were chocolate covered. The nice folks at Vegan Cuts sent me a new box right away. Since 3/4 of the products in the original fine. I'm going to share the replacement box with a lucky reader. Why? Why not?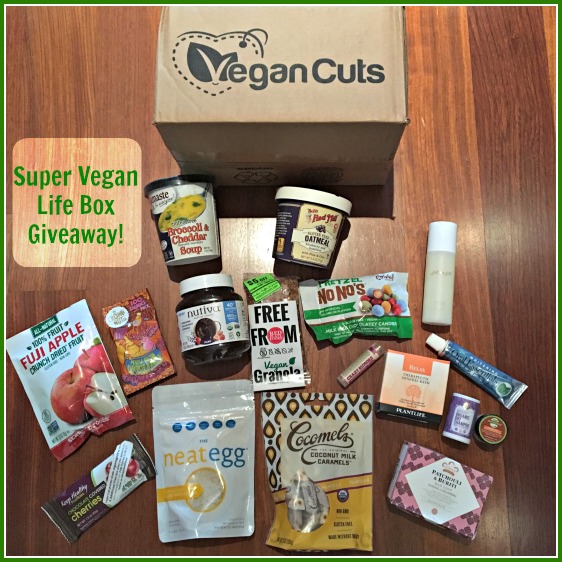 The Super Vegan Life Box has a unique combination of snack and lifestyle products. It's designed to "satisfy all of your needs from your head to your toes to your tummy."
Snacks:
Atlantic Natural Foods neategg – One-of-a-kind egg replacement product crafted using garbanzo beans and chia seeds
JJ's Sweets Vanilla Cocomels – Sweet, chewy and totally addictive vanilla caramel "cocomels" [LOVE THESE!]
No Whey Pretzel NoNo's – Salty gluten-free pretzel & sweet chocolate flavors combine to deliver a mouthwatering experience [LOVE THESE, TOO!]
Nutiva Dark Chocolate Hazelnut Spread – Pair with fruit, add to smoothies, spread on toast, or bring on a hike for that needed energy boost.
Keep Healthy, Inc. Fruitkies Bar – All natural and gluten-free chocolate covered cherries snack bar
Crown Nut Co. Vegan Maple Bacon Almonds – Enjoy a savory, bacony flavor without all of the cruelty with these vegan maple bacon flavored almonds
Bob's Red Mill Blueberry Hazelnut Oatmeal Cup – Oatmeal cup combining a variety of oats, hazelnuts, blueberries, flax and chia
Sensible Foods Fuji Apple – Light and crunchy dried fuji apple bites perfect as a cereal topper or to eat by the handful
Namaste Foods Broccoli and Cheddar Soup Cup – On-the-go friendly broccoli & cheddar soup cup; just add hot water and stir
Red Plate Foods – Golden toasted oat granola complemented by cinnamon spice and lightly sweetened
Lifestyle Products:
Stinkbug Naturals Tangerine Spice Organic Cream Deodorant – Tangerine and clove combine with shea butter and coconut oil to bring you an odor obliterating cream deodorant.
Oral Essentials Essentials Teeth Whitening Toothpaste – Fluoride-free toothpaste using a perfect blend of various oils and dead sea salt to whiten teeth without harming enamel
Crazy Rumors Lip Balm – An amazing fusion of fruits with moisturizing shea butter
Nubian Heritage Patchouli & Buriti Body Soap – Blend of buriti oil, shea butter, rosehip seed oil, and patchouli create a fragrant, soothing and hydrating cleanser
And more!
Want to enter to win? Please use the Rafflecopter below to enter. The winner must be a US resident, 18 years of age or older and the offer is void where prohibited. The giveaway ends on June 26. A winner will be selected and notified on June 27.
Don't want to wait? Check out subscription and gift box options at Vegan Cuts. You can also keep up with Vegan Cuts on Facebook, Twitter or Instagram.
Please note: I purchased this Vegan Cuts Super Vegan Life box. I was not compensated for this post. All opinions are my own.
PS. Don't miss my other great giveaways!