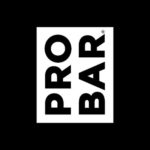 If you've been around here, you know my "desert island" food is nut butter. When Lauren and I were in the Grand Canyon, she shared some yummy PROBAR products with me. I mentioned their line of single serve, organic nut butters and told her that I checked them out at Expo West. She connected me with her contact at PROBAR. They sent me a TON of nut butters in all 10 flavors to check out for review. I have extra to share with a lucky reader, too, so read on.
PROBAR's mission is simple – and pretty awesome. They "create(s) delicious, convenient, healthy, plant-based food products. We strive to become the leading provider of REAL FOOD choices, always maintaining our commitment to quality, sustainability, and fantastic taste." Since 2004, they've been making high quality, real food products for athletes and everyone else.
PROBAR's single serve nut butters launched in 6 varieties in 2016. This year, they added four more flavors. All of the nut butters are USDA Organic certified, gluten free, vegan and non-GMO. They're made with coconut oil and contain no added sugars. Each pack contains 5 to 7 grams of protein and four of the flavors contain 25mg of natural caffeine energy from Yerba Matte. The convenient, single serve packs are awesome for travel, convenience and portion control. They're great for lunch boxes, too!
There are now 10 flavors of PROBAR Nut Butter. They are Koka Moka Almond Butter with Caffeine, Sriracha Peanut Butter, Peanut Butter, Almond Butter, Mixed Berry Almond Butter, Coconut Almond Butter with Caffeine, Superfood Almond Butter, Almond Butter with Caffeine, Peanut Butter with Caffeine and Chocolate Peanut Butter. Nut Butters plus superfoods (and some with caffeine)? Sign me up!
I shared a bunch with many friends. The one that got the most interest when I posted on Instagram was Sriracha. Sapna loved it and ate it as a savory compliment to an apple for breakfast. She's a big fan (and loves savory for breakfast!).  She says it has a nice kick but is "not too spicy." Allison tried the Peanut Butter with Caffeine before a run. She said, "the run went very well AND it was delicious." That's a win-win. She had "just an OK run" after eating the Almond Butter with Caffeine, but she enjoyed it just the same. Allison tried with caffeine and without and didn't notice a difference in taste. She loves these packets as on-the-go, high protein snacks.
My fave flavors are Superfood Almond Butter and Mixed Berry Almond Butter. Mixed Berry is a bit like eating PB & J. It's sweet, but not too sweet. I like them all and I love the convenient packaging and instant portion control. I need portion control help when it comes to nut butter! I didn't take or receive any photos of the nut butter in action. I tend to eat it from the pouch or with apples or celery and that's not terribly photogenic.
You don't have to take our words for it! I have a set of 9 of the 10 flavors to send one lucky reader. Please use the Rafflecopter below to enter. Winner must be a US resident, 18 years of age or older and the offer is void where prohibited. The giveaway runs through Thursday, July 6. A winner will be selected and notified on July 7.
In the mean time, you can get PROBAR nut butters online and on Amazon. You can connect with PROBAR to receive the latest news on new products, contests, and product giveaways. You can follow along on Instagram, Twitter, Facebook and their blog.
Which flavor would you try first?
Please note: I received these products at no cost in exchange for an honest review. I was not otherwise compensated for this post. All opinions are my own (and those of my friends!)