I'm always up for trying something new to keep food and cooking ingredients fresher longer. The folks from Infinity Jars sent me a note to see if I'd like to try their airtight, ultraviolet glass jars or bottles. They're "light optimized" and air tight to block out light that can degrade food and other organic goods. The intention is to keep items fresher longer.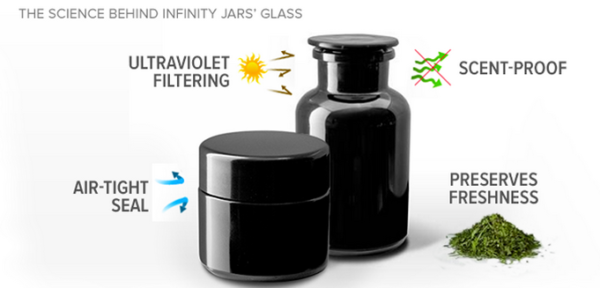 Infinity Jars sells a very popular line of high performance storage containers. They make a variety of sizes for cooking ingredients, dried herbs, bitters, tea, coffee, cosmetics, nuts, oils and anything else you store. They've run a bunch of tests against glass and amber jars. Here are the details and the science behind the benefits of the UV glass. Boholistic Mom did her own experiment with tomatoes. Check it out here.
Infinity Jars sent me two 1 L Square Glass Bottles with Spouts. I've been super busy lately, so my friend Brooke tested one for us. Here's her review:
"I love to cook and use organic oils that can break down easily when exposed to the light. Lucky me – I tested a cooking oil bottle with a spout.  [It also has a cap to keep the oil air tight when you're not cooking.]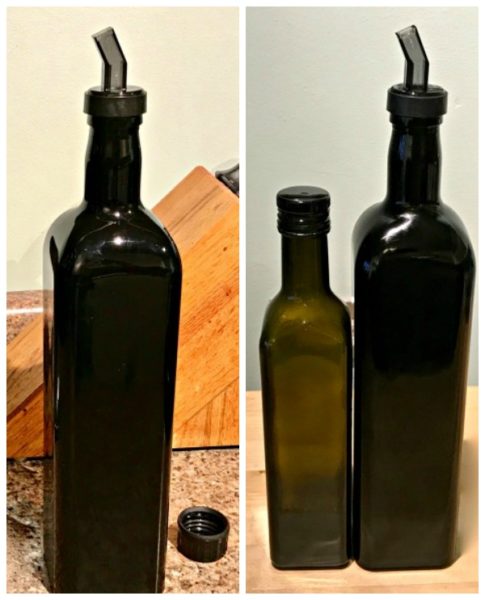 Right away, I noticed that the bottle is really dark – well, black I would say. No light will get through this bottle! I poured the olive oil from the dark green bottle into the Infinity bottle. See, light can go through those green bottles – especially noticeable when empty. 
It comes with a both a screw top and a substantial easy-pour spout with a built in filter if you wanted to infuse the liquid.

Now that the olive oil is ready to go, time to cook dinner. I was preparing Italian Chicken, one of my husband's favorites. Over the years, I have refined a Chicken Parmesan recipe to make it a bit healthier. I use brush a mixture of olive oil and Italian spices to season the chicken breasts and quickly sauté them before baking them in the oven. I measure the oil to make sure I don't use too much.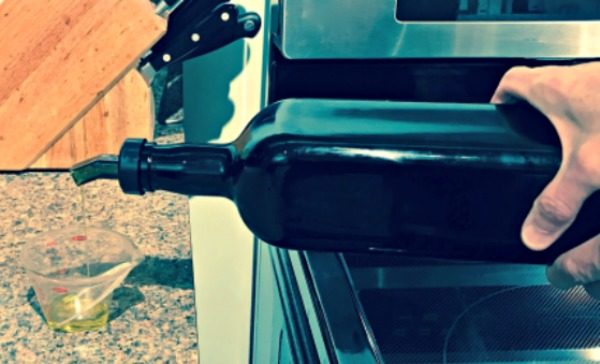 The bottle was easy to handle when pouring and the spout did not drip. Success! I often used to pour right from the olive oil bottle and there would be drips down the side of the bottle and my hands. While I was preparing the mixture, my husband came home and said "cool bottle!" I explained the benefits to him, too.
We are sold on Infinity Jars. They are ideal for places in your home that have bright natural light. Our bottle has a prominent place right next to our range for easy access when cooking. No more digging in my cabinets. Thank you Infinity Jars!"
Brooke has me sold! You don't have to take her word for it. The nice folks at Infinity Jar have offered a $30 gift card to one lucky reader to try the Infinity Jar of your choice. Please use the Rafflecopter below to enter. Winner must be a US resident, 18 years of age or older and the offer is void where prohibited. The giveaway runs through Thursday, June 29. A winner will be selected and notified on June 30.
Don't want to wait? Sign up for Infinity Jars' email list to get 10% off on your first order plus great coupons and bulk deals. You can also keep up with Infinity Jars on Facebook, Twitter and Instagram.
Please note: I received these products at no cost in exchange for an unbiased review. All opinions are my own and Brooke's. We were not otherwise compensated for this post.