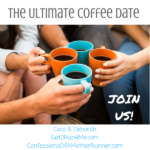 Welcome to the 6th Ultimate Coffee Date link up of 2017. This year continues to fly by. It's mid-year already. Crazy – right? I'm linking up with Coco @ Running with Perseverance and Deborah @ Confessions of a Mother Runner.
What is the Ultimate Coffee Date? Imagine we are having coffee together… this post is what I would tell you. So grab a cup, "listen" and then tell me what is going on with you in the comments, please!
If we were having coffee… I'd tell you that last week was my first week in the last 8 weeks with no trips. I really needed the travel break. I've enjoyed the travel for life and work, but I was really worn out. I didn't realize how tired I was until I stopped moving! You know how that can be – right? I have two work trips and two fun trips in June plus we have my SIL and her family visiting and a 40th birthday party for a dear friend. Another busy month ahead!
If we were having coffee… I might lament my recent running slump. Despite backing off my miles in December and January, I still feel slow and tired. It could be from all of the travel, but I also think I may need to take a training break.  I'm planning to cut back my miles in June and July before fall marathon training. I keep hoping to wake up one day and find my mojo. Some runs are not too bad. I ran at Waterfall Glen with some speedy friends last weekend and had no trouble keeping up. Then, I ran the Ridge Run 10K and 5K and enjoyed the races, but had no speed (for me). I know I need to change something, because whatever I'm doing isn't working.
Uma: "We talk about anything and everything." Hari: "Well, as far as you know." Uma: "And let's keep it that way." https://t.co/TVzsNQ69JU

— Death, Sex & Money (@deathsexmoney) May 24, 2017
If we were having coffee… I'd ask if you'd listened to a recent Death, Sex and Money podcast that I loved. It was called Hari Kondabolu and His Mom Answer Your Life Questions. The blurb is "The comedian and his mom give advice on pursuing career-life balance, dealing with racist friends and the best time to DTR (Define the Relationship). Hari's mom is AMAZING. I absolutely love her advice and the interplay between these two and host Anna Sale. Have you heard anything noteworthy lately?
If we were having coffee… I'd tell you that I have four good friends moving away the next month. All of them are moving for great professional opportunities and I'm excited for their new beginnings. I'm also sad to see them go and hope they'll come back. Even though it's easier than ever to stay in touch, I will miss seeing these friends often for running, coffee, movies and other outings.
If we were having coffee… I'd ask what you thought about this product I just got to check out. It's Dirty Bird Energy Soap. There's a caffeinated one to start the day and a decaffeinated aromatherapy one for winding down. There's a third variety for recovery that has eucalyptus. I'm intrigued. Would you try it?
What's happening by you? Please share your coffee talk in the comments!
PS. Don't forget my great giveaways!