It's Friday, so I'm linking up with Running on Happy and Fairytales and Fitness for the new Friday Five 2.0. The theme this week is "Summer Workouts" and they ask the question "how do you modify your workouts in the summer?" The toughest thing for me is dealing with heat and humidity. We've been pretty lucky here in Chicago so far this year with only a few hot/sticky days. I'm psyching myself up – here are my fave tips to deal with the heat.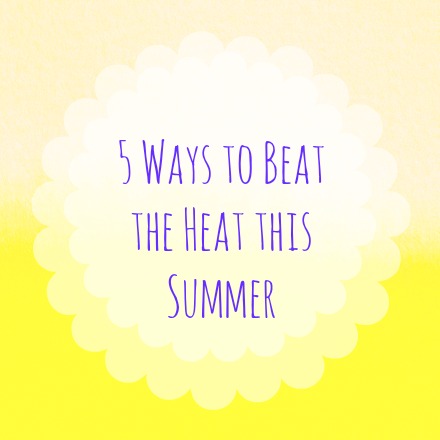 1. Start early (or go late). I am a morning runner whenever possible. If you can't get out to beat the heat, hit the gym and the air conditioning.
2. Wear light colored, loose fitting clothes and a light colored hat. Light colors reflect the sun and the loose fit lets the air flow to cool your skin. I like to wear a white NYC Marathon 2015 cap I snagged on sale from New York Road Runners. It's a winner!
3. Eat lighter! Finds' friend and nutritionist, Lauren, recommends, "Eat lighter summer fare as well as frequent small meals or snacks that include cold products, like fruit or dairy. Getting away from a hot stove or oven also helps keep the house cool, and lighter food includes vegetables and fruit which hydrate you!"
4. Cool off! Another great tip from Lauren, "To cool down quickly, divert attention from your whole body to your wrists. Run them under cold water or apply a cold compress for a minute or two and repeat as necessary. There is a main vein that passes through this area and the cool blood will travel and spread quickly through the rest of your body." I like to take a Half Buff (or bandana) and soak it in cool water and wrap it around my wrist or neck on the hottest days. I've also been known to put ice in my sports bra at really warm races. Whatever it takes!
5. Stay hydrated. Drink water or sports drink early and often. Carry water if you're not near fountains. Make sure to hydrate post run with your favorite electrolyte filled drink.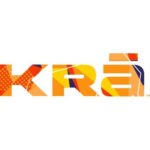 I recently had the opportunity to try KRā. KRā is USDA certified-organic sports drink that's a "better-for-you hydration option" with no artificial colors, flavors or preservatives.  Originally made by a mom as a healthier choice for kids, all athletes can now enjoy KRā.
KRā only uses real ingredients like orange, blueberry and lemon juice for flavor. They use these ingredients to replace any artificial or chemical ingredients found in the typical sports drink.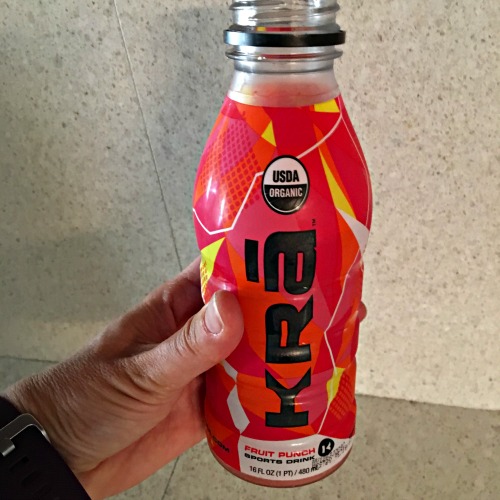 KRā comes in four flavors. They are Berry, Fruit Punch, Orange and Lemon. I tried the Fruit Punch after a sticky morning run and it's super refreshing. I like the taste and the fact that it has no artificial aftertaste like many other sports drinks. Michelle and I tried Berry on the way home from supporting a friend in a race. Two thumbs up from each of us.
Want to enter to win a case of KRā Sports Drink? Please use the Rafflecopter below. Winner must be a US resident, 18 years of age or older and the offer is void where prohibited. The giveaway runs through June 11th. The winner will be selected on June 12th.
Don't want to wait? You can find KRā at a store near you or buy it online or on Amazon (Prime eligible). You can also keep up with KRā on Twitter, Instagram and Facebook.
What are your favorite tips for beating the heat?
Have a great weekend, friends and stay cool! 
Please note: I received product at no cost in exchange for editorial consideration. I was not otherwise compensated for this post. All opinions are my own. This post contains and Amazon affiliate link. If you use this link, I will receive a small commission.