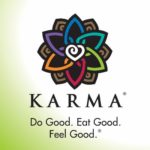 You may remember my review of love letter to Karma Nuts last year. If you don't here it is. I found Karma Nuts' delicious cashews randomly and then had a chance to work with them after Expo West 2016. I'm a huge fan.
Karma Nuts is a cool company. They foster healthy and fulfilling lifestyle choices and a "pay it forward" attitude. The company motto is "Do Good. Eat Good. Feel Good." They are always looking for ways to help us to "lead a Karma life." You know I'm down with that.
Karma Nuts has been making the best cashews for over 80 years! Karma makes a variety of cashews. Why cashews? They're high in Copper and Manganese, and are a good source of Magnesium, Phosphorus, Vitamin K, Zinc and Iron. Cashews also have less total fat than many other popular nuts.
Last year, Karma Nuts won a Nexty award at Expo West for their Wrapped Cashews. The "wrapped" cashews retain their natural skin and are air roasted and lightly salted. The skin gives them extra nutrition. They say, the "ORAC (Oxygen Radical Absorbance Capacity) values comparable to healthy berries such as blueberries, raspberries, and blackberries." The skins are crunchy and the wrapped cashews taste amazing. Delicious and better for you? It's a win-win.
Before Expo West this year, I got a press release that said there was "more Karma for everyone." Karma Nuts added FIVE new flavors and 1.5 oz individual packs to their line up. They still have their original Raw, Roasted and Wrapped Cashews. They added three new wrapped varieties: Lightly Salted, Cinnamon and Lime Twist. There are also two new roasted varieties – Coconut Crunch and Peri-Peri.
I was super excited to try the new flavors and for the instant portion control! They sent me over new 1.5 oz packs of all 8 flavors. I shared the original flavors with Stacy and Maureen and they loved them. At Expo West this year, I tried all of the new flavors. Ganesh, the founder, was at the booth when I visited. He greeted me like an old friend, because I keep telling anyone who'll listen how much I love Karma Nuts! He walked me through all of the new flavors and told me about some upcoming tweaks.
I still love the all of the original Karma Nuts flavors. Of the new flavors, it's hard to pick a favorite. If I had to pick one of each, I'd say the Coconut Crunch Roasted and the Cinnamon Wrapped are my new faves. I honestly enjoy all of them.
Great news! The folks at Karma have offered individual packs of all 8 flavors to one winner! They'll also be sending ten individual packs to winners on my Instagram [Make sure you follow as the post is coming soon!] Please use the Rafflecopter below to enter. The giveaway runs through May 15th. A winner will be selected and notified on May 16th. Winner must have a US postal address, be 18 years of age or older and the offer is void where prohibited. The prize will be fulfilled by Karma Nuts.
Don't want to wait? Get 25% off of your online order of $25 or more with code ERICAFINDS-25OFF-CSD2T5L (does not apply to shipping or gift cards) through 5/31/17. You can keep up with Karma Nuts on Facebook, Twitter and Instagram, too! Sign up for their newsletter HERE to learn about new products and promotions.
What new flavor interests you most? How do you live a "Karma life?"
Please note: I was provided product at no cost in exchange for an honest review. I was not otherwise compensated for this post. All opinions are my own.