It's Friday, so I'm linking up with Running on Happy and Fairytales and Fitness for the new Friday Five 2.0. The theme this week is "Mother Runners." I started working on this one and have so many awesome running moms in my life and pros that I am in awe of. I couldn't pick just five, so I'm going off topic!
When I was new to Instagram, I did the 100 happy days challenge and I loved it. I recently looked back at it and realized that it is good for my spirits to look for happy things each and every day. I highly recommend it! So here goes:
5 Things That Made Me Smile This Week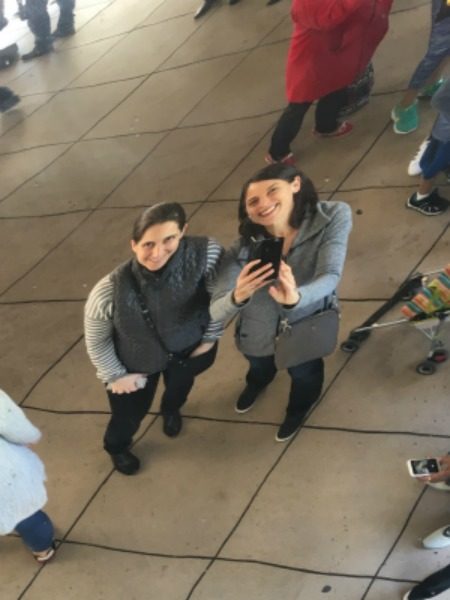 1. Having Lisa and Kathy visit me in Chicago. Kathy and I amused ourselves at Millennium Park. Kathy is a whiz with photo shop so "cardboard" Kathy and Erica are likely to have adventures in the weeks ahead. In addition to this, we had a great "girl's" weekend of eating, drinking, spa-ing and catching up. Just what the doctor ordered!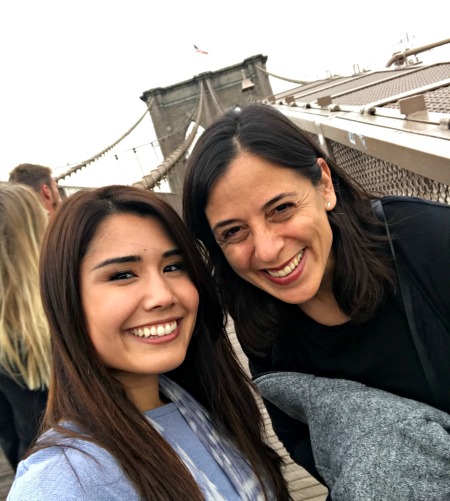 2. Showing my colleague a bit of Brooklyn. I had a work trip to northern NJ with my colleague Jessica. I asked if she wanted to go to NYC. She has only been a few times, so I asked if she wanted to do my favorite thing – walk over the Brooklyn Bridge. She said "YES!" We had a blast tourist-ing and snapping photos. Then we went to DUMBO for chocolate at Jacques Torres, checked out the new Shinola and FEED stores and had cocktails and dinner at Superfine. Awesome evening!
3. Trying my hand at run selfies. Maggie inspired me to up the running photo game. Check out her awesome Instagram feed! I decided to try self timed pics from the fence at Larry and Dan's farm (a/k/a my happy place). I had selfie success AND an awesome hilly 7.75 mile run. A win-win!
4. Being greeted by Bella and Louie. There's something about llamas (in general and these two in particular) that always makes me smile.
5. Clowning around with Larry and Dan. It's always awesome mixing work and fun. I enjoyed an evening with Larry and Dan. We checked out a new restaurant near them. It's in an old bank building so we checked out the vault and "locked" them in. We also had a lot of laughs and enjoyed the food. All good!
What made you smile this week? We're meeting up with a ton of old friends so we are bound to have many more smiles and laughs. Have a terrific weekend!
PS. Don't forget my great giveaways!