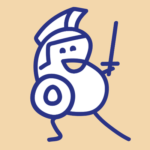 I first tried BRAMI Beans at Expo West in 2016. I've pretty much been obsessed with them ever since. If you have been to Italy, you may have tried lupini beans. These soft beans are meant to be eaten like edamame. They have a ton of protein and fiber. Brami Snacks call them a "Roman Superfood."
BRAMI Beans are "the Mediterranean answer to edamame." They're high in protein and fiber, gluten and soy-free, non-GMO, ready-to-eat and come in awesome flavors. The lupini beans are slow cooked with natural spices, sea salt and tangy citrus. Then, they're vacuum-packed to preserve their natural flavor and crunch with no artificial preservatives.
Their logo is a lupini bean-shaped warrior for a reason. They say, "The legend of BRAMI dates back to the Ancient Egyptians Pharaohs, who brought lupini seeds with them in their tombs to the afterlife. But it was the Roman Empire that truly harnessed the power of lupini. Roman warriors relied on this protein-packed bean to fuel them on long journeys. Now this ancient superbean is finally here to power the modern warrior."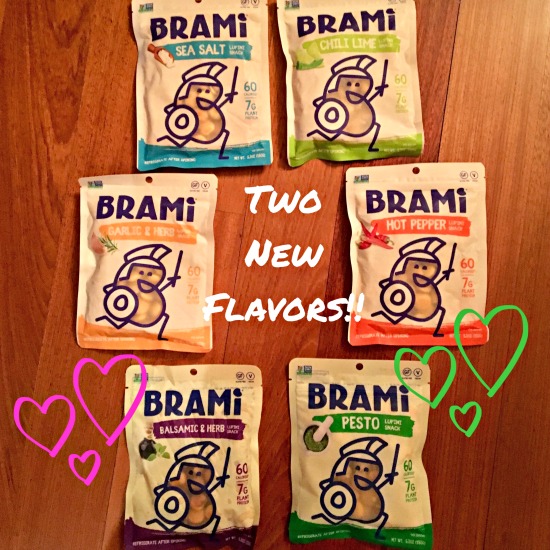 BRAMI Beans originally came in four flavors: Sea Salt, Hot Pepper, Chili Lime and Garlic and Herb. Recently, they've added Pesto and Balsamic & Herb. I tried the new flavors at Expo West this year and wrote to them to see if they'd send some more to try and some to giveaway!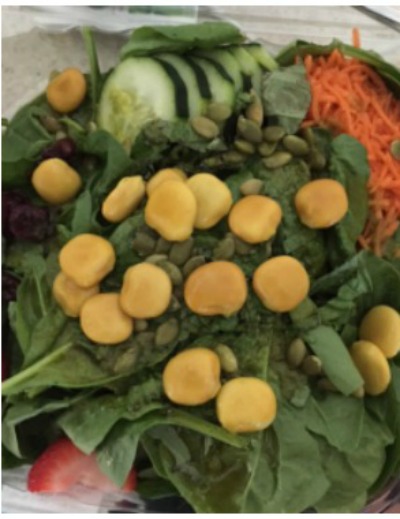 As I mentioned, I LOVE the original flavors of BRAMI Beans – especially Sea Salt and Chili Lime. Amanda and Allison love them, too. We all love the taste, extra protein and fiber and the resealable packages. The snack-packs are great for a travel snack, too.
The new flavors are subtle, but flavorful. They are also marinated/brined, so they're not messy. I tried the Balsamic & Herb to spruce up a salad and "straight" as a snack. I loved them both ways. Amanda tried the Pesto and she said, "I love BRAMI beans and typically throw them on salads for some extra protein/nutrients/health punch. The Pesto flavor was intriguing (I love pesto!) It was pretty subtle, but delicious. I bet would be excellent with pasta or made into a dip, as well."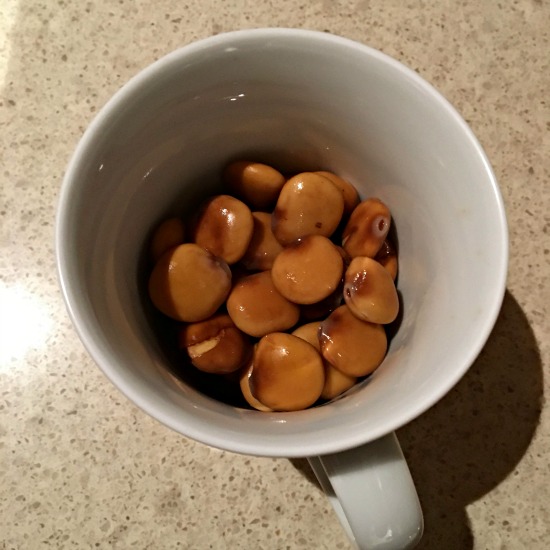 You don't have to take my word for it. BRAMI Snacks will send one lucky winner a sampler of six flavors like I received. The two new flavors are not even on sale yet! Please use the Rafflecopter below to enter. The giveaway runs through May 26th. A winner will be selected and notified on May 27th. Winner must have a US postal address, be 18 years of age or older and the offer is void where prohibited.
Don't want to wait? You can get BRAMI Beans online and get 15% off on your first order through 5/23 with this link. You can also buy on Amazon (Prime Eligible). Keep up with BRAMI Snacks on Facebook, Instagram and Twitter.
Ready to add a new "Roman" superfood to your faves?
Please note: I was provided product at no cost in exchange for an honest review. I was not otherwise compensated for this post. All opinions are my own. This post contains affiliate links. If you use these links, I will receive a small commission.