I don't eat much beef, but when I do, I want it to be 100% grass fed beef with no added hormones or antibiotics. I was offered the opportunity to check out some grass fed beef products from a local, Chicago company called PRE Brands. As one of the few Whole30 approved grass fed beef brands, all PRE Brands' products adhere to the highest quality standards. They're not finished with grain, hay or treated with antibiotics or added growth hormones. Sounds good to me!
Did you know that not all grass fed beef is created equal? The term isn't regulated in the US. Unless the packaging says 100% grass fed or grass finished, it was finished with hay or grain, negating many of the benefits that come from a lifetime of grass feeding. Real grass fed beef is much higher in Omega-3's and contains 3-5 times more CLA than cattle fed grain. Only a small portion of beef in the US makes the cut (pun intended).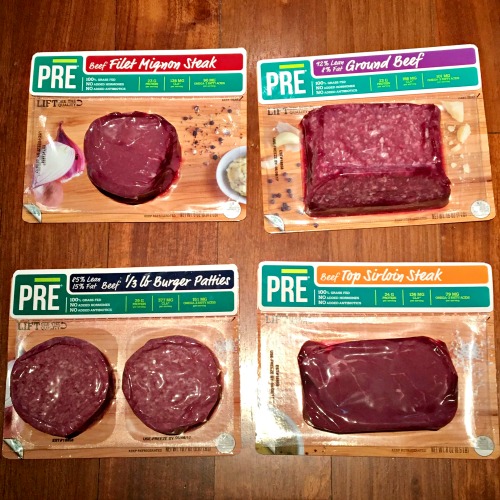 PRE recently launched 1/3 lb. "pub style" hamburger patties. Made with 85% lean ground beef, these patties pack 29g of protein, high CLA and Omega-3's – way more than traditional USDA Choice beef. They also offer single serving steaks (Ribeye, Strip, Sirloin and Filet Mignon) and 16 oz. packages of ground beef (85%, 92% and 95% lean). They sent me the sampler above. One lucky reader will receive the same!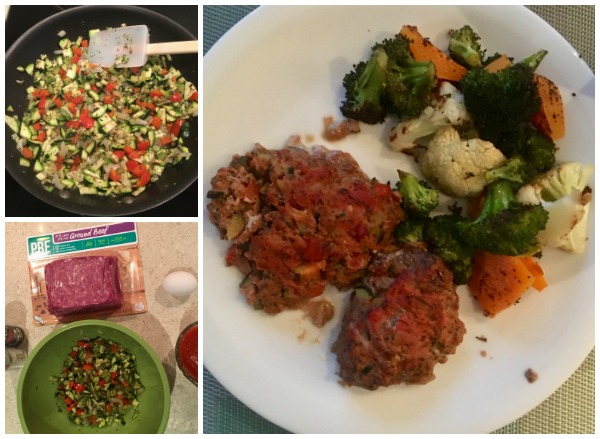 I decided to make a the "Awesome and Healthy Meatloaf" recipe from Food.com. It used the ground beef and lots of veggies. I roasted broccoli, cauliflower and butternut squash as a side. It was very tasty AND The Husband approved.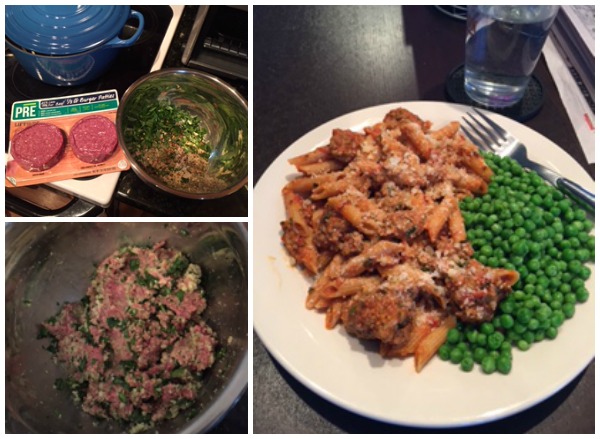 Amanda was going to grill the 1/3 lb burgers, but it was too cold to use her condo's grills. She said, "We don't have a grill (also it's 40 degrees out) and I don't have a stove-top grill pan. I did what I usually do with ground beef these days – went [Run Fast Eat Slow] on it. I made a few substitutions (i.e. out of kale so used spinach) but otherwise, I made their delicious sauce out of the burgers! I liked the meat's juiciness and the fact it was 100% grass fed meat (better omegas!). Also I liked the packaging. You can open just one burger at a time and the other would stay perfectly sealed up. This is excellent for single-meal prep or if one member of a couple is vegetarian and the other is a meat eater."

I made both steaks in a pan on my stove like my dad used to do.
I just peppered the top and bottom and cooked them up. They were tender and delicious. I ate the Filet for dinner with veggies one night and sliced the Sirloin and put over a salad for lunch the next day.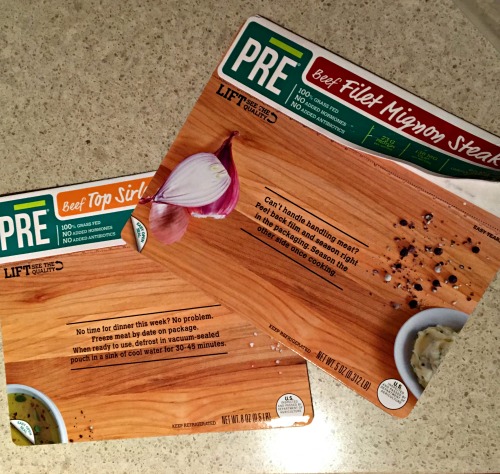 This meat was delicious! The packaging has great tips for handling and storing the meat, too. The packaging is clean and easy.
You don't have to take our words for it. PRE Brands will send one lucky winner a sampler like I received. Please use the Rafflecopter below to enter. The giveaway runs through June 1. A winner will be selected and notified on June 2. Winner must have a US postal address, be 18 years of age or older and the offer is void where prohibited.
Don't want to wait? You can find stores that carry PRE meats here. PRE is now sold through Jet.com, Peapod.com and Amazon Fresh. Get 20% off on PRE Brands products at Jet.com* with code PRE20OFF through June 19! [Plus use ebates at Jet.com for 3% cash back!] *For Jet.com Fresh coverage areas only, expires 6/19/2017, $20 of eligible products required, max discount of $30, limit 1 per customer.
You can also follow PRE Brands on Twitter, Facebook and Instagram.
What will you cook first if you win? Are you planning to BBQ this Memorial Day weekend?

Please note: I was provided product at no cost in exchange for an honest review. I was not otherwise compensated for this post. All opinions are my own. This post contain affiliate links for ebates and Amazon. If you use these links, I will receive a small commission.