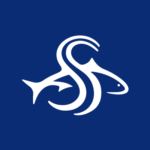 Canned tuna is a great source of protein, but it's been getting a bad rap in recent years due to mercury levels. Many fit folks, and families, use canned tuna as part of a healthy diet, but the numbers have been on the decline in recent years.
Great news! Safe Catch is using sustainably caught tuna and is testing every single fish for mercury. Their canned tuna is sashimi grade and contains no additives or fillers. Their "Elite" tuna's limit for mercury is ten times more strict than FDA guidelines and the Albacore is three times more strict. The hand packed tuna is not processed so it retains more healthy Omega 3s than other brands.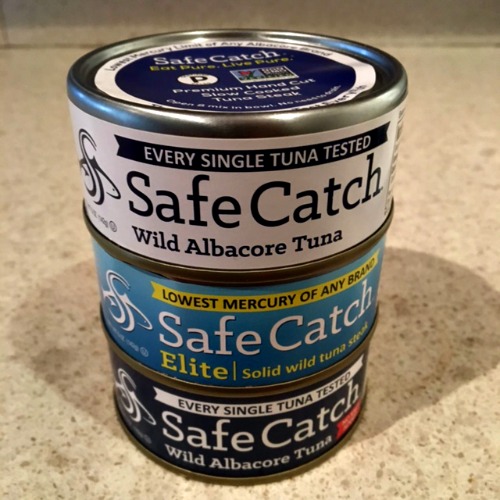 Safe Catch tuna is gluten free, Paleo certified, kosher, non-GMO project verified and dolphin safe. It comes in two varieties (and one no salt added) in convenient 5 oz. cans with easy open lids or 3 oz. no drain pouches.
Safe Catch introduced a new seasoned line at Expo West. The ingredients they use to season it are pure and natural. They're adding spices and herb blends like Cajun, chili lime, citrus pepper, tandoori, and habanero mint with a touch of avocado oil. Each can has over 28 grams of protein to keep you fueled and full for hours. I can't wait to try these!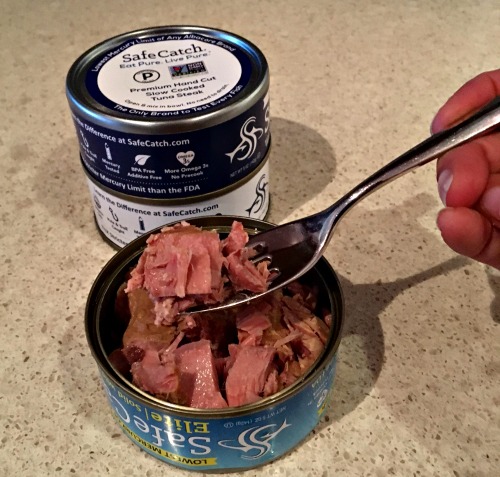 I tried the Elite wild tuna steak. I added it to my salad greens and veggies with salt, pepper and a small amount of dressing. It was delicious. [I forgot to take a photo – blogger fail!] Each can has over 30 grams of protein and only 150 calories. I love knowing that it's safe to eat this tuna as much as I want.
Want to check out Safe Catch yourself? I have three 3 oz pouches of the Wild Albacore tuna that I'll send to a lucky winner. Please use the Rafflecopter below to enter. The giveaway is open to US residents, 18 years of age or older and is void where prohibited. The giveaway will be open through 4/26. Winners will be selected and notified on 4/27.
Don't want to wait? You can get all three varieties and sizes of Safe Catch online or on Amazon Prime. You can also follow on Twitter, Facebook and Instagram.
Have you eaten less tuna due to mercury concerns? What's your favorite way to eat tuna?

Please note: I was offered samples of Safe Catch tuna in exchange for editorial consideration. I was not otherwise compensated for this post. All opinions are my own. This post contains an affiliate link for Amazon. If you use this link, I will receive a small commission.