If you've been around here, you know I love subscription boxes of healthy products. I love finding new good-for-you snacks, beauty products and other cool items. I've tried pretty much all of them and keep subscriptions that I receive ongoing to a handful. Recently, I received a new "Low-Kalz" box to try, two Prospurly boxes from a Gilt City voucher and this month's Love with Food "Be The Change" Tasting and GF Boxes.
The Love with Food boxes have some new to me snacks from new and familiar brands. I am a huge fan of Fawen drinkable soups (review), Dang, Savi Crisps (review), Surf Sweets and Half Pops. I can't wait to try some new to me items this month, too. Learn more about Love with Food and Love with Food Gluten Free in my post from Instagram. I'm going to give away the tasting box on my Instagram later today so check that out!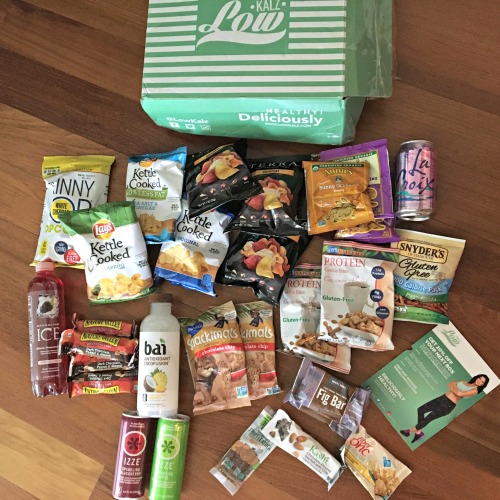 Low Kalz is a new snack box subscription service. They deliver healthy, low calorie snacks and beverages to you monthly. You can get 5, 10, 15 or 30 items per month from $12.95 – $39.95/month. They sent me a packed 30 snack/drink box to check out. You can learn more and subscribe HERE.
Prospurly offers "a farmer's market delivered." They say, "We're prospurly and we believe in the simple things. To us that means enjoying good food, spending time with good friends and indulging in good thoughts. Life is great. Be sure to enjoy it." I'm down with that! I ordered a three month subscription with a voucher from Gilt City. [Get 25% off your first Gilt City order if you use this referral link.]

February's Prospurly Box's theme was "A Touch of Love." It contains preserves, a "passion-filled" room spray, a body butter made with 100% organic and fair trade ingredients, custom-crafted napkin rings and more. The retail value of the box is over $60.
March's Prospurly Box's theme was "Spring Awakening." It contains a variety of organic and natural beauty products including tooth powder, facial oil, organic soap and facial steam. Plus, to celebrate their second anniversary, they planted a tree for each box sold. The retail value of the this box is over $75.
I'm going to share one of these Prospurly boxes with one lucky reader.  The winner can choose either February or March.
Want to enter to win? Please use the Rafflecopter below to enter. The winner must be a US resident, 18 years of age or older and the offer is void where prohibited. The giveaway ends on April 27. A winner will be selected and notified on April 28.
Prospurly offers two sizes Petite (3-5 items) and Full Size (6-10 items as shown). Petite boxes are $26.95/month and Full Size boxes are $49.95. Get 10% off of your order with code HARVEST. You can also keep up with Prospurly on Facebook, Twitter or Instagram.
Please note: I purchased this Prospurly Box with a voucher from Gilt City. This post contains referral codes.  I will get a small commission if someone uses these links to purchase Love with Food boxes or Gilt City items. I was not compensated for this post. All opinions are my own.