Time flies when you're having fun! Five years has gone by since I published my first post on April 9, 2012. I really had no idea what I was doing! And, I had I no idea what this blog would bring into my life. I've made countless friends and connections, had amazing experiences and found tons of awesome products, services and fitness classes.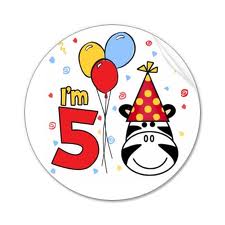 Two years ago, I wrote my lessons learned and they all still hold up very well. The most critical ones are to write about what you enjoy and share enthusiasm and, as Marcia says, "keep your eye on your own paper." Comparison is in fact the thief of joy! I may not have the biggest following or the highest traffic, but I have a great following and tons of awesome opportunities.
Last year, on my blogiversary, I reflected on some changes and new formats. I retired some time consuming features like "Friday Finds" that got little traffic. I started posting Friday Fives and linking up with other bloggers. Smitha and I hosted the Wednesday Giveaway Round Up series which we retired at the end of the year.
Since last year, I've continued my finding in Chicago and beyond. I've met SO MANY amazing people. I've attended a ton of fun events in Chicago and met terrific companies/people at the Chicago Sweets and Snacks Show, GF Expo, Expo East (Day 1 and Day 2), Expo West (Day 1 and Day 2) and the Good Food Festival. I've taken tons of exercise classes and was selected to be an A Sweat Life Ambassador. I've eaten all the foods and drank all the drinks. I've learned that it never hurts to ask to try a new product or service and for every "no," I get three "yeses."
This blog has helped me to be more optimistic and happier. It gives me the opportunity to share my enthusiasm for health, fitness and wellness (and everything else that suits my fancy). Writing this blog has opened my eyes to what's new and what people are trying. It has made me more curious and open minded. Do I want to try your [new product, fitness trend, app, class]? Yes, of course I do!
I'm a brand ambassador for some awesome companies. When I wrote this post last year, I was an ambassador for Peanut Butter & Co, Janji, Esprit de She, CEP Compression, Run Gum, SOS Rehydrate and the 2016 San Francisco Marathon. I've added Redd Bar to the list and Susie and I are going to be ambassadors for the new Sweat Pink Empower Race Series in San Francisco on August 5th and 6th. I was also selected as one of the participants for the Lululemon Chicago Winter Run Retreat. It was AMAZING. See my recap HERE.
So with gratitude and joy, I am celebrating turning 5 with what I do best… a giveaway. These are some items I've received from my ambassadorships or with deep discounts from companies I've worked with. I'm sharing the love and #bloggerperks to thank you for following my blog.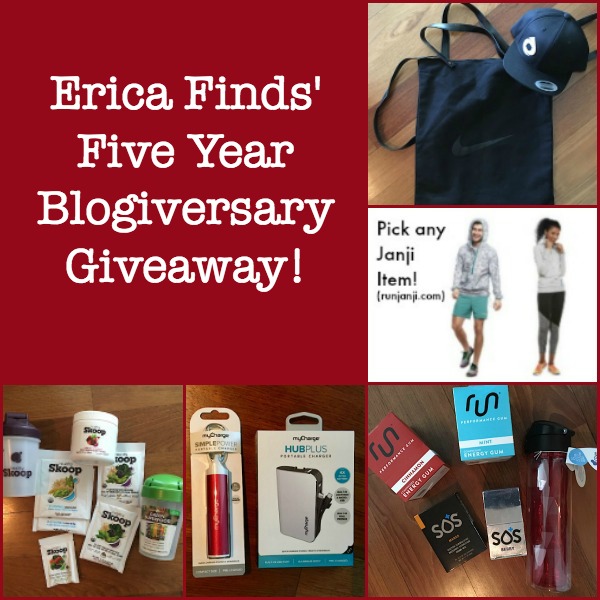 The Prizes:
1. Winner Lauren L.  One item from Janji – you pick!– (up to $100 retail value) Janji is an awesome running clothes company. Janji donates a portion of every sale to organizations who are providing on-the-ground solutions to real problems all over the world. Not only does each purchase provide a tangible relief for hunger and thirst around the world, but wearing the brightly colored clothing helps raise awareness. Plus, you look awesome. Here is my original review post.
2. Runner pack from SOS Rehydrate and Run Gum plus a Rove Water Bottle– ($45 retail value) Try my fave flavor of SOS Rehydrate – Berry plus (new) Mango and two 10 packs of Run Gum performance gum (Mint and Cinnamon!). The Run Gum will get you moving and the SOS Rehydrate will keep you hydrated. I'm going to throw in an insulated Rove Water Bottle that I got as a Fit Foodie Race Ambassador, too!
3. Healthy Skoop Protein Sampler, Shaker and Ignite Beet Blend and a Amazing Grass Green Superfood Sampler/Shaker – ($50 retail value) I have a bunch of samples and a full sized Ignite Beet Blend from Healthy Skoop and an Amazing Grass Green Superfood sampler with shaker bottles to share. These awesome, healthy products are gathering dust over here!
4. Winner Francine A. myCharge SimplePlus Portable Charger and myCharge HubPlus Charger – ($95 retail value) Over the holidays, I had the chance to work with myCharge and have some extra goodies to give away. With all of my travel, these chargers are a life saver. With the HubPlus, you can even make friends at the airport!
5. Nike Tote Bag and A Sweat Life Snapback Cap – ($45 retail value) Share in the spoils of my Sweat Life Ambassadorship! I have a canvas Nike Tote Bag and a Sweat Life Snapback cap to share with a lucky reader.
How to enter: Please use the Rafflecopter below to enter. The giveaway is open to US residents, 18 years of age or older and is void where prohibited. The giveaway will be open through 4/25. Winners will be selected and notified on 4/26. Winners may choose a prize in order of the draw. One prize per winner.
Thank you for reading my blog! Your comments and feedback make me so happy. Please let me know what you want me to find in the year ahead and I will do my best to make it happen.
Please note: I was provided some of the prizes at no cost from these awesome vendors. I was not compensated for this post. I will purchase some items at a discount due to my relationship with the companies. All opinions are my own.