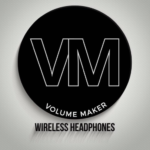 I "met" Volume Maker on Instagram. I followed them after checking out a giveaway. The wireless RunBud headphones caught my interest. They are tiny and I wondered how well they worked. I sent Volume Maker a message and they sent me a pair to try out! (Plus, they offered a discount code for my readers, so read on.)
Volume Maker calls the RunBud "a superior wireless headphone for running." The wireless in-ear headphone offers premium sound and noise cancelling with a built-in microphone. They were developed with running and training in mind.
The RunBuds work with the blue tooth on your phone. Connecting and using them was simple with my iPhone 6S. They came charged and with a charging cord with a USB port. The working time estimate is 3 – 5 hours per pair and up to 120 hours of standby time. They have active noise cancellation and a built in HD microphone. They have three different sizes of ear bud covers to accommodate for different ear sizes.
I took the RunBuds for a spin – well, a run. They were comfortable and stayed in my ears surprisingly well. The sound is very good and I was happy that I could still hear traffic and other runners. I varied my pace to see if it made a difference (it didn't). I stopped at the gym and did a 15 minute work out with my 7 Minute Work Out app. They stayed in!
I didn't get any calls while I was out, so I tested the microphone while at home. The headphones pause the music and announce the phone number. You can click either headphone once to answer or twice to dismiss. Super easy. I was surprised at how well the caller could hear me, too.
All in all, I'm a big fan of my RunBuds. I can't wait to try the noise cancellation on an airplane. This could be a game changer for me as my noise cancelling head phones often get left behind. The only down side is for marathoners who like head phones. You'd have to check the battery life. [Personally, I'm happy about that – maybe more people will talk to me in long races and leave the head phones at home!]
Want to check out RunBuds? You can get them online from Volume Maker for $108.99 (originally $199). Get 15% off of a pair with the code 15%off. Also, keep an eye on Volume Maker's Facebook and Instagram pages. They have some great deals – especially on holidays.
Do you use headphones when you run? Have you tried wireless?
Please note: I was given a pair of RunBud headphones by Volume Maker in exchange for editorial consideration. I was not otherwise compensated for this post. All opinions are my own.