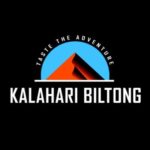 The Husband and I loved everything about our trip to South Africa – especially the food. Out on safari, we had delicious flapjacks (crunchy cookies) and biltong. I've been looking for both ever since.
Have you tried biltong? Do you know what it is? It's a thinly sliced, air-dried meat traditionally eaten as a snack. The meat is cured in a mixture of vinegar, salt, sugar and spices, then hung to dry. The finished product is "prized by health enthusiasts" for its high protein and low fat content.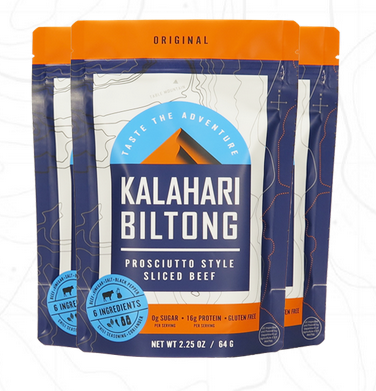 My friend, Tyler, from Race-Pak* went on an athletic adventure to South Africa. He participated in an Ironman and an ultramarathon in one week! Luckily, his South African friend introduced him to biltong and he was hooked. When he came back, he was on a mission to get Americans to move from heavily processed jerky to healthy, delicious biltong.
Their mission was a success! Now, we can all enjoy Kalahari Biltong here in the US. They have two varieties – Original and Spicy Peri-Peri. They use American beef, marinate it in vinegar, pepper, coriander, spices and a dash of salt and hang it to dry for 18 days. The thin, tender result is a "prosciutto-style" meat snack. Kalahari Biltong is gluten free, sugar free, Paleo and made in the USA. A one oz. serving has only 80 calories with 16g of protein, 2 g of fat and 0 g of sugar.
I bought some Kalahari Biltong and forgot to mention it to The Husband. He found it while I was out of town and ate it all. He said it was delicious and wanted more. You know that The Husband is a tough critic of things that are good for him, so this was a ringing endorsement! I bought more and loved both varieties. He prefers the Spicy Peri Peri and I prefer the Original but we're both happy with either one. The meat is so tender. It's very different than any other meat snack I've tried.
You don't have to take my word for it! Kalahari Biltong sent me two of each flavor to give away. I'll send two lucky winners each an Original and a Spicy Peri Peri flavor to try. Please use the Rafflecopter below to enter. The winners must be 18 years of age or older, have a US postal address and the offer is void where prohibited. The giveaway runs through April 6th. A winner will be selected and notified on April 7th.
In the mean time, you can get Kalahari Biltong online, via Race-Pak* or on Amazon. You can also keep up with them on Facebook, Twitter and Instagram.
* Get $10 off your first Race-Pak order with this link! That's one free Kalahari Biltong and then some!
Please note: I received Kalahari Biltong for the giveaway at no cost in exchange for editorial consideration. I was not otherwise compensated for this post. All opinions are my own. This post contains affiliate links for Amazon and Race-Pak. If you use this link, I will receive a small commission.