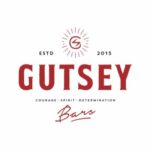 Carrie from Gutsey contacted me to see if I wanted to check out her healthy, state themed, "travel" bars. Of course, I said "yes." I was curious about how these bars were different than all of the others out there. They're super clean and have some personality, too.
Gutsey makes and sells "state themed" nutrition bars. Carrie was a fitness competitor and blogger. She created these bars out of her own desire for a better snack bar. She also wanted to make a simple, clean alternative to traditional snack bars for people on the go. Enter Gutsey "Travel Bars".
Gutsey promotes the "#GutseyLife." It's a philosophy that's about living with courage, determination and spirit. Their outlook is to have "the courage to be who you want to be, the determination to step outside your comfort zone and a positive spirit that only you are in control of." I'm down with this!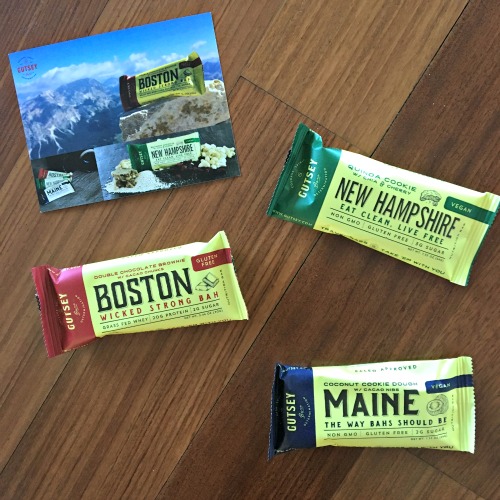 Gutsey Bars are made with good fats and organic ingredients. I like what they're made without, too. The bars contain no GMO's, no grains, no gluten and no added sugars. Two flavors are vegan, too. They "pack this goodness into state-themed packaging that draws [them] back to [their] roots and reminds us that we can get there from here.  We just have to make the right choices along the way! " I like that message, too!
Gutsey Bars come in three flavors. They are: Boston "Wicked Strong Bah" – Double Chocolate Brownie, New Hampshire "Eat Clean. Live Free" – Quinoa Cookie with Chia and Cherry and Maine "The Way Bahs Should Be" – Coconut Cookie Dough with Cacao Nibs. I expected to love New Hampshire most, but Maine was the big winner for me. The first ingredient is cashew butter and that makes it smooth and naturally rich.
The ingredients in the bars are super clean. The Maine bar for example contains the following: Organic Cashew Butter, Chicory Root Fiber, Pea Protein, Organic Coconut, Organic Chocolate Chips, Organic Cacao Nibs, Organic Vegetable Glycerin, Organic, Coconut Oil, Sea Salt, Natural Flavors, Stevia. I'd prefer no Stevia, but I like the taste, texture and profile of these bars.
You don't have to take my word for it. Gutsey sent me a sample pack to try and one to give away. Please use the Rafflecopter below to enter. The winner must be 18 years of age or older, have a US postal address and the offer is void where prohibited. The giveaway runs through April 8th. A winner will be selected and notified on April 9th.
Want to start living the #GutseyLife now? Get $5 off of orders over $10 with code ERICAFINDS until 6/1/2017. You can also follow Gutsey on Facebook, Instagram and Twitter.
Please note: I was provided samples of Gutsey Bars in exchange for editorial consideration. I was not otherwise compensated for this post. All opinions are my own.