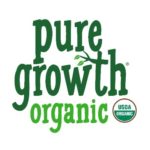 Imagine that you could buy organic snacks for your family for the same price as conventional. Would you? Of course you would.  A new mom noticed that there were a dearth of organic snack foods for the 2 – 12 set. She decided to do something about it.
Pure Growth Organic believes that organic snacking should be "more delicious, more engaging for children, and more affordable for families." All of their products are USDA Organic certified, Kosher and made in the USA. They contain no preservatives, artificial flavors, transfats or MSG. The snacks are targeted at kids and toddlers, but are suitable for adult tastes, too! The savory ones are especially adult friendly.
PGO makes a variety of snacks and breakfast products. They include super chips (rice/corn popped chips with chia, kale and quinoa), veggie chips (baked potato chips with peas, spinach and tomato), popcorn, pretzels, snack mix, animal crackers, breakfast biscuits, breakfast bars and oatmeal.
They sent me an awesome canvas tote filled with snacks (and one to share, so read on!) I shared the majority of the bag with Pam for her kids. Pam said, "Both kids loved the Pure Growth Organic snacks. So far, we've tried the Chocolate Mickey Mouse and Vanilla Despicable Me animal crackers. Both were a big hit. We will definitely get them again!" I tried the super chips – I didn't notice the kale or chia and I bet most kids wouldn't either! I also tried the popcorn and enjoyed it as much as similar flavors in conventional brands.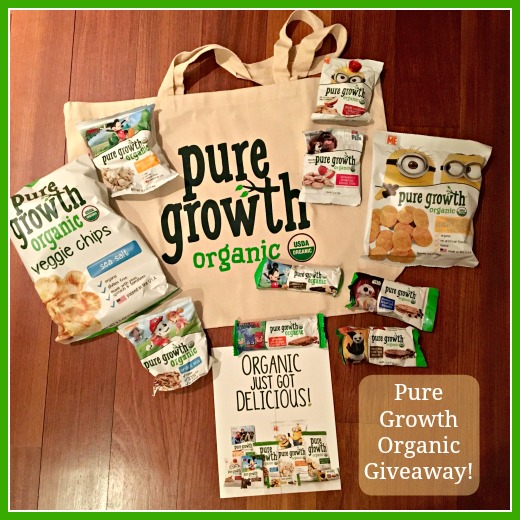 PGO sent me a canvas tote filled with goodies for one lucky reader. It contains a variety of breakfast biscuits, veggie chips, animal crackers and more. You get the large canvas tote, too! Please use the Rafflecopter below to enter. The winner must be 18 years of age or older, have a US postal address and the offer is void where prohibited. The giveaway runs through March 29th. A winner will be selected and notified on March 30th.
Pure Growth is currently available nationwide at Walmart, Amazon and Disney Resorts! You can also keep up with them on Facebook, Twitter and Instagram.
Please note: I received Pure Growth Organic products at no cost in exchange for editorial consideration. I was not otherwise compensated for this post. All opinions are my own. This post contains an affiliate link for Amazon. If you use this link, I will receive a small commission.