Sorry for the wait, I'm ready to share some of my loot from Expo West. If you missed it, here's my recap (Day 1 and Day 2). I went for 2 days plus 90 minutes and met lots of great new vendors. I'm connecting with a bunch and didn't necessarily get samples to share of everything new that I loved. I wish I could have brought home a lot of perishable foods and beverages I loved, too! I have a HUGE bag of Finds' Faves because I love chatting with my fave brands and they love sharing all of the goodies. That will be coming soon!
Let's start with what's new to me (and likely you!) There are a ton of new, healthy, tasty bars, supplements, drink mixes, nuts, gluten free products and more. These are new brands and a few new products from brands I know. I'm working on securing giveaways/reviews with Pizootz and Rayzyn among others – shown and not shown. I'll also have a "Finds' Fave" giveaway coming soon with products that you have seen here before!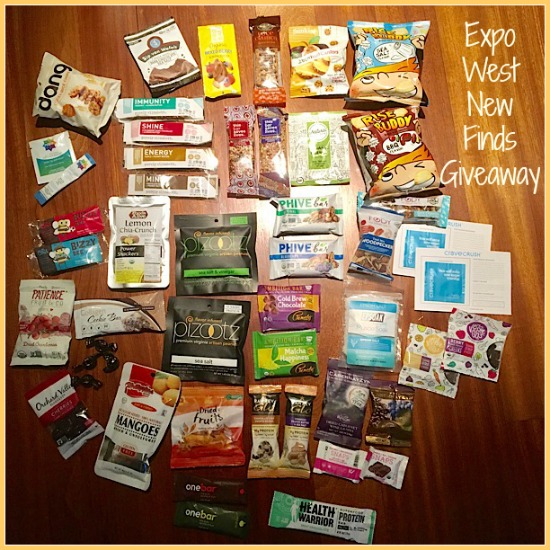 In this giveaway, I will share one of more of each of the following:
I'm going to send 3 lucky winners a combo pack of the above products. I do not have multiples of everything, but you will get a good variety of 10 or more items each to try. To enter to win, please use the Rafflecopter below. Winners must be US residents, 18 years of age or older and the offer is void where prohibited. The giveaway will close on April 6. Winners will be notified on April 7.
Which product(s)/brand(s) do you want to try most?

Please note: I received these items at no cost at Expo West. I was not compensated to mention any of these products and all opinions are my own.