I went to NYC this weekend to run my 6th NYC 1/2 in as many years. As I mentioned on Friday, it was my first real race of the year. I wasn't sure what to expect time wise, but I knew that I would enjoy the run. It's one of my favorite courses and I always see tons of friends. Plus, I'm supporting an amazing cause. [Learn more and enter my raffle by 3/22 HERE.]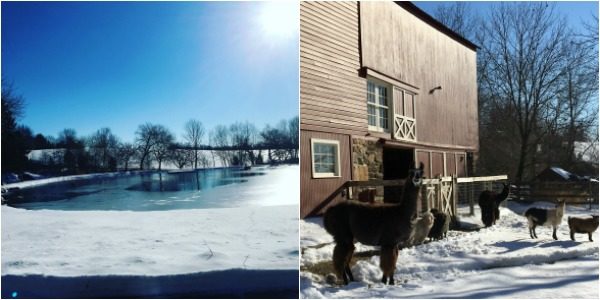 I visited my brother and Dan in NJ before the weekend and saw some friends, too. By Pond Farm is one of my "happy places" and the snow made it a beautiful winter wonderland. It was great to catch up with Larry and Dan for dinner and to see Dan's amazing new office.
Friday, I headed into the city. I'm NOT a big St. Patty's Day in NYC fan, so I pretty much went to Kathy's and hid there. I hung out with her boys and they "taught" me Plants vs. Zombies on their gaming system. I'm still confused. The great thing was that they both got to play so there was no fighting! Woot! We had a fun evening in and watched NCAA games. The mascot pool was way in the lead! (They picked games by which mascot would win in a fight!)
Pre-Race
Saturday, I did a 30 minute shake out run and fretted about the weather. It was icy, there were dirty snow piles everywhere and more snow was a maybe! Then, I met Jen, Marie and Nicole at Le Pain Quotidien for breakfast.
Jen and I headed down to the Expo (a/k/a Experience) and got our bibs. The shirts are awesome this year, too. WTG New Balance! We took some pics and headed out.
When I got back up town, I visited with Kelly (at a different LPQ uptown!) It was great to catch up and to hear that she *might* run Chicago this year. She'll have a very loud fan club if I have anything to do with it!
In the evening, Emily and Grace and I went for an early dinner at Ulivo. It was delicious and fun to make a new connection of my friends. Emily is running (ran!) her first NYC Half and has done Brooklyn with me the last two years. Grace got to have extra wine because she's training for Boston and skipped the race.
Race Day
Nicole and I met bright and early and headed to the start. We were in different corrals so I looked for other folks in mine. I didn't see anyone I knew so I just chilled out and waited.
The start is super congested and it took me over 4 minutes to start running. My first mile was slow and my second mile was fast. I felt good and realized that I just needed to be calm and get into a good pace. They added a second loop in Harlem and soon we were at 5K. We headed back into the park and up the Harlem Hill. It's tough for this flatlander but I felt good and made it up. I smiled my way through Central Park and looked out for friends in the race or on the sidelines.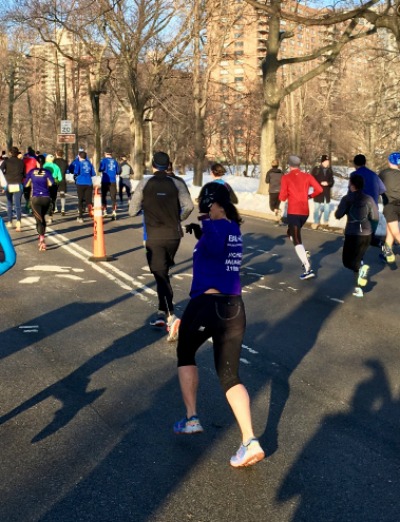 Randomly before mile 5, I got a shout out from Cristy and Evan from Chicago. That was awesome! Running south in the park in this race is great because it's pretty much smooth sailing after this part. I felt strong, happy and grateful. I made it to 10K at a good pace.
The race heads out of the park and onto 7th Ave and straight through Times Square. Normally I wouldn't go to Times Square unless you paid me, but on this day of the year, it's a favorite. The energy was amazing and before I knew it I was turning onto 42nd St.
The wind was strong on 42nd St. I knew that once we got to the West Side Highway, there would be a tailwind for ~4 miles. I made the small turn around into the wind and grabbed the glorious tailwind and headed home. I hit 15K and 10 miles on pace for ~1:40. 5K to go.
I struck up a conversation with a woman near me that made mile 10 fly by. I knew that I slowed down a bit but I still felt positive and happy. People were cheering for me by yelling "Go Alexandra's Playground." I was super excited because our small but mighty team raised over $50,000 by race time. My run honored Alex and will help many children in underserved areas to have safe, new play spaces. [There's still time to learn more and enter my raffle for 1 of 7 great prizes HERE.]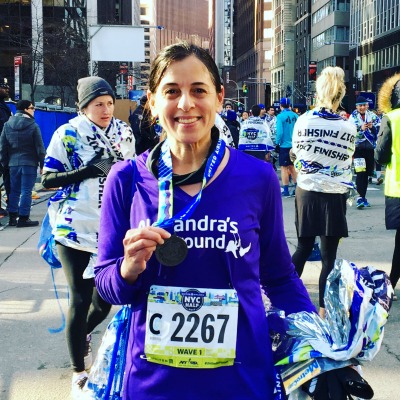 Mercifully, since they added a bit in Harlem, the run to the end after the tunnel was nice and short! I kicked it in with 200 meters to go and finished in 1:41.27 (7:45/mile). My goal was 1:40 – 1:42. Sub 1:42 qualifies me for guaranteed entry next year. Woot! This was 3 1/2 minutes slower than last year, but my expectations were spot on. All smiles.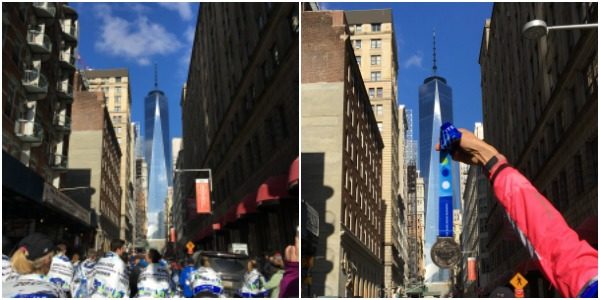 I met up with Andrea, Marie and Nicole (90 second PR for Nicole!) and we headed to the subway. It was a great morning and I'm still smiling for how well everything went.
Post Race (Same Day)

I had to rush back, shower and head to the airport for my flight back. Why? [Here comes the exciting news!] I have to head out to meet my new team for my new position with Zipongo. All of the stars aligned and I was offered a position in Customer Success (a/k/a Client Services for old school folks like me) with Zipongo. Zipongo makes digital solutions to make it easier to eat well. Is that perfect for me or what!? I'm very excited. In other good news, the HQ is in San Francisco, so I'll get to see my old work friends (and other friends) often, too! Want to learn more? Check out this 1 minute video.
How was your weekend? Any exciting news on your end?