Sick of the same old, same old for Valentine's Day? Check out some fun and different ideas for your Valentine – whomever he or she may be. Plus, I tried to find some great deals, too. A win-win.
---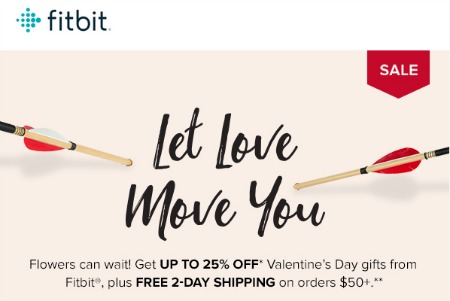 Does your Valentine want to get fit? Get his and hers Fitbits and start a little challenge. Some models are up to 25% off plus free 2 day shipping on orders over $50 through 2/15. You can also get his and hers gear from Lululemon with 8% cash back right now from ebates. Order by 2/8 and get free V-Day shipping. It's a win-win!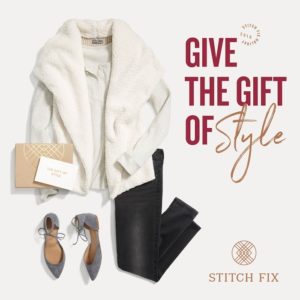 Could your Valentine use a new look?  It may be too late to find the perfect outfit for the the gal or guy in your life, but you can get a Stitch Fix gift card. What's Stitch Fix? It's an online personal styling service. Stitch Fix has women's sizes XS-XXL (0-16) and men's sizes XS-XXL (waist sizes 28-42), as well as maternity and petite clothing. The recipient fills out a style profile. Each month (or time frame that works for them), they receive a shipment with five items. Then, he/she chooses what he/she likes and returns the rest for free. The $20 styling fee is applied toward anything purchased. My fave feature, if you buy all 5 pieces, you get 25% off. I was late to the Stitch Fix party, but I love my quarterly deliveries so far. It's a great gift!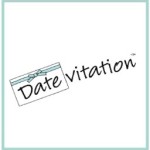 Does your date favor experiences? Check out Datevitation. They are the first and only custom coupon book service with the tools for you to create a truly one-of-a-kind gift for your special someone. Their library contains hundreds of date ideas from simple gestures of love (e.g., stargazing or cuddling) to adventurous and exotic ideas for memorable dates (e.g., skydiving or scuba-diving). You get to pick the dates that best compliment your relationship. Then, you select photos/caricatures, the date ideas for each coupon and send to print. Voila! A perfect gift. (This is also awesome for friends and family – with non-romantic "date" ideas, of course!) For a limited time save 30% with the code BOOK30.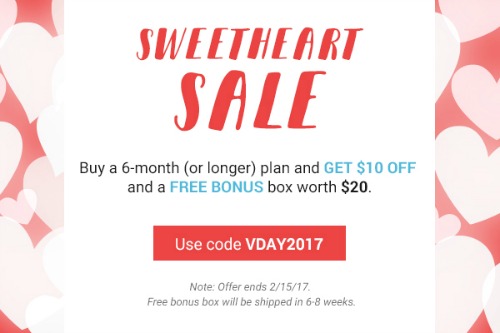 Is your Valentine a foodie/GF foodie? Love With Food's Sweetheart Sale is the perfect place to shop. Now through 2/15/17 get $10 off ANY subscription plan 6 months or longer AND a FREE $20 Bonus Sweet box. Just use promo code VDAY2017.
Want something personal(ized)? Check out awesome personalized gifts from GiftsForYouNow.Com. They have some awesome personalized mugs, art work, Ts, frames and much more. Many of the gifts are on sale at up to 30% off and you can get 7.5% cash back if you start with ebates. Personal Creations has some great last minute gifts, too! (Plus, 10% cash back if you start with ebates.)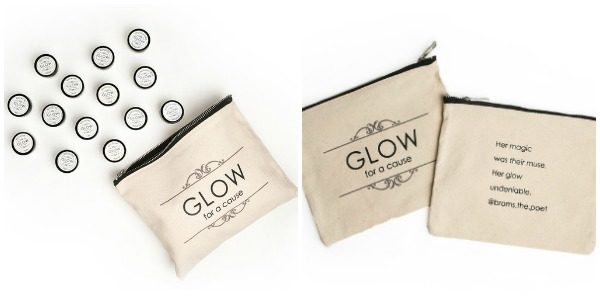 Does your gal want to look good and do good? GLOW for a cause is a beauty company that makes both people and the world just a little more beautiful. GLOW for a cause products are made from the finest and purest ingredients available. Every time you buy a GLOW for a cause product, you're giving back 5% to our partner non-profit organizations.
I tried the Inspire solid perfume. It's all natural and subtle but lovely. The .4 oz size will last a LONG time! I liked it so much that I bought the "Try it All in a Bag" which contains sample sizes of 14 products in an awesome reusable cosmetic bag! I'm going to raffle it off to one lucky reader.
The giveaway has ended. The winner is Melissa S. (Comment #17)! Want to be my Valentine? To enter to win the GLOW for a cause "Try it All in a Bag," please leave a comment on this post telling me what you want for Valentine's Day.
Want additional entries?
Follow RealGLOW4acause on Twitter and leave a separate comment confirming.
Follow glowforacause on Instagram and leave a separate comment confirming.
The giveaway is open to US Residents, 18 years of age or older and is void where prohibited. The giveaway runs through 2/14. A winner will be selected using random.org in order of comment and notified on 2/15. The giveaway has ended. The winner is Melissa S. (Comment #17)!
What other cool V-Day ideas do you have?
PS. Don't miss my other great giveaways.
Please note: I was provided with a sample of GLOW for a cause perfume at no cost in exchange for editorial consideration. I purchased the gift set to give away myself. This giveaway is not affiliated with GLOW for a cause. I was not compensated by any vendor in this post. All opinions are my own. This post contains an affiliate links for ebates, Stitch Fix and Love with Food. If you sign up, I will receive a small commission.