Not many restaurants make it to their silver anniversary – especially in Chicago. That's 25 years in a very tough business. So it's kind of a big deal that Francesca's Restaurants are celebrating their 25th Anniversary this February. One of the ways that they're celebrating is by offering their 1992 menu. The menu is being offered throughout February at Francesca's restaurants. The Husband and I were invited to Mia Francesca in Lakeview to check it out.
We've eaten at Mia Francesca, and other Francesca's restaurants a number of times. This solid, Italian menu stands the test of time – obviously. The cool thing for me was that when I checked out the 25th anniversary menu some of my faves were on it.
We reviewed the anniversary menu with our server and chatted with Erin, that evening's manager. We ordered a lovely Chianti and decided on our appetizers.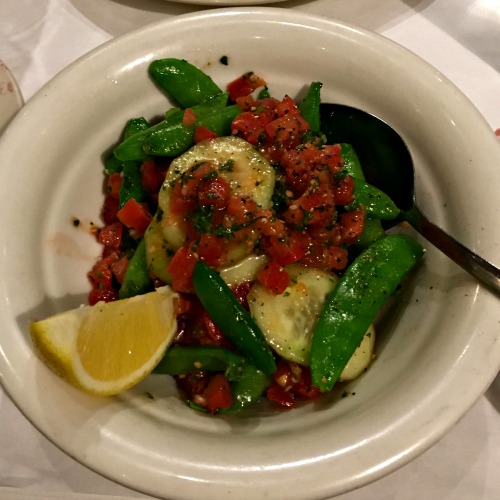 I ordered the salad that I've been getting for the last ten years – Peapod, Tomato and Cucumber. The tomatoes are seasoned like bruschetta. It's simple and delicious.
The Husband got the Carpaccio Alla Francesca. He was delighted as you can tell from that smile. He loves a good carpaccio!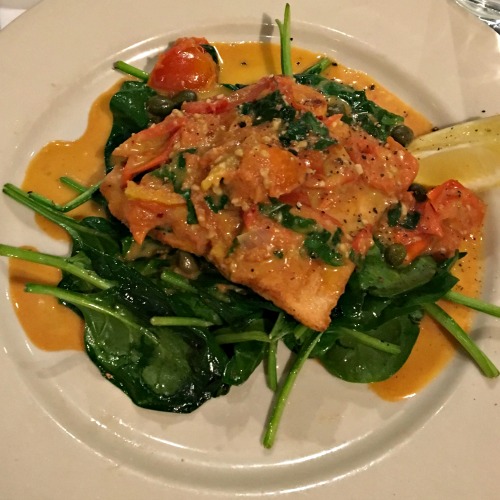 For a main course, I got the Salmone Acqua Pazza. It's a pan-roasted salmon with a spicy cherry tomato sauce, capers, garlic and white wine over sauteed spinach. It's delicious and nutritious! I love this dish.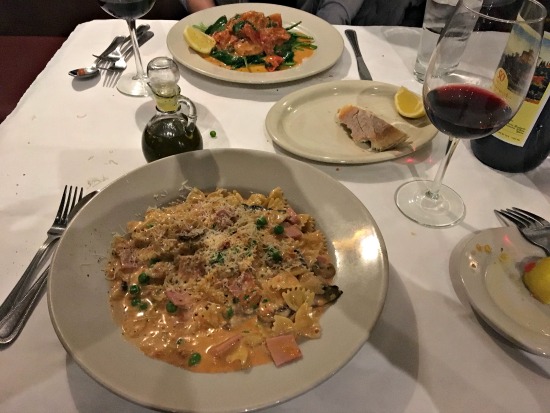 The Husband got the Farfalle all Carrettiera. It's a bow tie pasta sauteed with ham, peas and wild mushrooms in a tomato cream sauce. The portion was huge. He had half for lunch the next day.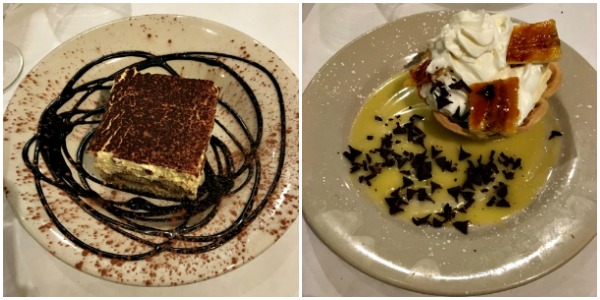 We were stuffed and satisfied, but they brought us a Tiramisu and a Crostata con Banana. We had more than a few bites of each! We can't let a good dessert go to waste. The tiramisu was our fave.

There are still a few more days to check out Francesca's 25th Anniversary Celebration Throwback Menu. And, if you're free on Monday, February 27th, Mia Francesca's on Clark Street will feature the original Mia Francesca menu AND prices for one night only. Menu items include favorites like the Linguine all' Arlecchino with shrimp, scallops and clams ($12.99) and the Vitello Sassi with baby artichokes and wild mushrooms ($19.99). I checked and there are still some tables left!
You can keep up with Francesca's Restaurant Group on Twitter, Facebook and Instagram. I imagine they'll be around for 25 more years at least!
What's your favorite dish from Francesca's Restaurants?
Please note: We were invited for a complimentary meal at Mia Francesca in exchange for this post. I was not otherwise compensated. All opinions are my own.