I'm sad to say that The Husband and I are not celebrating V-Day together. I have to go on a work trip. Womp. Womp. Nonetheless, I had the opportunity to learn about some great new products from Wyman's of Maine and BLND that can be used to treat your Valentine right! Or, you can check out these ideas and give and IOU like I have to.
Is your Valentine a health nut? Make him or her a smoothie with Wyman's of Maine's Frozen Strawberries, Cherries or Red Raspberries. Try the Cadillac Mountain Smoothie. Mix 1 c. of frozen strawberries, 1 c. of fruit juice, 1 banana and 1 TBS of maple syrup in a blender. Cover and blend.
Does your Valentine prefer a frozen cocktail to a smoothie? Check out Snappy Gourmet's Strawberry Prosecco Slushie. Pour 5 ounces (about ⅓ cup) of your favorite Prosecco, 1 tablespoon fresh orange juice, 1 teaspoon honey and 1 cup of frozen strawberries in the blender and blend until smooth. Serve immediately. She created this recipe last year for National Drink Wine Day. I didn't know that was a thing. Now I do, and good news, it's February 18th so you can whip up a batch this weekend to celebrate!
Are you entertaining for Valentine's Day? Try Wyman's of Maine's Frozen Mixed Berry Sangria. Mix 1/4 cup Wyman's Fresh Frozen Mixed Berries blend, 1/2 a lime (juiced), 1/2 bottle of dry red wine and 2 pints raspberry sorbetto. Add all ingredients to blender and blend until combined. Pour in a pitcher and serve in glasses and top with mixed berries for garnish.
Does your Valentine love dessert? Check out this Strawberry Shortstack recipe from BLND by Kitchen Crafted. This yummy dessert is made with "Love My Chai" BLND and you can use fresh or frozen fruit. I'll be back with a full review, but BLND by Kitchen Crafted is a new line of "unique, globally-inspired spice combinations designed to shake things up!" They use fresh herb and spice combinations to "add a kick of flavor to everything. In addition to Love my Chai, BLND offers 7 other blends including Herbes de Provence, Mumbai Masala, Italiana Cucina and more!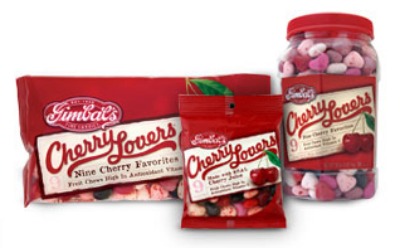 Does your Valentine prefer sweets to chocolate or have food allergies? Check out one of my fave candies, Cherry Lovers from Gimbal's Fine Candies. These delicious treats are free from the top 8 allergens, are made with real cherry juice and are high in the antioxidant Vitamin C. It's a win-win. They also make allergen free Cinnamon Lovers heart shaped candies with real cinnamon oil. Also perfect for the occasion.
The giveaway had ended! The winner is Steph (#17) Want to try out some of these recipes? I have two vouchers for any of Wyman's of Maine's frozen fruits (up to $4.99) that I will send to a lucky reader. To enter to win, please leave a comment on this post telling me what you'd make with your Wyman's frozen fruit.
Want additional entries?
The giveaway is open to US Residents, 18 years of age or older and is void where prohibited. The giveaway runs through 2/19. A winner will be selected using random.org in order of comment and notified on 2/20.
What other cool, fruity V-Day treats would you like to make?
PS. Don't miss my other great giveaways.
Please note: I was provided with products/vouchers from Wyman's of Maine, BLND by Kitchen Crafted and Gimbal's Fine Candies in exchange for editorial consideration. I was not otherwise compensated by any vendor in this post. All opinions are my own.