You may know that January was National Oatmeal Month, but I didn't. I missed out on sharing some oatmeal excitement from Viki's Granola and Carrington Farms. Well, I have some good news! February is American Heart Awareness Month and oatmeal is a heart healthy food. Using this logic, I'm celebrating Oatmeal Month late and I'm inviting you to join me.
I'm not going to lie, oatmeal can be a little bland. To make National Oatmeal Month tastier, the folks from Viki's Granola and Carrington Farms offered me some tasty, nutritious add-ins. I'm going to tell you about my oatmeal improvements and I'll share some of the goodies with a lucky reader, too!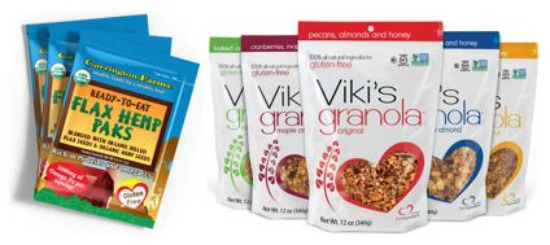 I got two great oatmeal add-ins:
Carrington Farms Flax Hemp Paks are "small but mighty." Flax and hemp provide nutrition for extra energy and vitality. In convenient and portable single-servings, Carrington Farms Flax Hemp Paks are ready-to-eat and non-perishable. They're rich in the essential nutrients including Omega-3s, protein, fiber and antioxidants. Flax Hemp Paks can be added to oatmeal, yogurt, salads and more.
And for a sweet, delicious enhancement? Viki's Granola is made with 100% all natural ingredients, gluten-free and baked with love. It comes in five flavors: Original, Blueberry Almond, Banana Walnut, Apple Cinnamon and Maple Cranberry. Viki's has a fresh, soft, chewy texture and no artificial aftertaste. [You may remember that I met Viki at Expo East. I'm a big fan!]
I made a big bowl of oatmeal. The before was the three Bs – beige, boring and blah. I added some Viki's Granola in Apple Cinnamon and then a 1/4 of a Carrington's Flax Hemp Pack. I added blueberries around the bowl, too! Voila! No more boring oatmeal.
Would you like to join in my belated Oatmeal Month celebration? I will send one lucky reader a 12 oz bag of Viki's Granola in Blueberry, Almonds and Honey and 6 Carrington Farms Flax Hemp packs. Please use the Rafflecopter below to enter. The giveaway is open to US residents, 18 years of age or older and is void where prohibited. The giveaway runs through February 16. A winner will be selected and notified on February 17.
How do you dress up your oatmeal?
Please note: I was provided with this product at no cost in exchange for an honest review. I am giving away product I received at no cost. I was not otherwise compensated for this post. All opinions are my own.