Millions of Americans suffer from digestive issues and IBS. An apple a day does not keep the doctor away for them, but gives them bloating and digestive problems. Fortunately, there's hope. Studies show that 70 to 80 percent of people can improve or eliminate their IBS symptoms by following a low-FODMAP diet.
What's a FODMAP? FODMAPs are types of carbohydrates that many people have trouble digesting, which can lead to digestive problems. See the acronym and its components HERE.
Dr. Rachel Pauls, a board-certified surgeon follows a low-FODMAP food plan to eliminate her IBS symptoms. She started making healthy FODMAP bars when she could not find convenient and tasty FODMAP foods for on the go. She calls them Happy Bars and they carry her FODMAP seal of approval!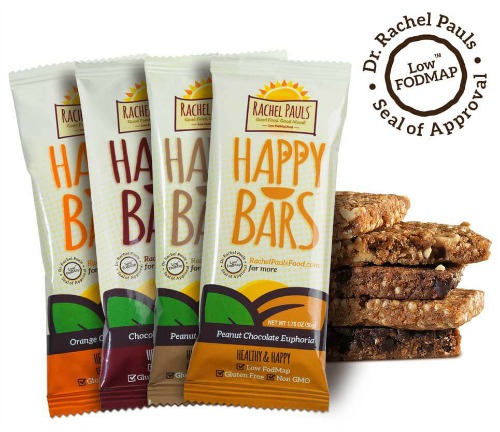 Happy Bars come in four flavors. They are Peanut Chocolate Euphoria, Peanut Maple Pleasure, Chocolate Chip Delight and Orange Chocolate Ecstasy.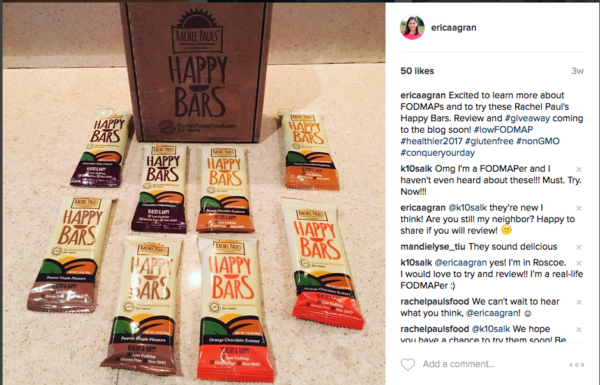 When I received some to try, I posted about them on Instagram. My friend Kristen follows a low FODMAP diet and asked if they were good. I offered her one of each flavor to try in exchange for her feedback.
Here's what she said:
Thanks again for the samples of Happy Bars. I'm always excited to find new FODMAP-friendly treats! I finally got around to trying all four flavors and put them to the test in different ways. Here's a short synopsis.

All-in-all, I will be buying Happy Bars! I had high hopes and they did not disappoint.

The first flavor I tried was the one I had the highest expectations for, but it ended up being my least favorite! The Peanut Maple Pleasure was pretty dry and not very flavorful. It didn't cause me any issues on my run (I had it for a pre-workout breakfast). But it didn't wow me. Onto the next flavor.

The Peanut Chocolate Euphoria was a clear winner! I had it workouts and it satisfied my hunger and gave me energy for a brick run pat-bike. It was the best consistency of all of them – moist, flavorful and filling.

I wasn't sure about the orange chocolate flavor. The first bite was a little strange, but I ended up really liking its unique flavor. I've never had an energy bar with orange and chocolate in it before, but I'd definitely get it again. I had this bar as a midday snack and it kept me full through my afternoon workout. I was very surprised by that. And, still no GI issues with any of the bars.

The last bar I tried was the Chocolate Chip Delight. This bar had a good consistency and flavor. I had it about an hour before an afternoon bike  ride. I did have some GI issues, but I'm guessing the bar wasn't to blame. I blame the blueberry muffin I ate at work!

My favorite thing about the bars is that all of the flavors are fair game for FODMAPers! It's so frustrating having to scour labels at the grocery store and pick apart every item because different flavors of a product you like have different ingredients. I trust this company and their commitment to being FODMAP-free! If even buy the one I didn't like again because I know it won't cause me issues.
I tried several flavors and I found that they were not as flavorful as some of my usual energy bar faves. That said, as Kristen said, they are great for people with digestive issues who follow a low FODMAP diet. There is no guessing or testing needed to know that these bars will work. The bars sat well in my stomach and are filling.
Want to try low-FODMAP Happy Bars? I'll send 3 winners each a sampler of all four flavors. Please use the Rafflecopter below to enter. The giveaway is open to US residents, 18 years of age or older and is void where prohibited. The giveaway runs through February 16. A winner will be selected and notified on February 17.
In the mean time, you can get Happy Bars at Rachel Pauls Food online. Sign up for their newsletter to get 20% off of your first order. You can also keep up with Rachel Pauls Food on Pinterest, Facebook and Instagram.
Please note: I was provided with this product at no cost in exchange for an honest review and giveaway. I was not otherwise compensated for this post. All opinions are my own.