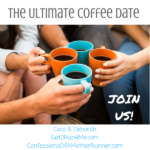 Welcome to the second Ultimate Coffee Date link up of 2017. One month down already – and now it's February. I'm linking up with Coco @ Running with Perseverance and Deborah @ Confessions of a Mother Runner. What is the Ultimate Coffee Date? Imagine we are having coffee together… this post is what I would tell you. So grab a cup , "listen" and then tell me what is going on with you in the comments, please!
If we were having coffee… I'd tell you that I'm doing everything I can to stay positive and optimistic given all of the uncertainty and craziness in the US at the moment. I would tell you that going to NYC and connecting with friends was very uplifting. I've also been focusing on doing what I can to support groups I believe in, small gestures of kindness and being grateful for life's small joys. You can check out my Friday Five this week for more on all of that.

If we were having coffee… I'd tell you about a fun running event I did this morning with Lululemon Chicago. Cheyne, a Lululemon Run Ambassador I met at the Run | ORD running retreat, ran 50 miles to support iGrow Chicago. The run was 4 x 12.5 miles with stops at Lululemon stores. Liv, Abby and I ran mid loop 1 to the same spot mid loop 2. You can learn more and donate here if you're interested!
If we were having coffee… I'd tell you that my home office is bursting at the seams with things to test for my blog. This includes Pommello Sweats which are detoxifying workout clothes (Indiegogo), a Rainscarf – an ingenious reversible scarf and rain hood, VolumeMaker Run Bud wireless headphones, ProBurst Bites from Enjoy Life Foods,  Rachel Pauls FODMAP friendly Happy Bars and so much more!
If we were having coffee… I'd tell you that I'm super excited for Cycle for Survival next weekend. So far, our team has raised over $14,000! It is always an awesome, uplifting event and all proceeds go to research at Memorial Sloan Kettering. I just added two more prizes to my raffle – 7 awesome prizes are up for grabs! You can learn more and donate here.
If we were having coffee… I'd tell you that I have some more great finds and giveaways coming in my #Healthier in 2017 series so keep your eye out.  Speaking of giveaways – head over to Facebook to enter to win some of my faves and a coffee mug for our next coffee date! I'd ask you if you were trying anything new to be healthy in 2017. Are you?
That's all I have for this month! What would you tell me over a cup? Leave some coffee talk in the comments!
PS. Don't miss my great giveaways!