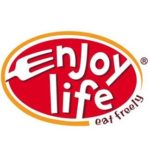 You may remember that I met the folks from Enjoy Life at the NCA Sweets & Snacks Show. This Chicagoland company has been doing allergen free foods since before it was cool! Enjoy Life Foods started as a business school project in 2001. Now they offers 46 different allergy-friendly products including cookies, snack bars, seed and fruit mixes, baking chocolate, chocolate bars and snack chips. All Enjoy Life products are certified gluten-free, verified non-GMO and free-from the top 8 most common allergens. [Read more on allergens HERE.]
At Expo East, I got to try Enjoy Life's new Proburst Bites. These little chocolate truffles are decadent, but are good for you and allergen free on top of it. I tried the Chocolate Cinnamon Spice and Chocolate Mango Habanero. I'm a big fan. They're delicious and each serving has up to 7 grams of plant based protein.
Proburst Bites come in four chocolate flavors. They are Cinnamon Spice, Chocolate Mango Habanero, Cranberry Orange and SunSeed Butter. They are great for a treat, a snack or a breakfast on the go.
My fave flavor is the Cinnamon Spice and they're great with an afternoon coffee. I shared some Proburst Bites after a long run. The girls and I agree that they don't have any of that "weird protein taste" that some snacks with protein have. To be truthful, they were a bit dry for after running – lesson learned. That said, each of the flavors got a little love from our group. I shared the SunSeed Butter ProBurst Bites with Wendy. Her boys ate them right up and were big fans, too!
Enjoy Life will send one lucky reader a bag of ProBurst Bites in the flavor of his or her choice. Please use the Rafflecopter below to enter. The winner must be 18 years of age or older, have a US postal address and the offer is void where prohibited. The giveaway runs through March 8th. A winner will be selected and notified on March 9th.
In the meantime, you can buy Proburst Bites online. Get 10% off of your order with code PROBURST456 through 3/31/17 (plus free shipping on orders over $49). Check out all of Enjoy Life Foods' products on the web and keep up with them on Facebook, Twitter and Instagram.

Please note: I received the Enjoy Life Foods ProBurst Bites at no cost in exchange for editorial consideration. I was not otherwise compensated for this post. All opinions are my own.